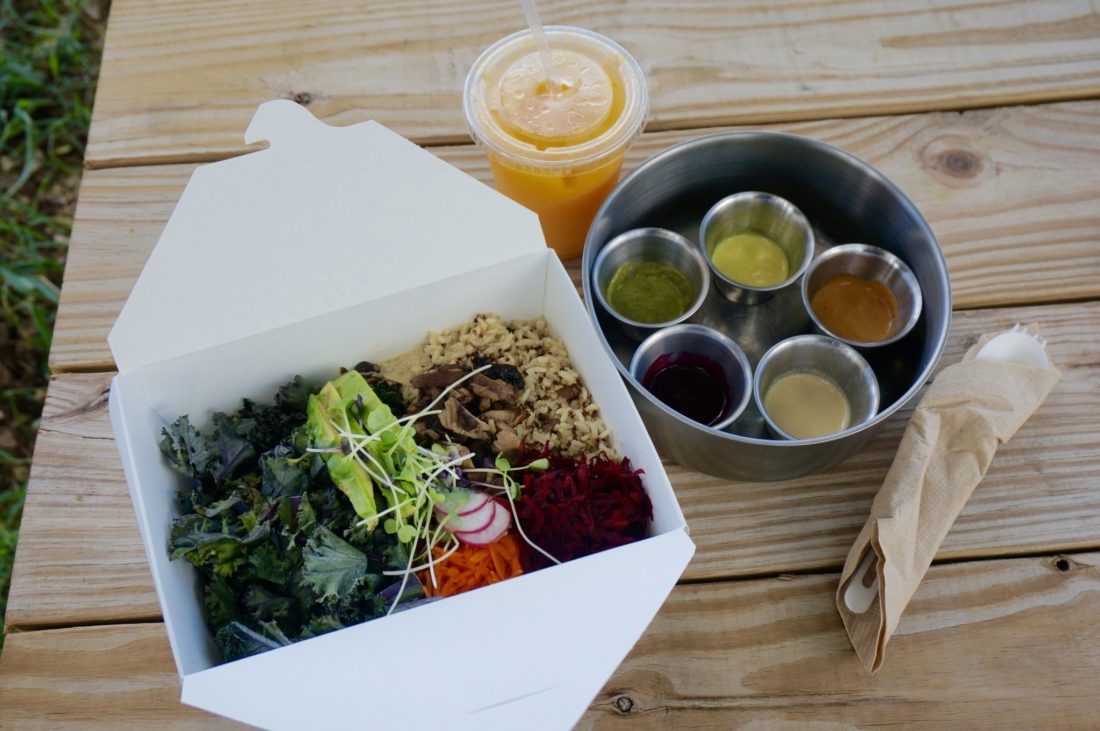 Vegan and vegetarian food on St. Croix has been a mainstay for decades. Due to the robust Rastafarian culture on island, a number of local restaurants and mobile food vendors focus on this cuisine. Vegan & vegetarian dishes are void of animal products, such as pigs, chickens, cows, fish and all others. Furthermore, vegan dishes do not include dairy milk, dairy cheese, eggs or any other product derived from an animal although vegetarian dishes might. Either way, any visit to St. Croix should include one of these meals, obliterating any misconceptions one might have about vegan and vegetarian food.
Seahorse Republic Food Truck serves up a variety of vegan and vegetarian food on St. Croix that not only tastes good but also is good for you. From arepas and tacos to lunch bowls and bean burgers, there's something for everyone from the avid meat-eater to the devout vegan. Located on the corner of East End Road and Mount Welcome Road in Christiansted, St. Croix, you're sure to find the bright red truck with colorful accents serving customers Monday to Friday from 11am to 3pm.
Venezuelan-born owner Jossie purchased the formerly known Ana's Living Food Truck from the original entrepreneur. A cheap airline ticket and her desire to travel brought her to St. Croix where she worked for several restaurants & chefs, including Ana's Living Food Truck. After working with Ana for a few months, Jossie saw an opportunity to own her own business & took it. Since assuming full ownership of Ana's Living Food Truck (renamed Seahorse Republic), business has been steady and her passion and love for vegan & vegetarian food is savored in each bite. Beaming with pride, Jossie said, "I'm not cooking for only vegan & vegetarians. My food can be enjoyed by everyone because it's healthy AND delicious!" She renamed the truck to Seahorse Republic because of her undying love of these adorable creatures.
Using locally sourced fruits and vegetables, dishes are flavorful, healthy and made fresh to order. Here's a glimpse into Seahorse Republic's notable dishes that will have you craving vegan & vegetarian dishes on St. Croix long after you've left the island.
Flavor Boosters
Choose from five different sauces made fresh daily to complement your vegan & vegetarian burger, tacos, bowls or salads. Each sauce serves a specific purpose, using ingredients that focus on improving your overall health. Clockwise from the top:
Orange sauce is the immune booster with roasted bell peppers, coconut oil & apple cider vinegar
White sauce (my favorite) is the soothing probiotic including ginger, garlic and nama shoyu
Purple sauce focuses on prevention made with beets, apple cider vinegar & cinnamon
Green sauce is heart healthy made with cilantro, avocado & peppers
Yellow sauce is anti-inflammatory made with lemongrass, coconut & turmeric
Lunch Bowl
This "nature in a bowl" all-in-one meal includes a little bit of all the goodness found at Seahorse Republic. Choose which bowl to enjoy with options such as tofu, black bean, mushroom, hummus or bean burger. Each bowl is outfitted with organic tenderized kale, quinoa-brown rice, shredded beets & carrots, avocado & one of their specialty sauces. You can vividly see the healthy goodness in this bowl but do not be fooled by its appearance. You'll be stuffed once you devour the entire thing!
Arepas
Crispy on the outside and soft on the inside, this corn flour bread sandwich is a Venezuelan staple that can be compared to a Hot Pocket but it's one hundred trillion times healthier and tastier than the former. Pictured above are the two arepas I tried (and yes, I ate both of them)! The arepa on the left is stuffed with grilled plantains, grilled squash, caramelized onions, bell peppers and sprouts. On the right (my personal fave), black beans, sweet plantains, goat cheese and sprouts are buried in the middle and topped with a jalapeno sauce for a perfect lunch treat. Nestled between the two is a sweet and spicy pepper sauce that you can add to give your arepa a little kick. However, I didn't think it is needed because they are unbelievably mouthwatering without it.
Local & Homemade Drinks
If it grows in the backyard and can be juiced, Seahorse Republic has it on the menu. Freshly pressed without any added sugars, all of her juices are made primarily with local fruits and vegetables. Grab a watermelon, soursop or carambola juice or maybe a Gingerade for a twist on a classic drink. If you need more sweetness in your drink, feel free to ask for some agave nectar to get that sugar boost. Their Alive Juice – carrot, ginger, turmeric, apple, lemon and cinnamon – is one of their best sellers. "It makes you feel alive," said Jossie, "plus, it has a intense flavor that people love. It's just delicious."
Why Seahorse Republic

The focus at Seahorse Republic is to prepare and provide sustainable food to encourage overall sustainable living to help the environment. You can take comfort in knowing that all straws, cups, utensils, containers & napkins here are served in fully compostable, biodegradable containers. They were manufactured using less energy and water, release less harmful pollution and will decompose quickly and completely. How cool is that!
It's possible that you're thinking, "I'm not a vegetarian or vegan and probably won't like it!" That's where you would be wrong. As a food and travel writer, I pride myself in eating anything that had parents. If you can stuff it, fry it, bake it or broil it, I'll eat it. With that being said, eating vegetarian & vegan foods doesn't mean dishes are dull, boring or lacking flavor. You simply have to try it at the right place and Seahorse Republic is exactly that. After all, you are in the Caribbean! With St. Croix becoming the culinary capital of the Caribbean, it's only fitting that visitors to the island try vegan & vegetarian food on St. Croix at Seahorse Republic.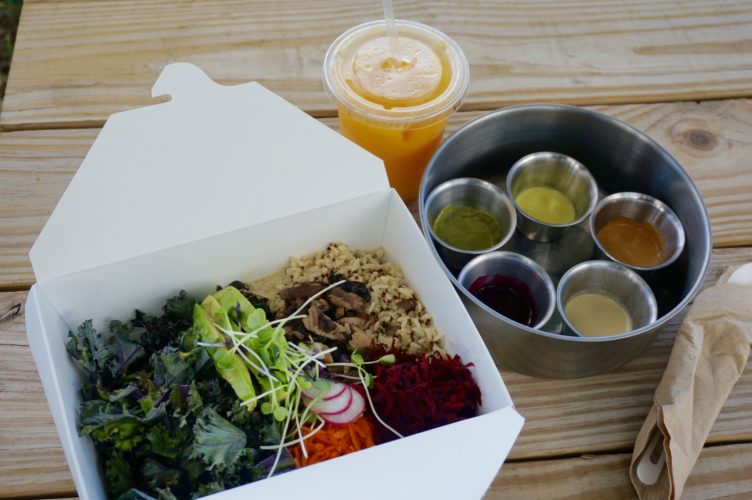 These are a few things available at Seahorse Republic Food Truck that customers can enjoy. They also have soups and stews, ramen noodle bowls, tacos as well as daily smoothie specials. Save room for their vegan, gluten free dessert treats like their blueberry cheesecake and "ice cream" sandwiches. Visit their Instagram page for more pictures and insight on the vegan & vegetarian food on St. Croix. You can even place an order for pickup by calling 340.473.9169. Find the bright red truck on the corner of East End Road and Mount Welcome Road in Christiansted Monday to Friday from 11am to 3pm. Tell them Q the Cruzan Foodie sent you!
Buen Provecho,
Q the Cruzan Foodie
**Disclosure: I was not financially compensated for this post. I was invited to dine in for review purposes, however the opinions expressed in this post are my own.