Let's Make Caribbean Black Cake for Christmas!
Caribbean Black Cake is a must when celebrating Christmas in the Caribbean. This rum soaked fruit cake is wildly popular during the Christmas holidays throughout the Caribbean and the V.I. getting its black color from the molasses and browning process done during the preparation of this sweet treat. It's not Christmas until you've had a slice!
SEE ALSO: CHRISTMAS IN THE CARIBBEAN = WE MEKKING SORREL!
Below are the ingredients needed to make Caribbean Black Cake along with the full recipe.
Ingredients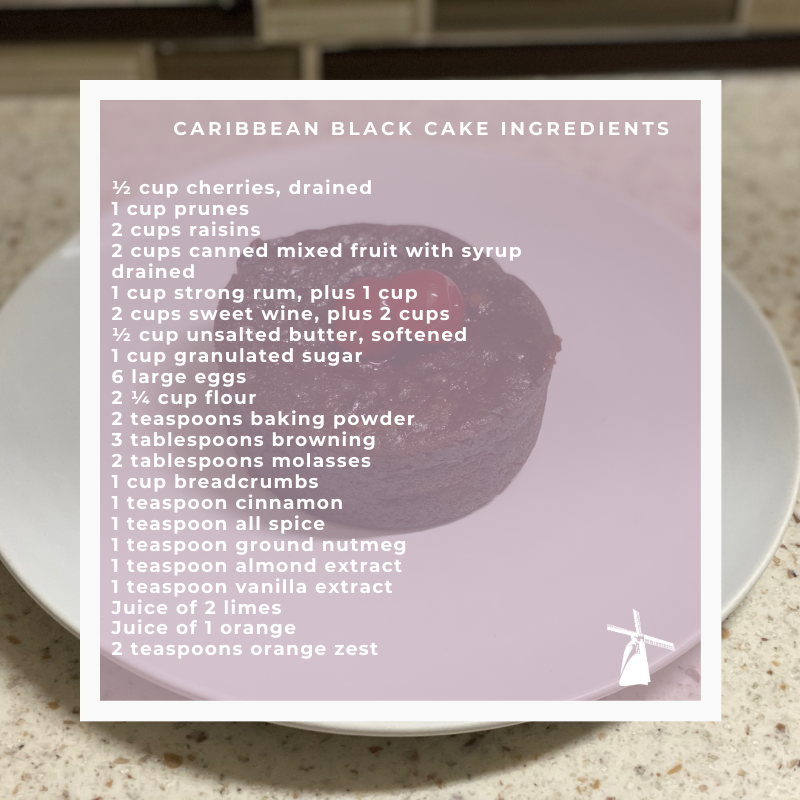 Instructions
Add all the fruits to a large pan.
Pour rum and wine into the pan and bring to a boil for about 10 minutes. Remove from the stove and leave it to cool before storing into a glass container. Leave the container in a cool place for 3 days to have the fruits soak up all the alcohol. If leaving for more than days, you may have to add more alcohol.
Add the soaked fruit and any remaining juices into a blender and blend into a paste-like consistency.
Pre-heat the oven to 325°F. Grease your cake pan using cooking spray oil.
Cream the butter and sugar together at a high speed until fluffy about 4-6 minutes. It will look almost white. Add juice of the limes and orange to the mixture followed by the orange zest.
Stir in the eggs, a one at a time, beating the mixture well between each one. Scrape down the sides of the mixing bowl to make sure everything is being fully incorporated.
Add browning and almond and vanilla extract to bowl.
Add flour, baking powder, cinnamon, nutmeg and all spice together in a large bowl and mix it into the batter gradually. Next add the fruit blend ½ cup to 1 cup at a time until everything is fully combined. Don't forget to scrape down the sides of the mixing bowl.
Pour batter into a greased 10 inch cake pan.
Bake until a cake tester comes out clean, about 1.5 to 2 hours.
Pour 2-3 tablespoons of rum and/or wine to the cake while still hot, allowing the cake to soak up all the rum.
You can let it cool completely before serving or dive in while it's still a little warm.
Place cake in a cake storage container with a lid or wrap the cake tightly in plastic wax or parchment paper. Store in a cool, dry place for up to 1 month.
SEE ALSO: DRINKING COQUITO – CHRISTMAS IN THE VIRGIN ISLANDS
Wanna see how it's made? Press play on the video below and you'll see me in full action with my friend Ashley of Sweet Me Away Gourmet.