Losing Your Mind? Have A Cookie…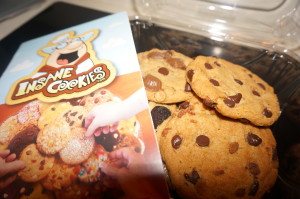 Imagine a world with handcrafted cookies made with the very best ingredients on the market with "insane" flavors to boot? These traits make Insane Cookies the next best thing to hit the cookie scene. It's up to you to get on board and taste these mind-blowing treats before the rest of the world beats you to it! My recent sit down with Brandy Cohen, owner & cookie counselor of Insane Cookies in Davie, FL, opened my eyes to a world of cookies I never knew existed. Read on to learn more about the most recent cookie phenomenon!
Q the Cruzan Foodie: Why Insane Cookies? Will they make me lose my mind? I'm a little nervous now…
Brandy Cohen: (hearty laugh) No, not at all! As our saying goes, "They're so good, it's insane!" The funny part is that people actually say that after having their first cookie without realizing that's our brand name. I believe everyone should embrace their crazy – that free part of us. It's important to not stay in the box. Here at Insane Cookies, we decided to take the cookie out of the proverbial box!
Q the Cruzan Foodie: You mentioned that each cookie is handcrafted. How much time does it take to prepare a typical order?
Brandy C.: In by 9(am) and out by 5(pm)! We've mastered the craft of each cookie so a typical order can be fulfilled the same day. Our clients also have the option of creating their own cookie flavor. Those orders take a little longer because we're basically creating a new cookie so we want it to be the best. With those,  the more lead-time, the better to allow the cookie dough to marinate. When we make our cookies, we think about the experience our clients will have when eating them. We want cookies to look pretty (people eat with their eyes!) with layers of flavor and texture. No one trick ponies here!
Q the Cruzan Foodie: Speaking of this insane cookie experience, how do you come up with all your flavors? You have over 40 flavors, correct?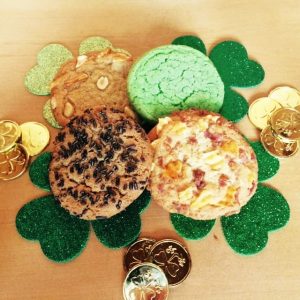 Brandy C.: Yes, we actually have much more than that if you include all of the specialty flavors we create for the holidays. For instance, we made a Jameson cookie for St. Patrick's Day with Jameson infused dough & threw in bacon & potato chips! Sounds crazy right? It was a big hit & is now available year round in our assortment! Each cookie name relates to something you would go to therapy for, another reason they're so insane! The flavors come to me as they come. It might be in the middle of the night or at the grocery store. Sometimes we have clients request a cookie made for them and it blows us away where we HAVE to make it available to everyone.
Q the Cruzan Foodie: You also offer most of your cookies in gluten free form. Do you plan on getting certification?
Brandy C.: It's not in the works for us and we're not sure it's really necessary. All cookies can be made gluten free with our gluten free flour mix. They're prepared on parchment paper away from all gluten ingredients so there is no risk of contamination. People always tell us that we have the very best gluten free flavors. What has become really popular for us are our gluten free cookie cakes for children birthday parties. They get to indulge in a great tasting cookie cake without any consequences.
Q the Cruzan Foodie: What's next for Insane Cookies?
Brandy C.: We have a lot of irons in the fire right now. We'll be available in some specialty food stores due to no added preservatives in our cookies. We're also working with a large brewery in Florida making cookies with their beers as a main ingredient. My goal for Insane Cookies is to achieve great Internet success with multiple locations for people to pick up their orders or even place orders. We believe cookies are treats and you should get exactly what you want. Insane Cookies was created to see that happen!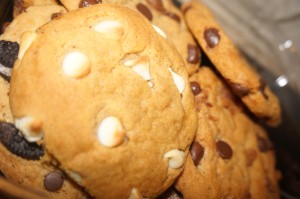 Insane Cookies can be ordered online at www.insanecookies.com. They're available for free pickup at 3 locations in South Florida, overnight delivery in the South Florida area for a $10 delivery fee or shipped via UPS anywhere in the continental United States! Because I'm a brunch lover, my favorite cookie had to be the Over Sleeper which was a French toast cookie dough with bacon pieces. The only thing missing was a mimosa! Give these cookies a try today. You won't regret it. I promise!!!