#FoodieFriday: A Taste of Sweet Vermouth
This week's #FoodieFriday feature is sweet vermouth in Seville, Spain! Yep, I'm taking you 3,784 miles away from St. Croix all the way to the Andalusian region of Spain to Seville (also pronounced 'Sevilla' by locals)!
Did you know that Spain once had ownership of St. Croix? Christopher Columbus made landfall on the island in 1493. There he and his men encountered the Caribs, Arawaks and Tainos, resulting in what is known as the first insurgence of the new world. After Columbus and his men prevailed, they claimed the island for King Ferdinand and Queen Isabela of Spain. While this history might not be the prettiest – but really, what history is – we still recognize the country as once having ownership of the island.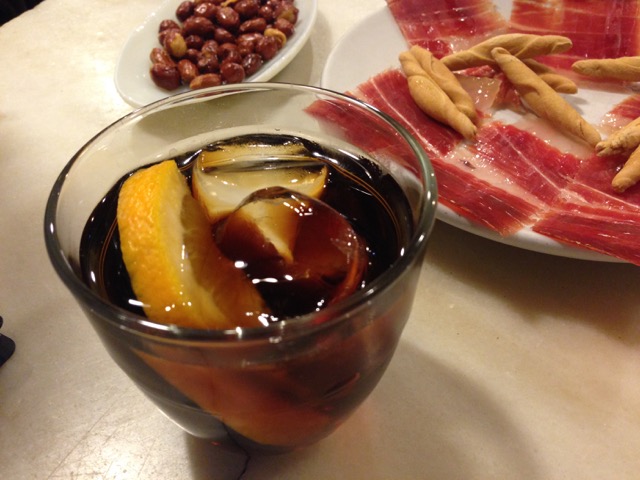 My recent visit to Seville introduced me to their cherished aperitif known as vermouth. Not the stuff you find in a dry martini and Manhattans, but a sweet fortified wine infused with a bouquet of botanicals including cinnamon, cardamom and ginger. Vermouth differs from one bar to the next with some restaurants having their recipe passed down for generations! This sweet red vermouth pictured above from Bar El Comercio in Seville was paired with a plate of jamón ibérico de bellota from Jabugo, Spain. The jamón ibérico from this particular city is the best in all of Spain due to the specific diet the pigs in this area follow. The ham practically melts in your mouth the minute it touches your tongue. Basically, this combination is a gift from foodie heaven that is a must try when visiting Seville!
Read how you can conquer Seville (or attempt to) in 48 hours here. Better yet, make plans to visit Seville as soon as you can. That way you can experience the taste of sweet vermouth for yourself!
Until Next Friday,
Q the Cruzan Foodie