Seville in 48 Hours, Give or Take a Few
My 2015 European adventures allowed me to explore Seville in 48 hours, more or less. I was learning Español in Spain, the land where the language originated from and traveling to different Spanish cities was a must! Since I started my travels in Granada, the southern part of Spain, I decided that Seville – pronounced Sevilla by locals – would be the first city I would dive into!
Seville in 48 Hours: Getting There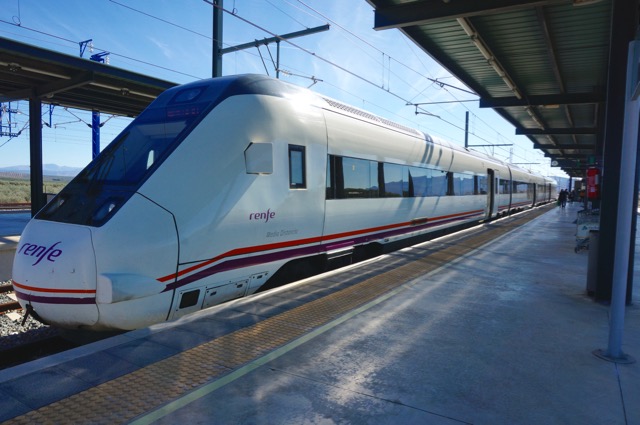 Getting from one place to the next in Europe is pretty affordable. The price you'd pay for a nice dinner on the town would be your round trip airfare plus a drink or two once you arrived at your final destination. Rail Europe, one of the train services that operated within Spain, offered a direct 3 hour, 14 minute train ride to Seville for a whopping 58.70 Euros – approximately $66.90 in US Dollars! A quick visit to their website and few clicks later, my round trip train ride to Seville was booked with ease.
Seville in 48 Hours: Where I Stayed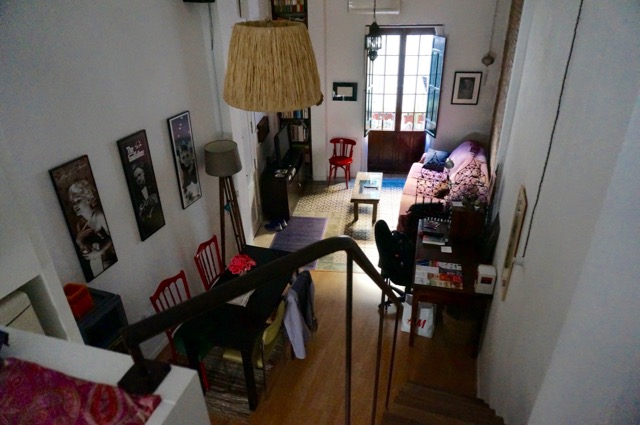 I love Airbnb with a fervent passion! It allows you to experience "living like a local" for less than the average hotel stay. Plus, some Airbnb places are super cool like the one I stayed in when I did Seville in 48 hours. Due to its stunning reviews, I rented out this entire flat located near the city center. It was the perfect accommodation for my quick trip and the host offered numerous recommendations for breakfast, lunch and dinner plus sights to check out while I was in Seville. I paid a total of $82 including all taxes and fees after using a friend's $25 off referral link like this one. Stay tuned for my full review on this awesome loft and why I'd recommend it to any solo or budget traveler heading to Seville.
Seville in 48 Hours: Keeping Busy
With only 48 hours in the self-proclaimed tapas capital of the world, I knew lots of my "things to do" would revolve around eating. Let's be honest here – I'm not called Cruzan Foodie just because. Food is what drives my travels! I kicked off my trip with Devour Spain Seville Tapas, Tavern & History tour. This 4-hour walking food tour was the perfect combination of food, history, folklore and culture.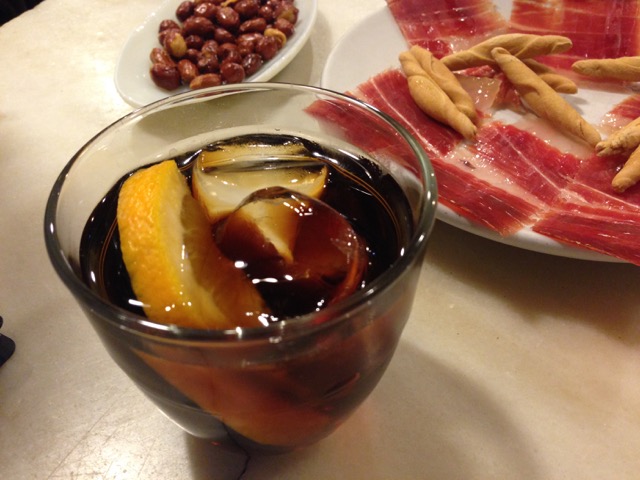 Let's just say my experience with these guys is what led me to launching this on St. Croix. Read my full review of my time with Devour Spain here.
I also did a free walking tour with Sevilla Free Tours. As you can tell, I have a thing about walking tours. I recommend these to travelers, especially solo travelers, because it allows you to walk the streets of your destination, learn landmarks, meet other travelers and befriend your local guide to find out where to go, what to do and what to skip. The tour ended in the breathtaking Plaza España and the view here alone was worth the trip!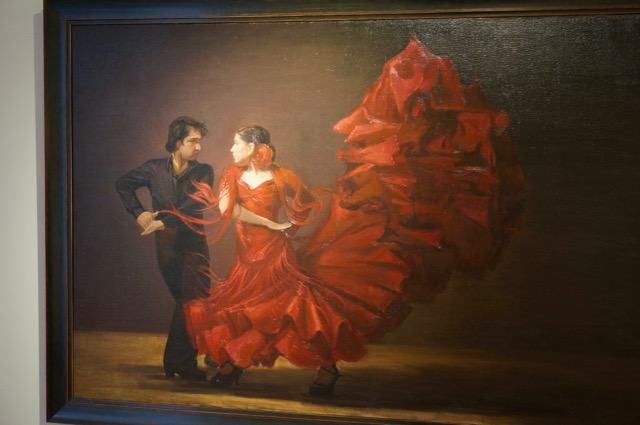 Last but not least, I visited Museo del Baile Flamenco (Museum of Flamenco Dance) to learn more of the art of flamenco dance. This interactive museum featured a variety of exhibits and workshops that includes paintings, photography and drawings. You can also catch a real, live flamenco show at the museum if you'd like but since I was pressed for time, I only visited the museum.
Seville in 48 Hours: What I Ate
As I mentioned earlier, I kicked off Seville in 48 hours with the Devour Spain Seville Tapas, Tavern & History tour where I visited five restaurants. By the end, you could have literally stuck a fork in me – I was done! Read about each restaurant and tasting here.
2. Contenedor Slow Food Restaurant
This cool, hip restaurant is all about the slow food movement. Their entire menu is written on a chalkboard and each dish is made to order. Therefore, bring your patience as well as your appetite. Their arroz con detas y pato (rice with mushrooms and duck) was the restaurant's classic dish. The crispy, crunchy exterior of the rice was infused with flavors of rosemary throughout the dish and the rich mushroom sauce balanced out the saltiness of the duck. Contenedor offered a variety of regional craft beers and wines for patrons to choose from, like this unique beverage.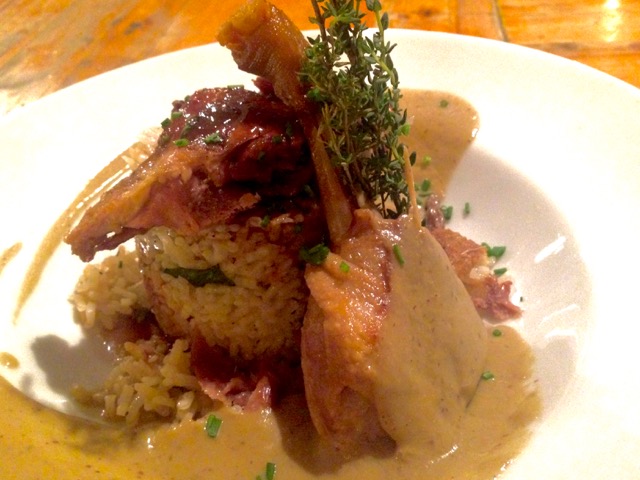 3. El Rinconcillo
'Tapear' like a pro at this decade old restaurant. Enjoy comidas caseras – home cooked dishes – like espinacas con garbanzos (spinach with garbanzo beans). Choose from the surgencia del dia (suggestion of the day) like risotto con setas (risotto with mushrooms). Your bill is written on the bar top in chalk and nothing is in English. Knowing some conversational Spanish will get you far in this eatery. It might be a bit of a challenge without it but nothing that Google Translate can't assist you with.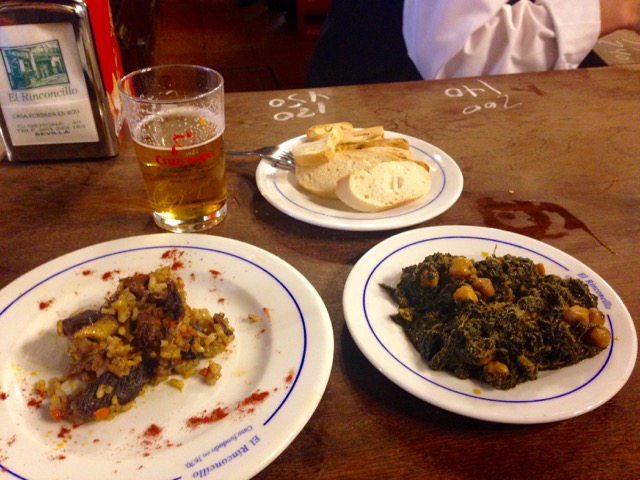 4. Healdos Rayas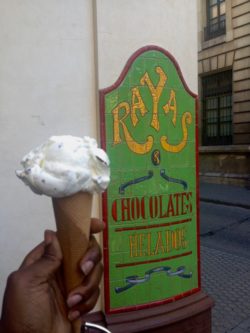 Operating since 1980, this ice cream store has the BEST ice cream in the city. They've been around for almost 40 years for a reason. I enjoyed this chocolate chip cone as I strolled through Seville back to my Airbnb!
In the end, I realized that 48 hours in Seville was not enough to discover this historic Spanish city. There was so much I didn't get to see like the Triana Market with its hip bars and electric nightlife. I plan on revisiting in 2018 if my schedule allows for it but either way, I'll be heading back to discover all the local spots and hidden treasures that 48 hours in Seville didn't allow me on the first go-round!
Have you ever been to Seville? Be sure to comment below if you've visited, want to visit or plan on visiting!
If you enjoyed this post, share it via the social media buttons below on Facebook, Twitter and Google+.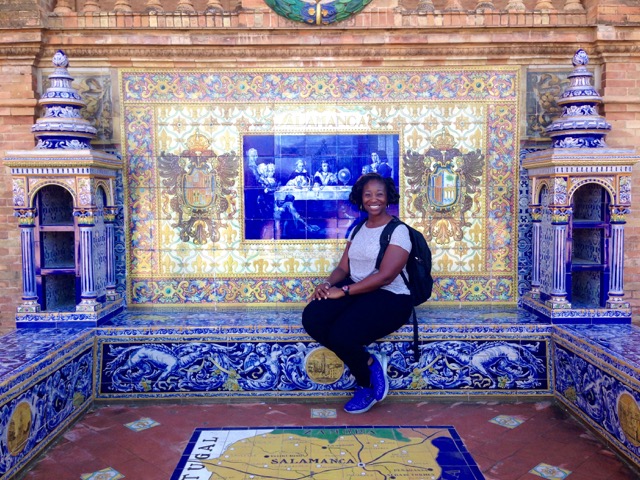 Until Next Time,
Q the Cruzan Foodie