Crop Over 2017: Caesar's Army A.M.Bush BIM
Fete Rating (On a scale of 1-5):
5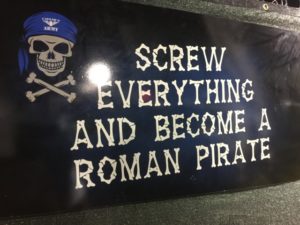 Caesar's Army A.M.Bush BIM – you were absolutely epic! I have been a #Roman since A.M.Bush 2012 debut for Trinidad Carnival. While nothing will ever compare to that initial year, Caesar's Army A.M.Bush BIM came pretty close. I'll compare getting an A.M.Bush package to being on the waiting list for a kidney, a heart or some other vital organ. You put in a request, pick a committee member's name and if you don't know anyone, pray to all things holy that your package(s) get approved. My advice? Find a committee member and mek a friend. Tek a whine, have a drink, tek a shot and HOPE that they remember you when your request comes in!

Venue: Held at Vaucluse Raceway behind God's back somewhere, it took almost 2 hours to get to the drop off area for Caesar's Army A.M.Bush BIM. We used that time to catch up on a few zzzz's in the car but our poor driver had to tough it out (thanks Anderson!). I have no idea why it took so long but I'm convinced this is all part of Caesar's Army plan to build up to the experience. Once we got up there, we were refreshed and ready to start the bacchanal. All roads lead to the drink truck!
Bar: Hats off to Caesar's Army A.M.Bush BIM bar staff! How they were able to serve all those people without incident is beyond me. Was there a wait time at the bar? Sure but nothing that was outrageous. They had a sign on the front of each bar that listed everything they had (yeah!) but once the bar got swamped, you couldn't see the sign unless you were directly in front of it (whoopsy!). Improved placement in the middle of the truck and on either end would have made a huge difference! It's j'ouvert though – no one is making you a mojito, a margarita or any other specialty drink. You either want rum, vodka, Johnnie, tequila or a beer. Pick your poison and your chaser and keep the pump going!
Food: Because of the amount of people at Caesar's Army A.M.Bush BIM, the wait times for food were a bit extensive for most. You all know how I feel about my food. I planned accordingly. I got there before the lines got too crazy and was able to have a ball in the bubble foam pit while people waited on line. Priorities people, priorities! I didn't come to A.M.Bush for the food but they had variety of options like Burger King, KFC and breadfruit bowls just to name a few. The foodie in me is always pleased at A.M.Bush. ALWAYS!
Music: From the DJs to the hypemen to the live performances, the music for A.M.Bush Bim was on one hundred thousand trillion! In addition to Bajan and Trini soca, I heard Vincy soca tunes and some jab jab! Shout out to the DJ that played Brave. I swear my heart almost came out my chest!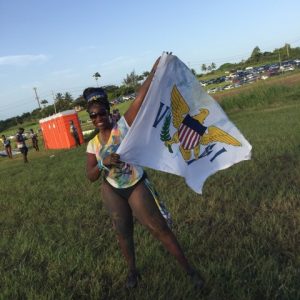 Ultimate Fete Factor (UFF): Caesar's Army ability to create an authentic alternative j'ouvert experience is what sets them apart from any other j'ouvert I've had the pleasure of participating in. It's truly the buildup to the event that makes it unique.
You can't just show up and pay – you have to get approved to be privy to the experience. You don't just arrive and jump into the bacchanal – you have to have your wristband attached and your T-shirt on before being filtered into the j'ouvert area. No stormers allowed! Then and only then are you able to indulge in the chaos and confusion of Caesar's Army bacchanal. The combination of paint, powder, music and drinks with bubble foam pits and water slide bouncy houses coupled with their ongoing encouragement to release all inhibitions to unleash your inner pirate = UFF OVERLOAD!!!
Enjoyed this review? Be sure to leave a comment below if you've ever had the pleasure of experiencing a Caesar's Army fete! I would love it if you could share this review on social media using the buttons below. Encourage others to be part of the bacchanal that is carnival! For more photos and videos of Caesar's Army A.M.Bush BIM, check out their Instagram page!
Until Next Time,
Q the Cruzan Foodie