My Happiest Travels on International Day of Happiness
Today, In celebration of International Day of Happiness that takes place each year on March 20th, I'm sharing five of my happiest travel spots to date! Feel free to add these to your travel bucket list and share some of your favorite travel spots in the comments below. I'd love to add some new spots to my travel list. Ready? Let's go!
Granada, Spain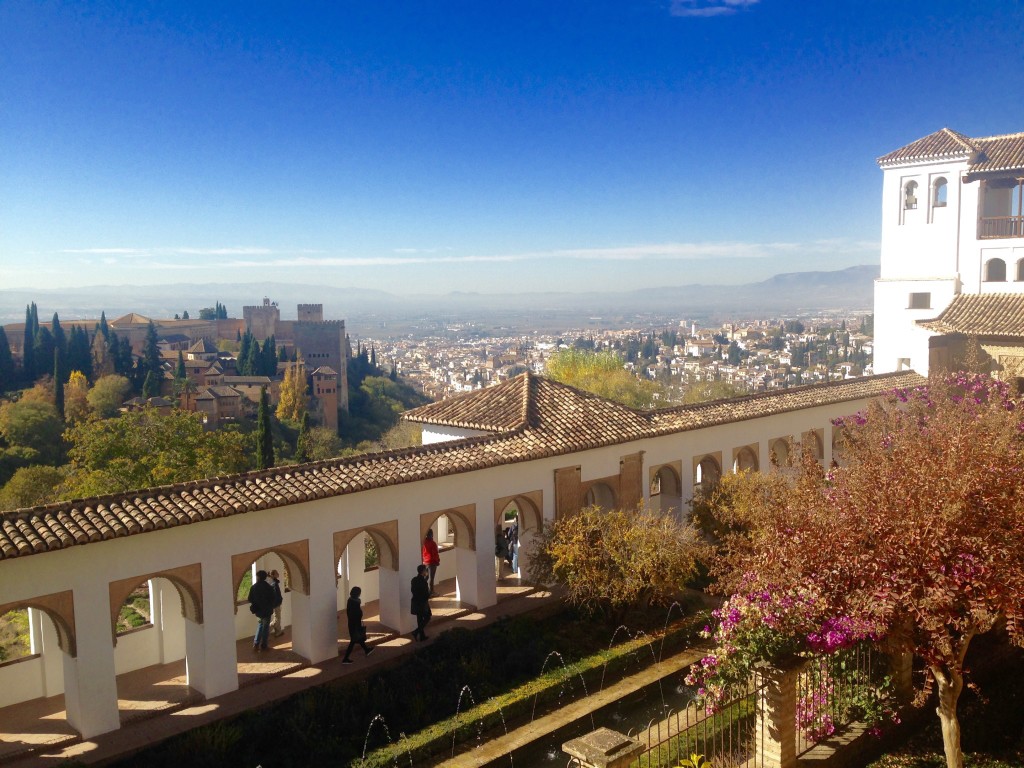 When I decided I wanted to learn Spanish and fully immerse myself in the culture, I kicked off my Spanish adventures in Granada – a city in Spain's southern Andalusia region. It's best known for being the home of the UNESCO World Heritage Site, La Alhambra. Considered to be the most romantic building in the world, it is brimming with exquisitely decorated palaces, hidden courtyards and lavish gardens. While living in Granada, I indulged in paella every Tuesday courtesy of "mi madre Espanola," uncovered the passion of flamenco dancing in the caves of the Sacromonte, learned the importance of a perfect churro and began my European solo travel journey! Looking forward to the day when I return 🙂
Buck Island, St. Croix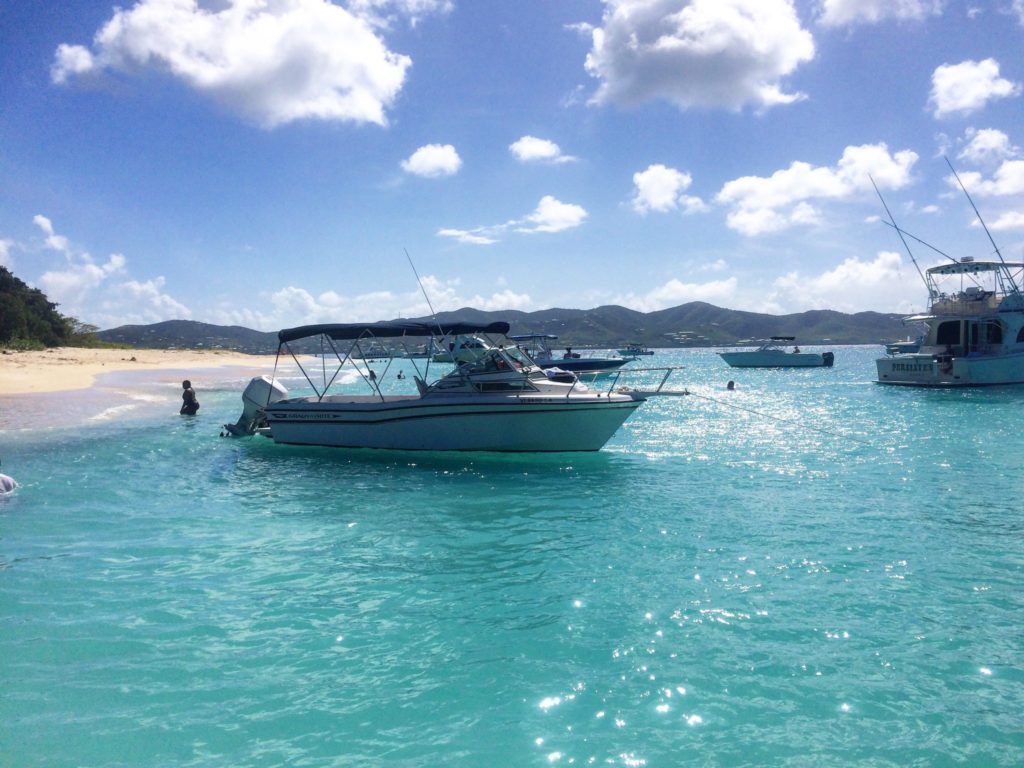 Buck Island is the first place I mention to someone asking about where to go or what to do when they visit St. Croix. Located approximately seven miles east of Christiansted, this designated national park welcomes you to its turquoise waters, white sandy shores and the most tranquil location known to man (or to me anyway)! You might catch a glimpse of a turtle, a dolphin or some stingrays on the sail over. Don't blink or you'll miss it!
Palma de Mallorca, Spain

It was only natural that this island girl would seek out an island during her Spanish travel adventures. Palma de Mallorca was everything I could have imagined it to be – the perfect fusion of island living mixed with European flair topped with Spanish craft beers and unique foodie experiences! It was here I tried calçots, a chargrilled onion that requires a certain set of skills to successfully eat them. The warm folds of coco de patatas held the secrets to life within them and were accompanied with a café con leche. I explored the undisturbed cobblestoned streets of Soller and the cool alleyways of Valdemossa where bursts of bright purple, yellows and pink flowers adorned small patio gardens.
Paris, France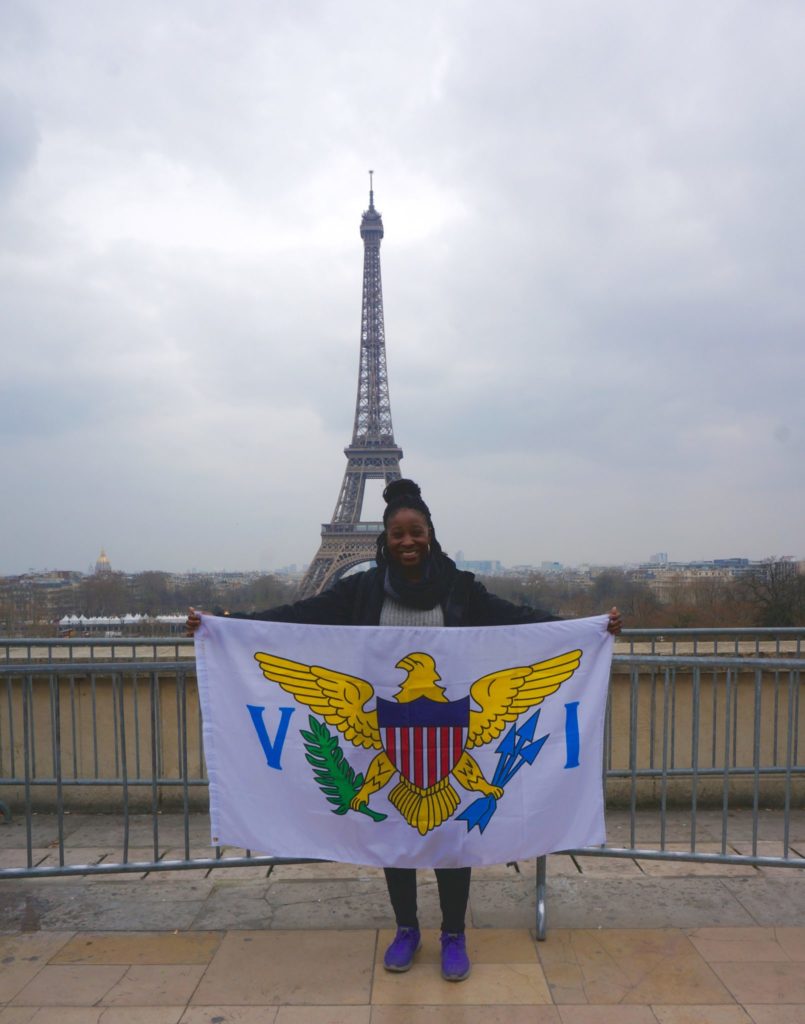 I'm convinced it's every little girl's dream to fall in love under the lights of the Eiffel Tower! The whole love part didn't happen for me there but I did get to see one of the world's most recognized attractions. Boy oh boy, was it a dream come true for me! Words cannot describe the joy that filled my heart when it appeared as I emerged from the underground station to see it standing there in all its magnificent glory! Being that the US Virgin Islands was once owned by France, I had to take a picture under the Eiffel Tower with the USVI Flag. I rep my island everywhere I go!
Amsterdam, Holland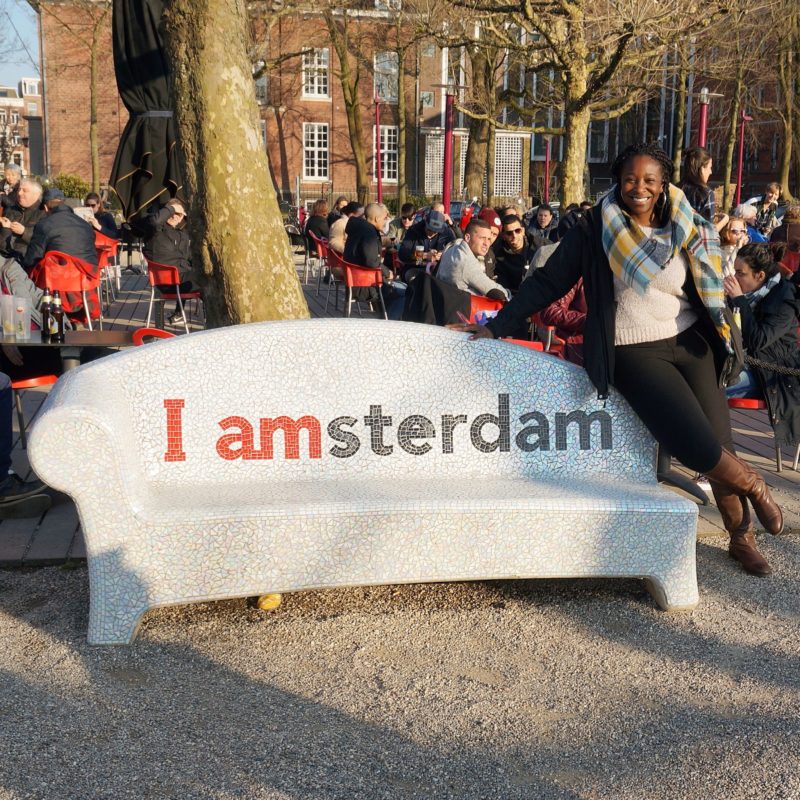 Amsterdam is considered one of the happiest places in the world and it's not because cannabis is legal here (sort of)! Experiencing the people, the food, the history and the natural ease of life here made leaving all the more difficult. Here I visited the Anne Frank House where I learned more about the young lady whose diary became my own as a young teenager. I wore a pair of Dutch clogs while drinking Dutch beer and slept in an authentic Dutch bed nestled softly into the wooden wall. And yes, I did light up with a vanilla milkshake and a slice of space cake which led to a bounty of laughs and an unforgettable night with some amazing friends! Who comes to Amsterdam and doesn't leave a little more faded than when they arrived?
Did any of my happy travel places make your list of places to visit? Feel free to post, comment and share this on your social media channels and share all this happiness with everyone! Remember, sharing is caring and what better thing to share than the joy of travel?
Until Next Time,
Q the Cruzan Foodie