Granada, Spain: 5 Reasons to Visit
When I decided to study Spanish abroad, Granada, Spain was not even on my radar as a place to consider for my 4-month stay in the country. A chance meeting at my local farmers market in Hollywood, FL led me to learn about this city from an artisan olive oil merchant with Spaniard roots. What I discovered when I arrived could not compare to his description of this unprecedented city that captured my heart. Here are 5 reasons why Granada is one of Spain's hidden treasures.
People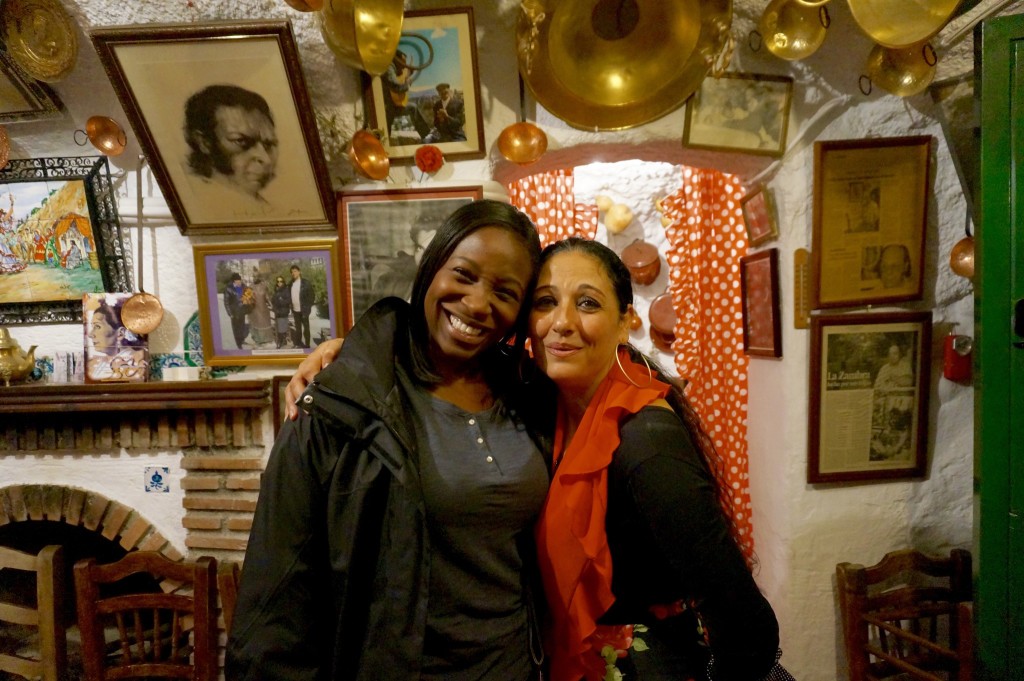 Traveling to a city or country where your known language is not the primary language of that destination can be a bit overwhelming. In my quest to learn Spanish, Granada, Spain would be my first stop on my Spanish learning adventure. How will I get around in the airport? Am I on the right bus/train/metro? What the heck did that announcement say and was it for me? Naturally, you'll stop and ask questions and finagle through the language in order to get the information that you need. This can be met with annoyance or frustration and to say I encountered both during my experience would be the understatement of the century. However, the people of Granada can make you forget at times that you don't speak their native language. Their willingness to help when you need directions or have questions about a store, food item or service is more than a person could ever ask for. Their zest for life can be seen as you walk through the streets, shopping in stores and eating at their restaurants. Smiling faces at every step of the way from the cafes to the fruterias to the museums and family owned shops. They welcome you to their city with open arms and make you question whether or not you should ever leave. The people of a city can make or break it. In Granada, the people here more than make this city a premier destination in Spain – they demand it!
Free tapas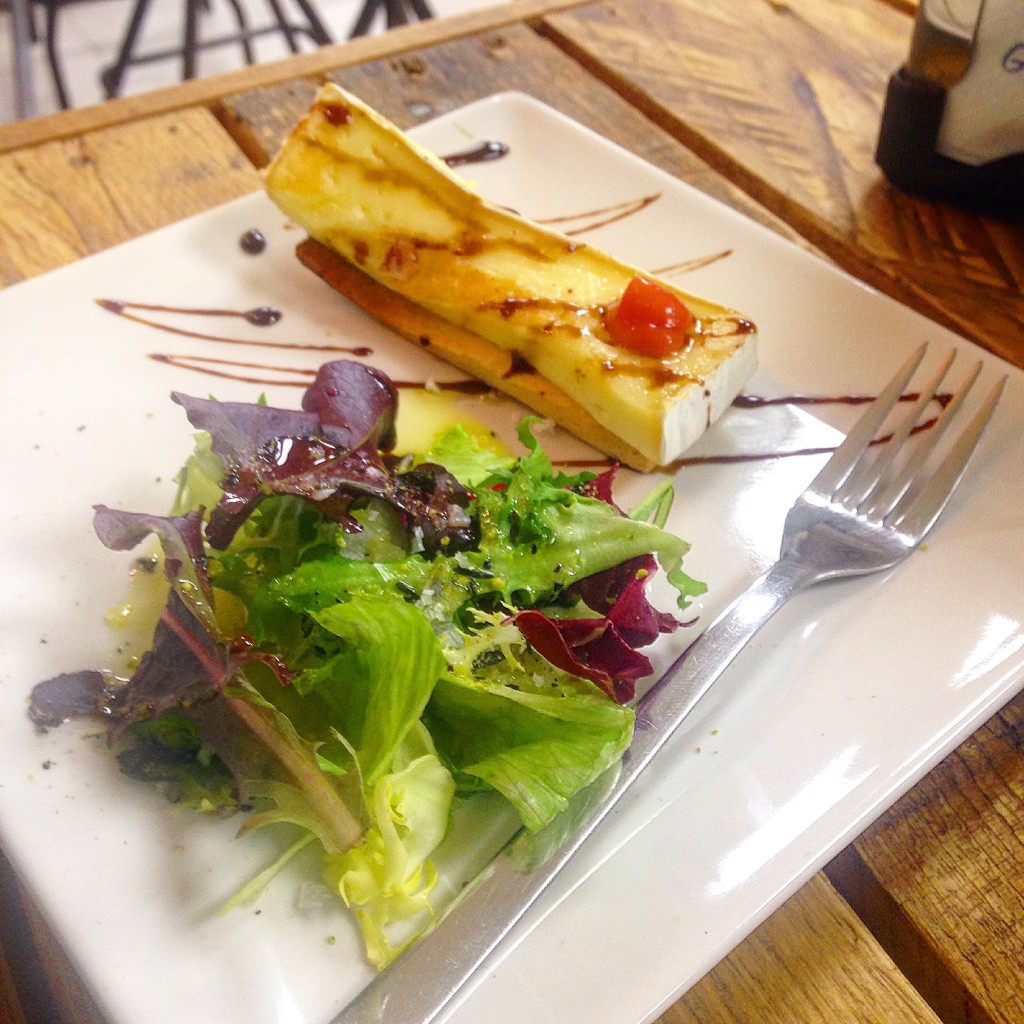 Yes, you read free. F. R. E. E. You're probably thinking, "does she mean free, free or just kinda free?" Here's the deal – each drink that you purchase at a bar, restaurant or café (beer, wine, spirit or soda) earns you a free tapa at that location. Tapas are small plates – served hot or cold – that date back to a time when restaurants and bars offered these small dishes to patrons. They did this as a means for their customers to protect their drinks from flies and other pesky creatures from making their way into the glass. Apparently, this was a huge problem all over Spain since you can find tapas in almost every bar, restaurant and café you encounter. However, not all tapas are created equally. Granada, Spain is one of the last cities that offer a tapa with each drink. The value of the tapa increases with each drink purchase, meaning you're dining like a paid patron by drinks 3 or 4! ¿Es incredible, verdad?
La Alhambra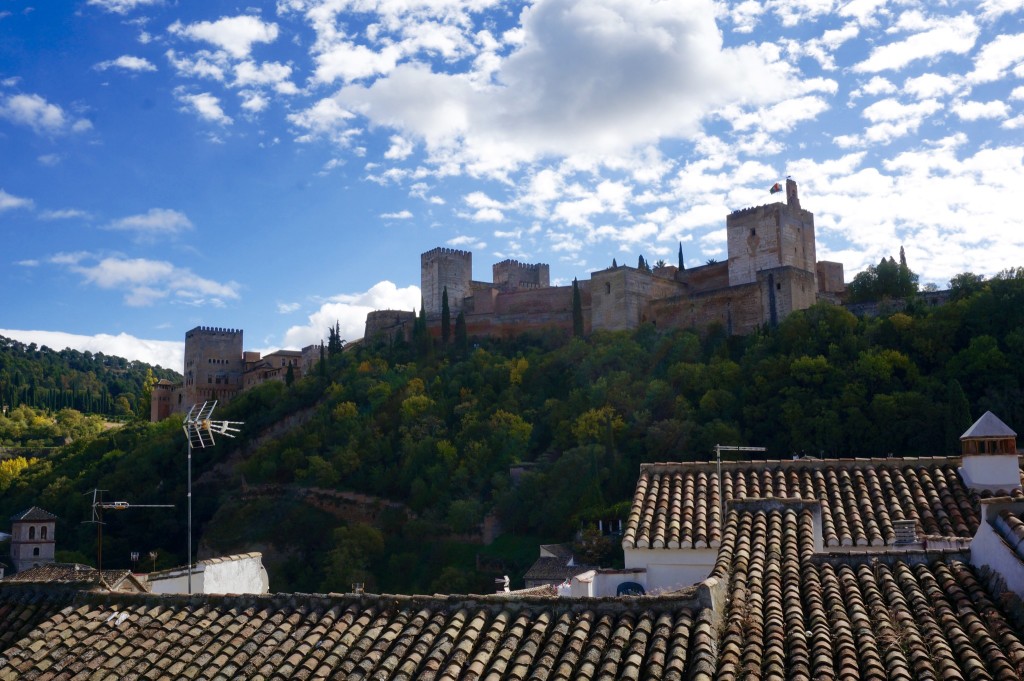 If you head to the southern Spain, everyone will tell you to visit the Islamic Palace, The Alhambra and for good reason too! It's unlike any historic attraction in Europe and because of its rich history and integral part of shaping this part of the world, it was declared a UNESCO World Heritage site in 1984. The Alhambra offers insight to the Moorish influence reflected in Southern Spain and demonstrates the artistry of the architects of that time. Every single space is covered with decoration from interior arches, rich ceramics and exquisitely carved wooden frames. Originally constructed as a fortress, this captivating red monument was converted into a palace in 1333 by the Nasrid Dynasty. There's a great deal of history here (some of it a bit gory and brutal) with regards to Moorish & Catholic rulers of Spain but is a must-visit Spanish attraction. Lavish palaces, plush gardens and tranquil water fountains await you inside the walls of La Alhambra.
From beaches to mountains to city life
A visit to Granada can give you three distinct experiences in one. Depending on the time of year, you can explore the snowcapped mountains of the Sierra Nevada, indulge in champagne cocktails and swanky events within the city and sway in the cool waters along the Andalusian coast only an hour outside the city center. There aren't many places in Europe where one can experience such drastic changes in climate, culture and terrain in one fell swoop but Granada delivers in fulfilling the expectations of each of these experiences without missing a beat. Who wouldn't want three vacations in one? See how it's done in this post from an expat who visited Granada, Spain.
Churros, churros & more churros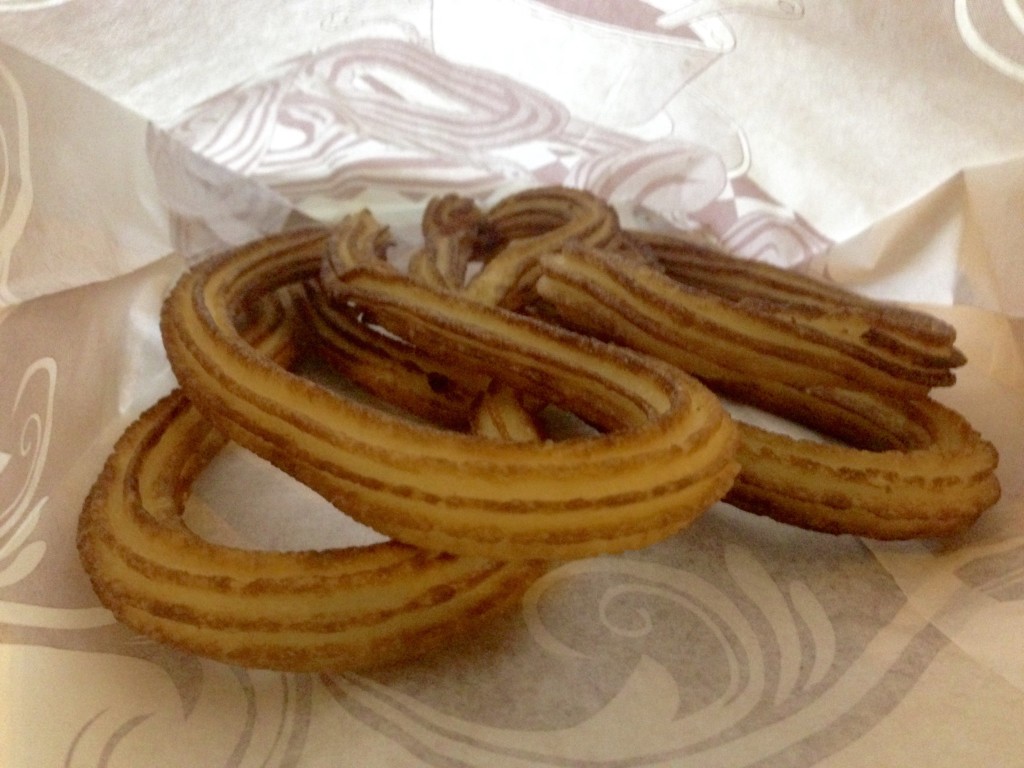 Nothing beats a sweet morning treat of freshly made churros along the bustling roadside in Granada. Abuelitos have been preparing them for young children, students and adults alike for decades, serving up three to four of these twisted golden treats on thin wax paper with a café con leche o una taza de chocolate!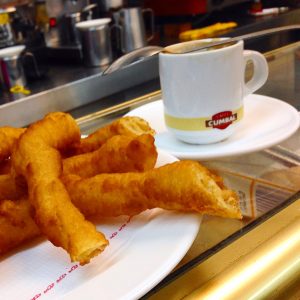 Churros in Granada are fried in a large vat of piping hot oil and expertly contorted in its raw form to create hollow, figure 8 pieces of golden goodness. Ignore the churros offered in your typical tourist restaurants. Instead, look for the café swamped with locals where little to no English is spoken but everyone present understands the language of endorphin-inducing foods, like churros con chocolate. ¡Buen provecho, mis amigos!
Getting to Granada, Spain is easy to do and highly recommended as an addition to any visit to this historical country. Take a quick flight, a high-speed train ride or the scenic bus route. Regardless of your mode of transportation, be sure to visit one of Spain's hidden treasures – Granada!
Buen viaje,
Q the Cruzan Foodie