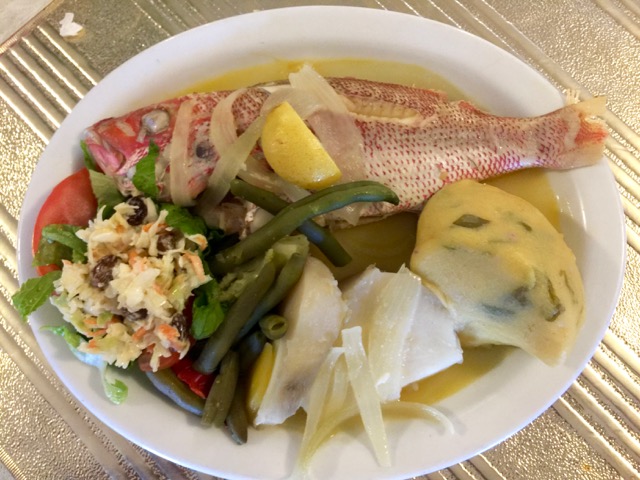 One of the best parts of being Cruzan Foodie is sharing my incredible foodie finds with you! What better way to celebrate this on my blog than having a day dedicated to these delicious discoveries? Introducing #FoodieFriday with Cruzan Foodie!
This week's foodie find is a dish that I've eaten more times than I count growing up on St. Croix. Boiled fish (or pot fish) & fungi is what one might a call a true "Crucian" dish but there's a bit of history behind statement. Fungi can be described as a cornmeal-based dumpling made with okra similar in texture to polenta. The boiled fish that is most often served in this dish is red snapper, but other fish variety may be paired with it.
In the 1970s, St. Croix saw an influx of people from a variety of islands further down the Caribbean chain. Trinidad, Antigua, Dominica, St. Lucia and St. Vincent were a few islands people migrated from seeking employment at the oil refinery and alumina plant that opened on St. Croix in the late 1960s. As a result, St. Croix and the Virgin Islands as a whole were introduced to foods that were native to these islands. Antigua, for instance, is known for their fish & fungi. It wouldn't be a far stretch to say that this recipe was brought over to St. Croix by Antiguans. Over time, Virgin Islanders adopted fish & fungi as one of their native dishes and put their twist on it to make it their own. Regardless of how it made its way to St. Croix, you have to give fish & fungi a try whenever you find yourself visiting one-third of America's Paradise.
Here are a few places on St. Croix where you can get a taste of this local dish:
Junie's Bar & Restaurant
132 Peters Rest
Christiansted
340.773.2801
Cast Iron Pot
North Shore Road
10A La Grande Princesse
340.692.2477
Kim's Restaurant
45 King St
Christiansted
340.773.3377
Until Next Friday,
Q the Cruzan Foodie