Like Fine Wine, St. Croix Food & Wine Experience Gets Better With Time
The 2017 St. Croix Food & Wine Experience (STXFWE) did the unthinkable: it surpassed expectations of each and every attendee who had the opportunity to experience one (or all) of the events of this year's culinary wine and spirits festival!
The annual benefit for the St. Croix Foundation for Community Development took place from April 7-10, 2017 and featured an event lineup bursting with the talents of renowned chefs, well-known TV personalities, James Beard winners and corporate chefs. "Cultivating Community Through Food, Fun and Philanthropy" was this year's theme as it emphasizes the Foundation's support for holistic community development. As a 501(c)3 civic organization, the Foundation addresses the socioeconomic needs of the US Virgin Islands in a number of areas and has been committed to identifying community needs while leveraging available resources to improve the economic and social well-being of the US Virgin Islands.
Bond @balter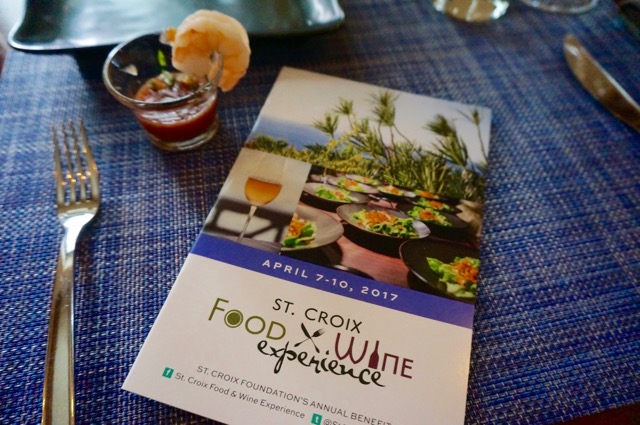 The kickoff event was hosted by one of St. Croix's leading restaurants, balter. The blend of passionate food and local rhythm to promote holistic community development was the focus of Bond @ balter. At this event, award-winning chef and co-owner Digby Stridiron and co-owner Sommelier Patrick Kralik paired an assortment of lip-smacking bites with sophisticated worldly wines. During the event, St. Croix Foundation's Executive Director Deanna James highlighted the multitude of educational and community-centric initiatives that STXFWE supports. 100 percent of the proceeds from St. Croix Food & Wine Experience directly impact projects like the development of a state-of-the-art island wide camera system supporting the Virgin Islands Police Department and partnering with community partners to address crucial issues of homelessness on St. Croix. Learning of the ways STXFWE proceeds were used to impact the territory truly drove home this year's theme of "Cultivating Community Through Food, Fun and Philanthropy."
Cork & Fork Dinner
Hosted at the historic 1770s home of Mark & Pat Sellergren of Sweet Lime Furnishings, the Cork & Fork Dinner was prepared by renowned Executive Chef George Reid of Four Seasons Anguilla. Classy & chic, this well-designed dinner menu delighted the taste buds of guests. With a thoughtful wine selection from Southern Glazer's Wine & Spirits portfolio, this intimate gathering seamlessly paired fine wines with Chef Reid's unique dishes that included sautéed Anguilla crayfish, 21-day aged beef strip and foie gras stuffed pig trotters.
Sunset BBQ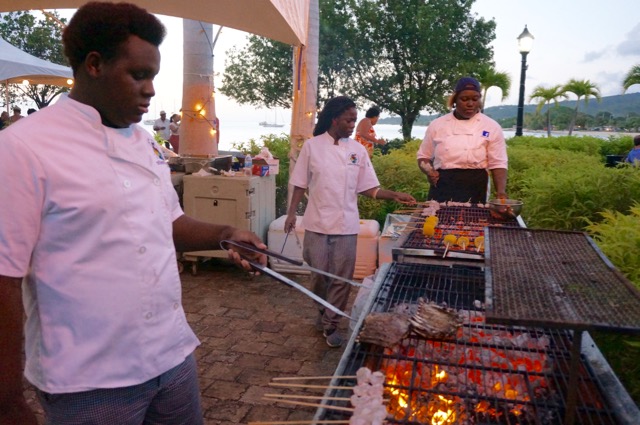 As the sun set on the west end of the island, friends and families gathered on the Frederiksted Pier for the ultimate Crucian experience of the Sunset BBQ. Succulent barbecue bites were prepared by local culinary students under the watchful eyes of celebrity chefs like James Beard Winner Sam Choy, Facebook's Global Executive Chef, Tony Castellucci and local Culinary Arts Instructor, Anton Döös III. Rhythmic vibrations from the live steel pan orchestra and mocko jumbies ushered guests into the event to enjoy dishes filled with rich, local flavors and a barbecue twist. Locally produced Cruzan Rum and Captain Morgan were on hand offering samples of their award-winning spirits along with other Caribbean rums like Mount Gay Rum, Plantation Rum and Blue Chair Bay.
Wine in the Warehouse – Hangar Style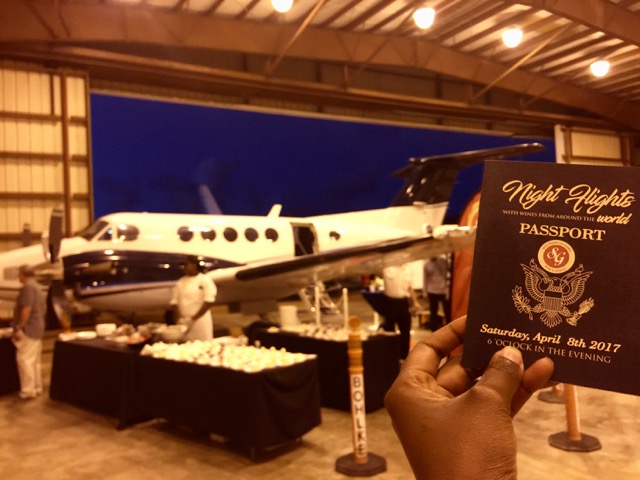 The attendee favorite of this year's St. Croix Food & Wine Experience had to have been Wine in the Warehouse. The ever-popular Wine in the Warehouse ($125 per person) was this year's most anticipated event in the series due to A change in venue made the appeal of this event even more enticing than before because it took guests on a journey around the world and back! With "passports" in hand, event goers arrived at the Bohlke International Airways Hangar at the Henry E. Rohlsen Airport for a taste of the evening's night flights. What does this mean exactly? Well, guests received a stamp on their "passport" to represent their "flight" to the part of the world where their wine originated. South Africa, Asia, Spain and France were a few of the countries visited while guests indulged in delectable bites from Top Chef Ron Duprat of Renaissance Carambola Beach Resort and Iron Chef Sam Choy. Of course, an event in an airline hangar would be incomplete without an airplane or two. Guests were able to tour the private planes in the Bohlke fleet and see firsthand some of the remarkable perks of chartered flying.
Gourmet Vintner Dinner
The Gourmet Vintner Dinner – the final event of the culinary wine and spirits festival – was quite the showstopper! Celebrity Chefs Sam Choy, Tony Castellucci, Robyn Almodovar, winner of Food Network's CHOPPED and Executive Chef Negust Kaza each prepared one course of the evening's sophisticated dinner menu. Some of the courses featured dishes like Crucian beef braised short ribs, curry carrot soup with local & shitake mushrooms and crusted mahi-mahi topped with breadfruit cake. Delightfully paired with Justin and Landmark Vineyards wines, each dish served as a final reminder on why St. Croix Food & Wine Experience continues to be a success as careful planning and execution was put forth in each course.
While St. Croix Food & Wine Experience draws in a growing number of visitors with each passing year, it's important that we remember what this highly ranked international food and wine event means for the US Virgin Islands. By attending events during STXFWE, you are supporting the Foundation's efforts in raising money for high impact projects that benefit the people of the territory. Learn more about that here. If you haven't made it to St. Croix for this renowned event, you can start making plans for 2018. Dates have already been set: April 5th to April 9th so mark your calendar and get your vacation plans in order!
For more information on St. Croix Food and Wine Experience, click here.