2014 USVI National Culinary Team: George Sittig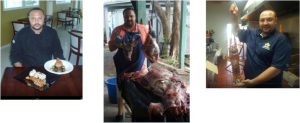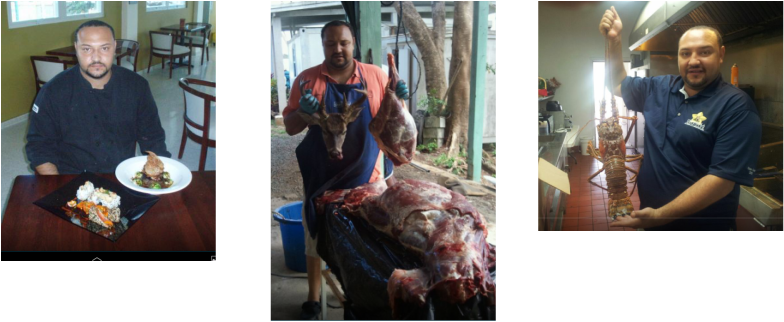 It's pretty amazing the places where life can take you, even if you never even imagined it. This is the case with Chef George Sittig, Executive Chef of Greenside Grille at the Carambola Golf Club in St. Croix, U.S. Virgin Islands. "I never wanted to be a chef," he said, "I always thought I'd be a doctor and study psychiatry but never a chef." Born and raised in Lafayette, Louisiana, Chef Sittig comes from a long lineage of men who cook. He said, "Every man in Louisiana knows how to cook. It's like the roles there are reversed where the men do all of the cooking in kitchen. If you don't know how to cook as a man in Louisiana, you'll have a hard time getting a date!"
One can't help but ask how in the world did this Louisiana native end up in the beautiful island of St. Croix. After graduating from Nicholls State University in Thibodaux, LA, Chef Sittig completed an internship in France and went on to work for a catering company & restaurant in Los Angeles, California that catered to celebrities, Fortune 100 corporations like Microsoft and award shows such as the Soul Train Music Awards and BET Music Awards. In 2000, he met the owner of St. John's Asian-Fusion restaurant, Asolare, at an event he catered in L.A. and was invited to come to St. John to audition for the Executive Chef position at the popular island establishment. From there, the rest was history. Chef Sittig enjoyed the islands so much so that he opened a Latin-Asian fusion restaurant in Puerto Rico called Canella, which means "cinnamon" in Spanish but sold it in 2010 when the economy started on a rapid decline. From there, he made his way over to St. Croix where he held the Executive Chef position at few restaurants and won several categories in Taste of St. Croix Food & Wine Experience throughout the years before landing at Carambola Golf Club where he's been for the last 2 years.
His dish pictured to left was featured in 2012 Taste of St. Croix as one of the best appetizers at the event. Appropriately called "A Trio of St. Croix" because all foods used in the dish were freshly caught and locally harvested, it includes a prawn, scallop and cuttle fish salad.
With numerous accolades to his name and featured specialty chef visits around the world from Thailand to Italy to Brazil, Chef Sittig is excited to participate in the Taste of the Caribbean competition for the second year in a row. "It's a great opportunity to showcase the culture and cuisine of the U.S. Virgin Islands which I've come to love as much as my own home roots in Lafayette." He's also excited about the future of culinary arts in the U.S. Virgin Islands with the recent charter of the American Culinary Federation chapter in the territory. As a founding member of the chapter, he will assist in the offering of educational resources and training to help foster the growth of current and future chefs in the US Virgin Islands on a nationally accredited level.
Join me in cheering on Chef George and the rest of USVI Culinary Team as they compete in the Caribbean Tourism & Hotel Association's Taste of the Caribbean Culinary Competition that kicks off today, Sunday June 30th at the Hyatt Regency Miami at 5pm. For more information and to buy tickets, visit the event website at http://www.chtatasteofthecaribbean.com.