Journey to Peru Gourmet 2015
Get whisked away to the country of Peru on the ultimate foodie journey in just one night! That's certainly happened at Peru Gourmet 2015 Festival hosted by the Peruvian American Chamber of Commerce on Tuesday June 9th at the Rusty Pelican Restaurant in Miami, FL. In its 5th consecutive year, the Peru Gourmet Festival continues to raise funds to benefit various charities and nonprofit organizations based in the South American country. This year proceeds were donated to two organizations, Asociación Emergencia Ayacucho (AEA) & Christian Life Movement (CLM). AEA is a nonprofit organization that was founded in 1985 to provide support for orphaned children that survived terrorist attacks in the city of Ayacucho. CLM is an international ecclesial movement devoted to apostolic initiatives of the Society of Apostolic Life as well as helping the poor through generous giving of self in the service of others.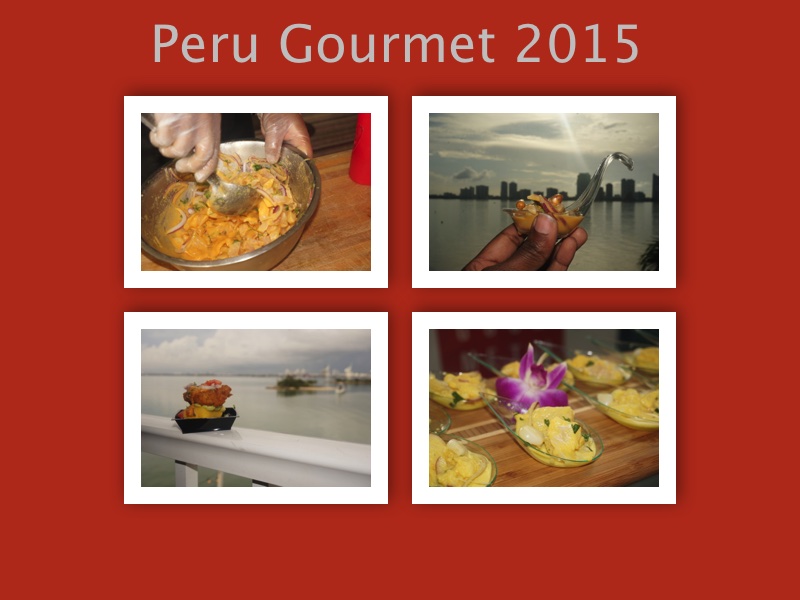 Twenty of South Florida's best Peruvian restaurants & catering companies prepared a variety of traditional dishes with the main entrée being Peru's national dish, ceviche. There's more than one way to make ceviche but if you ask any Peruvian, they will tell you that their way is the only way! You would think that ceviche could only be made one way but each participant's dish stood out from the next. Pisco y Nazca's dish featured a passion fruit leche de tigre (tiger's milk) that truly danced on the palate, leaving a refreshing citrus bite that left guests wanting more. Tira D. Toss, a Peruvian Japanese fusion restaurant, featured a spice ceviche made with octopus, calamari, corvina, shrimp & mussels and an Amazonian pepper found in Peru that gave the dish quite a kick! Another popular dish prepared was causas, a layered potato dish topped with meat such as chicken, tuna or shrimp and paired with avocado.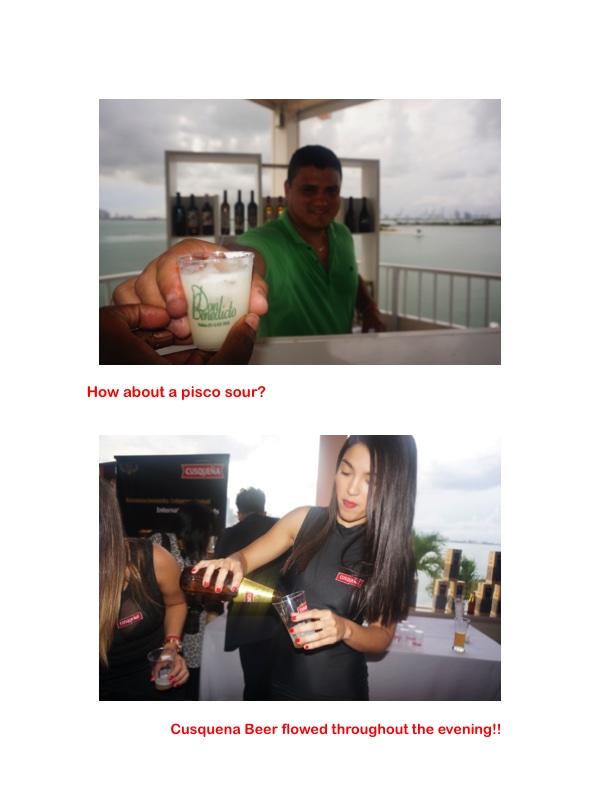 Of course, you need some sort of beverage to wash all this food down and what better way to do so than  with a pisco sour! This popular Peruvian drink was a big hit at Peru Gourmet 2015. Pisco, a white brandy made from muscat grapes, blends together with key lime juice, egg whites & simple syrup with a dash of Angostura bitters to provide a slight creamy, frothy drink that treads a fine line between sour & sweet. The line for this drink was a clear indication of its popularity at the event. Other beverages on hand were Cusquena Beer, Inca Kola Soft Drink & Intipalka Wine.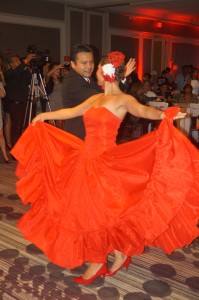 Guests were entertained with traditional Peruvian folk dances with local music. La Marinera, an upbeat & energetic dance was performed throughout the evening with its elegant movements & complex choreography dazzling guests.
Peru Gourmet 2015 transported guests to Peru on a fantastic culinary quest that included traditional food & drink with a touch of Peruvian culture with their dance & music. At the end of the evening, Peru crept onto many travel bucket lists as a leading South American travel destination. For more information on the event & its participants, visit www.perugourmet.org.