Cruzan Foodie Cocktail: Coco Fresco
I'm back again with another Cruzan Foodie cocktail that is sure to be a guaranteed hit, especially if you're a fan of coconut and pineapple! Say hello to the Coco Fresco cocktail. Made with Cruzan® Coconut Rum, this drink puts a new twist on a classic drink recipe. It's Piña Colada meets Lime in the Coconut but with Cruzan Foodie style. Kick off another at-home happy hour with a Coco Fresco! If you're wanting to be teleported to a tropical beach somewhere, this drink is for you! What makes it even better is that is made with the best rum in the world, Cruzan Rum.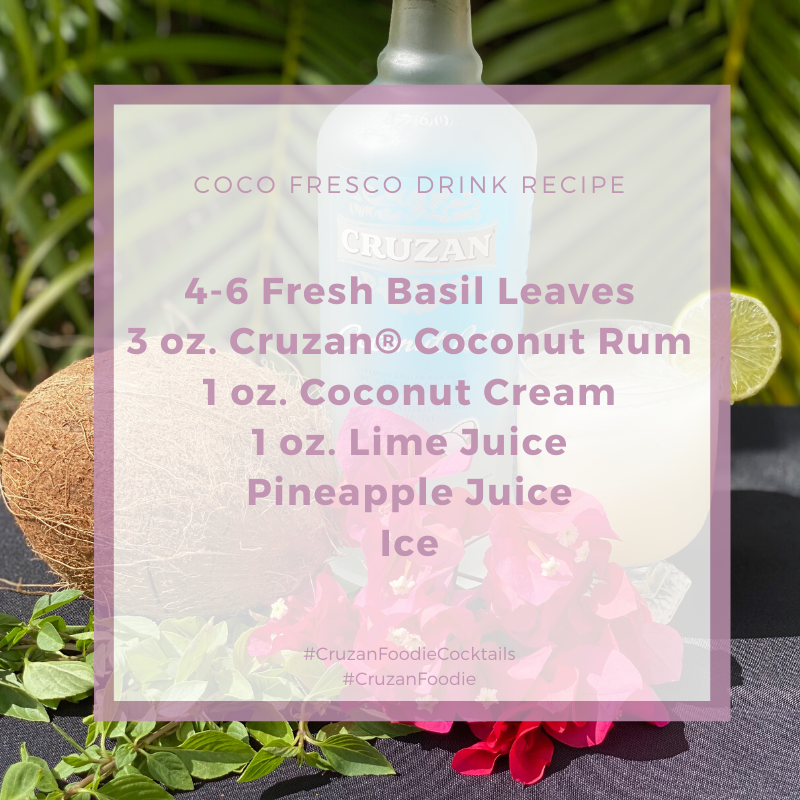 Add this fun, flavorful cocktail to your at-home drink lineup. The addition of basil really takes this drink to a whole new level. You'll soon start looking for more ways to add basil to your adult beverages! Check out my quick video below showing exactly how you can make this drink in the comfort of your own home. Be sure to hit the like button on my YouTube video and subscribe to my channel. More fun, boozy videos like this are in the works and you don't want to miss them!
SEE ALSO: Cruzan Foodie Cocktail: Berry Lemon Fizz
I would love to hear/read your thoughts on my latest Cruzan Foodie Cocktail! Better yet, be sure to let me know if you made a Coco Fresco cocktail at home. Snap a pic and tag me in your photos and posts on social media (@CruzanFoodie) via Facebook, Instagram and Twitter. Can't wait to see your drinks. Cheers!