Taste of the Caribbean: Cheesecake Competition
Have you ever been to a cheesecake competition??? I have to say this was one of the most exciting things I've witnessed in a while! You're probably wondering what the heck is so exciting about seeing people bake cheesecake but when you've eaten it as much as I have and personally made it from scratch, it's something to be in awe of!
Seeing the techniques and styles of Chef Gary Klieinfelter of Buccaneer Resort & Spa in St. Croix, U.S. Virgin Islands made me realize how much as a novice I was!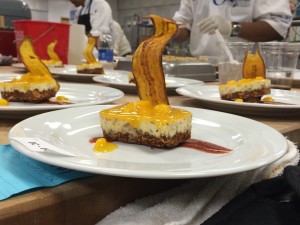 Here he was yesterday in the video below working on his unique lobster cheesecake, a savory dessert with mango habanero jam, gooseberry sauce and a crisp plantain accent! Here was the final product:
Check him out in action in the video below! We'll find out tomorrow if his masterpiece beat out the other islands for this competition!
xoxo,
Q