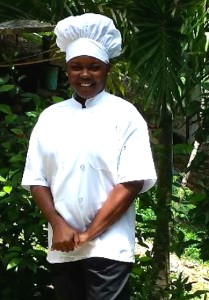 Meet 22-year-old Danika Joseph, Junior Chef on this year's USVI National Culinary Team participating in the Caribbean Hotel & Tourism Association Taste of the Caribbean Culinary Competition in Miami, FL this weekend! With no formal training, this young lady has come quite a way in proving that becoming a chef is possible through hard work, dedication, great mentors & one-of-a-kind opportunities. Five years of experience working in restaurants, catering companies and hotel resorts has prepared Danika for her greatest opportunity yet: to practice, learn and compete in a widely recognized event with award-winning chefs. Danika said, "It is an absolute privilege to be able to be apart of such an amazing team. I'm learning new things with each practice session, things I never thought I needed to know to be a great chef. Last practice, Chef George taught me how to fillet a fish because he said every good chef should learn and perfect this technique."
Danika competed against three other chefs back in April to gain a spot on the USVI National Culinary Team.
She created a stellar dish with the "mystery box" presented at the competition that contained scallops, green beans, butter, onions, garlic, cashews, red wine and bacon. Judged on presentation and technique, she presented the judges with a sweet potato and carrot puree with seared scallops wrapped in bacon with a pepper coli and cashew sauce, mango ginger red wine reduction with sautéed green beans. This winning combination secured her spot as Junior Chef on the USVI Culinary Team!
As the kitchen supervisor of the Caribbean Noodle Bar at Sugar Bay Resort & Spa in St. Thomas, Danika is well on her way in making a name for herself in the culinary world with hopes of one day having her own catering company. She credits her mentor Chef Ron Duprat, Executive Chef at Sugar Bay Resort, for her current skills in the kitchen. "He sees I'm a hard worker and I'm willing to learn everything there is to know about fine dining. He's helped me to further develop my skills and for that, I'm grateful."
Leave your comments below with well wishes for Danika in her first culinary competition and be sure to share her story on your social media pages!