2014 Taste of the Caribbean Culinary Competition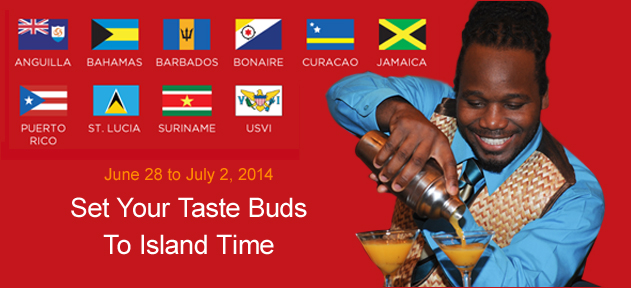 There's no better way to experience the culinary greatness of the Caribbean than the 2014 Taste of the Caribbean culinary competition taking place June 30th – July 2nd at the Hyatt Regency in downtown Miami, FL sponsored by the Caribbean Hotel & Tourism Association (CHTA). Over 10 teams from the Caribbean will compete in a hot food/culinary team competition, bartending competition and a pastry competition with a team of 2 senior chefs, 1 junior chef, 1 bartender, 1 pastry chef and 1 manager.
As a fellow Virgin Islander, I was excited to see that the U.S. Virgin Islands was being represented in this competition with a team comprised of talent from St. Croix and St. Thomas. The USVI Hotel & Tourism Association selected its 2014 National Culinary Team to participate in this year's event through a series of individual competitions. It resulted in the creation a superstar team of the following chefs and bartender from St. Croix & St. Thomas:
Marcos Sanchez – Team Captain & Executive Sous Chef at Marriott Frenchman's Reef & Morning Star Resort, St. Thomas
Gary Klinefelter – Certified Executive Chef at The Buccaneer Hotel & Resort, St. Croix
George Sittig – Executive Chef at Greenside Grille at Carambola Golf Club, St. Croix
Ron Duprat – Executive Chef at Sugar Bay Resort & Spa, St.Thomas
Ryan Cross – Executive Pastry Chef at The Ritz Carlton St. Thomas
Michael Matthew – Head Chef at The Galleon Restaurant, St. Croix
Taj Siwatu – Chef at Buddha Sushi, St. Thomas
Danika Joseph – Junior Chef at Sugar Bay Resort & Spa, St.Thomas
Brandon DeCloux – Bartender at Sibs on the Mountain, St. Thomas
The team will arrive in Miami on Saturday to get settled in and start preparation for the first competition on Sunday evening, Taste of the Islands. Stay tuned for more information on each of the chefs as we draw closer to the first event!
Be sure to share this with your social media community on Facebook, Twitter & Instagram to spread awareness of this fantastic event being sponsored by the CHTA to support the 2014 USVI National Culinary Team! If you're in the Miami area, come out and support the team at the Taste of the Islands competition on Sunday June 30th at 5pm at the Hyatt Regency Miami. Tickets are $40 and can be purchased on the event website at http://www.chtatasteofthecaribbean.com. See you there!