October is upon us and that only means one thing to a foodie: pumpkin is back in season! Pumpkin spice lattes, pumpkin donuts, pumpkin beers & ales, pumpkin cookies and the list can go on and on but we only have so much time 🙂
The 2014 fall season introduced some new pumpkin flavored items from companies that made you think if it's all just a bit too much. Check out the list below of some items introduced this year that took "thinking outside the box" to another level: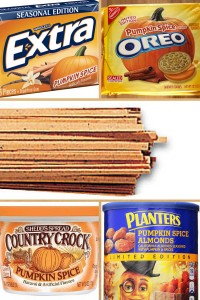 Wrigley's Extra Spice Pumpkin Gum – this seasonal item is available at Target stores nationwide through November 1st
Nabisco Pumpkin Spice Crème Oreo – With a bright orange crème filling flavored with cinnamon and a hint of nutmeg, this recent addition to the Oreo family was released on September 24 and will be available for 6-8 weeks at your grocery stores
Rossi Pasta Pumpkin Spice Fettuccini – This gourmet item infused with cinnamon, nutmeg, ginger & cloves is available online at RossiPasta.com. At $7.50 per 12oz package, you can have your fill of pumpkin flavored carbs 🙂
Country Crock Pumpkin Spice Spread – Another seasonal item available in your grocer's refrigerated aisles will be sure to turn heads once it hits the shelves
Planters Pumpkin Spice Almonds – Perhaps these will be making an appearance at your next holiday get-together? Either way, Planters decided since everyone else had a "pumpkin something", they can hitch a ride on the bandwagon too!
Is anyone daring enough to try these items? Let me know if you take the plunge. I'd love to hear your reviews on how some of these tasted. Be sure to check out more on the latest trends in food, wine & travel over at cruzanfoodie.com!