Keeping It Jazzy – A Night Out at All That Jazz Cafe & Grill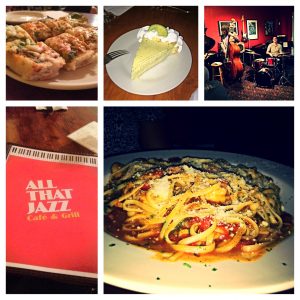 If you're in the mood for a casual dining experience that can be fun for the whole family, you should head on over to All That Jazz Cafe & Grill on Friday & Saturday nights for outstanding food & great live music! Located on the NW corner of Oakland Park Blvd & Hiatus Rd, this music school by day transforms to an idyllic cafe on the weekends that is sure to keep you coming back for more. Their prices are exceedingly affordable and you can leave here knowing that you received fresh, homemade cuisine without breaking the bank. Appetizers start at $4.95 and rounds out at $10.95 and entrees start at $9.95 and go up to $23.95.
This family owned business really knows how to make you feel welcomed. Their cool and clean décor is impeccably maintained and their service is one-of-a-kind. They have a small wine list that has something for everyone. The Robert Mondavi Woodbridge Collection is their house wine that is priced at $6.95 per glass. Other wines are sold by the bottle and range from $28 – 40. They have a small selection of your standard beers to choose from along with sodas, iced tea, cappuccino, espresso, coffee & tea. Their kids' menu boasts free dessert for kids with meals at $6.95 and $8.95. Again, there is something for everyone and the prices cannot be beat.
I started off with the recommended appetizer, the All That Jazz Garlic Bread.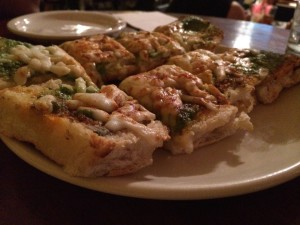 This homemade treat is made daily with fresh garlic and herbs and drizzled with extra virgin olive oil. You can "jazz it up" by topping it off with one of the following: fresh mozzarella cheese, melted Gorgonzola, pesto & mozzarella cheese or with fresh tomato sauce & mozzarella cheese for a pizza style twist. Served in 8 pieces, the pesto & mozzarella topping ($6.95) was very flavorful and more than enough to share. If you like your garlic bread with a bit more of a crunch, ask the server to have them leave it in the oven a little longer for that crunchy bite. Overall, the appetizer was a good choice but with 6 other appetizers on the menu to try, I'd recommend getting another one to pair with the bread for the table to share as all the others have either seafood or meat in it.
They have a wide selection of entrees to choose from with each entrée including your choice of a soup or salad. A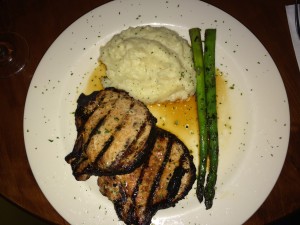 n eclectic cuisine offering is what adds to the charm of this restaurant. Tacos, salads, garlic bread sandwiches and pasta dishes with made-from-scratch specialty sauces are just some of the entrée choices available to guests. The restaurant also has dishes "from the sea" and "from the grill" served with rosemary mashed potatoes, jasmine rice or pasta marinara with the sautéed vegetable of the day. The two 8 oz. flame grilled pork chops was the entrée of choice paired with mashed potatoes, asparagus and a salad ($17.95). My friend went with the shrimp linguine in Calypso Caribbean Sauce ($15.95). This medium spicy sauce was made with bell peppers, ginger, coconut milk, tomatoes and a hint of brandy. In trying the dish, I was able to pull out all the flavors in the dish where no one flavor overpowered the next. You could easily taste the freshness of the foods with each bite being better than the last. These simple but flavorful dishes left absolutely nothing to be desired and were the perfect combination to satisfy the appetite.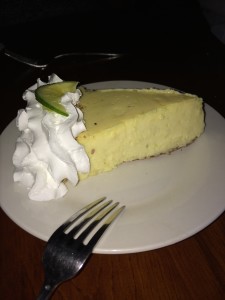 No meal is complete without dessert and All That Jazz Cafe & Grill serves up a variety of fresh, homemade goodness for this final course. Each dessert is made from scratch and 100% au natural using their very own recipes. Elaine's Key Lime Pie was one of the best key lime pies I've ever tasted. Its crisp, cool taste of freshly grated limes and tart custard made for a refreshing treat. This particular dessert was enough to share but could be enjoyed by one person. All of the other desserts on the menu are meant for sharing. I heard rave reviews from other patrons about their Brownie Ice Cream Sundae "Explosion" so be sure to try that one as well.
By far, the cherry on top for this restaurant is the live jazz band that plays while you enjoy your meal.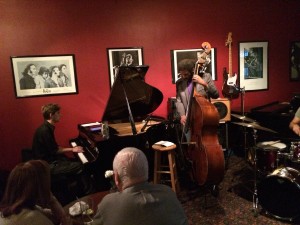 With one person tinkling away on the piano keys, another on the drums and one of the owners strumming on the bass, the atmosphere completely transforms with the smooth sounds of the live band. Look no further because All That Jazz Café & Grill is a unique restaurant that offers homemade comfort food at great prices and unbelievable live music. Located at 3491 Hiatus Rd. Sunrise, FL, they are open on Friday & Saturday nights from 5:30pm – 11:30pm. They also host Sunday Brunch once a month along with other special events so be sure to sign up for their email list to get all the latest details on all the happenings by going to their website at www.allthatjazzcafe.com or calling them at (954) 572 – 0821.