Unofficial Dish of the USVI: Fish & Fungi
One of the best parts of being Cruzan Foodie is sharing my incredible foodie finds with you! This unofficial dish of the Virgin Islands is one that I've eaten more times than I count growing up on St. Croix. Fish & fungi is what one might a call a true "Crucian" dish being that it can be found on most menus of locally owned eateries. Fungi (pronounced foon-ji) can be described as a cornmeal-based dumpling similar in texture to polenta made with okra, salt and butter. The fish that is most often served in this dish is red snapper, but other fish variety may be paired with it like king fish steaks.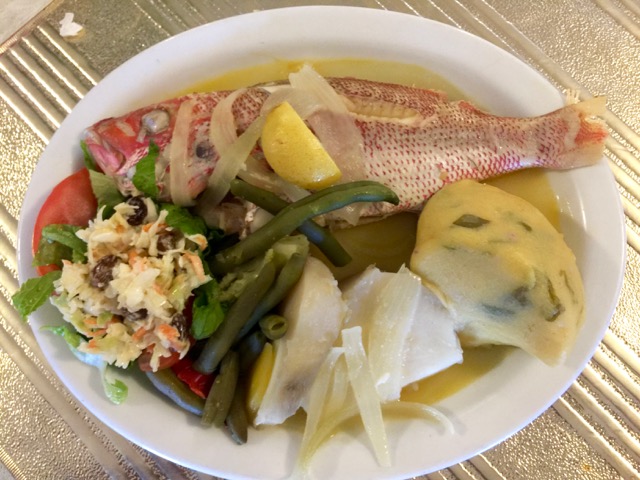 Fish & fungi ties back to the days of slavery when corn meal and salt herring fish were the rations provided to slaves. In those days, you had to make do with what was readily available and inexpensive. It's amazing to learn what my ancestors were able to create with limited means as they were enslaved to do back breaking work in the sugar cane fields.
You can't enjoy fish & fungi without getting a little messy. The tiny bones found embedded in the snapper means you'll have to get your hands dirty to truly enjoy this meal's goodness. Spoon the sauce in your plate over the fungi to make sure it seeps into every crack and crevice it can find its way into. Grab a stack of napkins and get to work when you arrive to St. Croix; you have to give fish & fungi a try whenever you find yourself visiting one-third of America's Paradise.
Here are a few places on St. Croix where you can get a taste of fish & fungi on St. Croix:
Junie's Bar & Restaurant
132 Peters Rest
Christiansted
340.773.2801
Cast Iron Pot
North Shore Road
10A La Grande Princess
340.692.2477
Centeno's Cruzuan Cuisine

Mid-Island
Estate Diamond Ruby across from the KFC in the Sunny Isles Shopping Center
340.773.6950
Gertrude's Restaurant

Mid-Island
114 Castle Coakley

340.778.8362

Until Next Time,
Q the Cruzan Foodie