#FoodieFriday: Armstrong's Homemade Ice Cream
This week's #FoodieFriday find comes to you from Armstrong's Homemade Ice Cream, a family owned and operated business on St. Croix that has been around for over 100 years!
Armstrong's Homemade Ice Cream offers a variety of flavors that can only be found here on island. Some of the ice cream flavors include (but certainly not limited to): banana, coconut, mango, passion fruit, rum raisin and gooseberry, just to name a few. Seasonal flavors like guavaberry, pumpkin and Bailey's vanilla are available around the holidays starting mid-October through early January, if it lasts that long. Prices start at $2.25-2.50 for 1 scoop! It's cheaper to have Armstrong's (locally made and tastes incredible) than Haagen Dazs in the supermarket. Don't get me wrong – I like Haagen Dazs but Armstrong's Homemade Ice Cream it is NOT!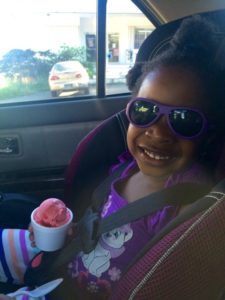 The earliest record of Armstrong's Ice Cream dates back to 1900 when the family matriarch, Minerva Petersen, would push her wooden cart down King Street in Frederiksted selling her ice cream. This ice cream is actually made using an old homemade Danish recipe. You're probably asking how I could be so sure of this. Well, Danish visitors to St. Croix have been known to get an instant rush of nostalgia when they taste this ice cream. They say it reminds them of the cool, creamy goodness they would eat as a child growing up in Denmark. If that's not proof, I don't know what is!
You can visit Armstrong's Homemade Ice Cream's flagship store in Frederiksted to get a taste of this local favorite. Located right off of Centerline Road at 78B Estate Whim, they're open Tuesday through Saturday from 7am – 7pm and Sundays from 11am – 7pm.
Additionally, you can get a taste of Armstrong's at their mobile van almost every Saturday in the Sunny Isles Shopping Center under the tree in front of Wendy's. Yes, those are the directions to their van. This is how all islanders give directions – landmarks, buildings and tree types like the big tree, small tree, tree by the pink house, etc.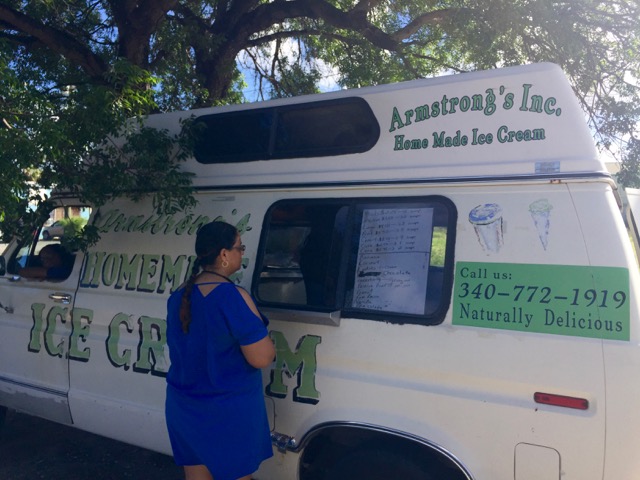 Now I'd be lying to you if I said I knew the exact time they arrived in Sunny Isles but they're usually there by noon. As with all island things, it varies depending on… well, who the heck really knows? It's called island time for that reason – open when we are and closed when we're not. Don't worry. You'll get used to it 🙂 if you don't, island life is not for you. That, however, is a topic for another day!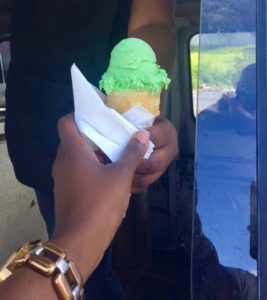 My personal faves from Armstrong's are the banana and gooseberry flavors. Gooseberry – a small tart fruit made into a sweet, decadent stew – is added to their ice cream base and offers heaven in a cup! The banana flavor may not taste the way you're expecting it to but there is definitely banana flavor in there.
Fun fact: Armstrong Banana Ice Cream is green in color. Can you guess why? Leave your best guess in the comments below and let's see who can answer correctly first! Who knows? Your next scoop might be on me!
P.S. If you've taken the Taste of Twin City Food Tour with Virgin Islands Food Tours (I wonder who leads those tours?), you cannot give away the answer – only confirm it!
Until Next Time,
Q the Cruzan Foodie