Free Beer & Food Trucks? Sign Me Up!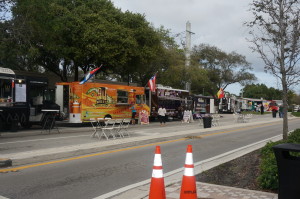 NOTHING beats food trucks & free beer. Point. Blank. Period. However, when you pair it with a spacious park, fresh produce, locally made products & South Florida weather, you get Food in Motion! Every 2nd Friday of each month, Flagler Village hosts this FREE event from 5pm to 11pm featuring free beer for those 21 years+, food trucks & South Florida's first after dark Green Market.
Held in the Peter Feldman Park right off of Broward Boulevard on NE 3rd Ave & NE 6th Street,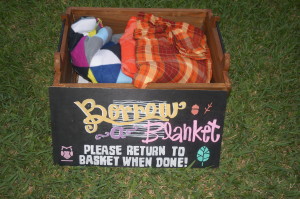 this event has something for everyone whether you're a family with kids or a group of friends kicking off the start of the weekend. Bring your own blanket or borrow one from their box so you can sit back, relax and enjoy a night of good food, great people & awesome vendors. The playground in the park for the kids ensures their fun with slides & swings. Food in Motion also encourages you to bring your pets along. Stop in at the Joji Frozen Yogurt Food Truck (large & purple so you can't miss it) to get a special froyo for your dog. Even the food trucks are creating snacks that cater to your furry friends!
Just about every cuisine you can imaginable can be found at Food in Motion.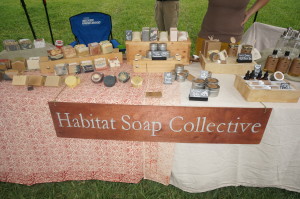 Empanadas, paella, fried oysters, conch fritters, tacos & burgers are just a few items you're bound to find at Food in Motion. Additionally, vendors are on hand selling locally made products such as jams, desserts, & gluten-free baked goods & snacks. Vegans, they've got you covered too! A number of vendors offer a variety of vegan options that are sure to satisfy any appetite. Handcrafted items are on sale like jewelry, soaps, lotions, candles & furniture. We can't forget the free beer! Yueling & Shocktop are often the 2 options available to guests upon presenting a picture ID and obtaining a wristband. These beer offerings are subject to change from one month to the next. Be sure drop a tip in the tip jar as the funds collected are used towards keeping the event going and adding to it as it continues to grow. There is potential for this event to add a live band or offer a movie on the lawn!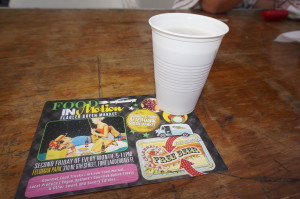 Head over to Food in Motion for a fun night with family & friends. Bring the kids & your furry friends so they can join in on the fun in Peter Feldman Park at 310 NE 6th Street, Fort Lauderdale, FL. Remember, this event is FREE to attend from 5pm to 11pm. Plenty of FREE event parking is nearby so no need to worry about finding a place to park where you won't get towed! For more information, visit their Facebook page at https://www.facebook.com/FlaglerFoodInMotion.
This is not an advertisement and I was not paid for this post. I really enjoyed this event & I'm all about sharing new things to do with others!