Fresh & Fast – PDQ's Perfect Balance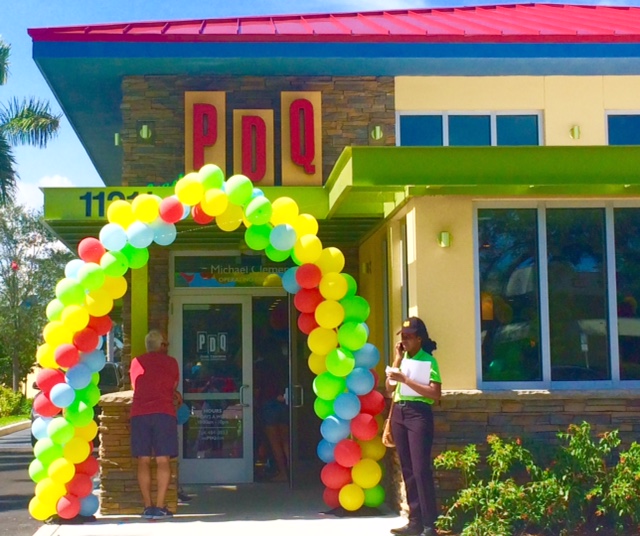 On the corner of fresh & fast, you'll find the best thing on the market when it comes to quick service food. People Dedicated to Quality, better known as PDQ, is the newest chain of restaurants sweeping the country and is committed to providing high-quality food, memorable service and genuine hospitality. The biggest contrast between quick service & fast food restaurants is frozen product. At PDQ, there are no microwaves or freezers. Their signature sauces and dressings are made in house everyday and fries are fresh-cut right in the restaurant where you can even see employees preparing bags of potatoes from the drive-thru! It's a hybrid between casual dining & fast food where you don't have a wait staff serving with the expectation of a tip but you do have servers tending to you to ensure you have a great experience.
I was invited to attend the grand opening of their newest location in Pembroke Pines, FL on Sunday July 12th. They are currently seven locations in Florida & 41 total throughout the United States. I was excited to try them out & see if fast food can really be quick & fresh while providing a memorable experience. Upon entering the lively restaurant, I was immediately blown away by how many people turned out for the grand opening celebration. There were balloon artists for the kids, surprise guests and giveaways where guests could win a catered event, free meal cards & milkshakes. I hopped into the winding line and wondered how long it would take to place my order and get my food.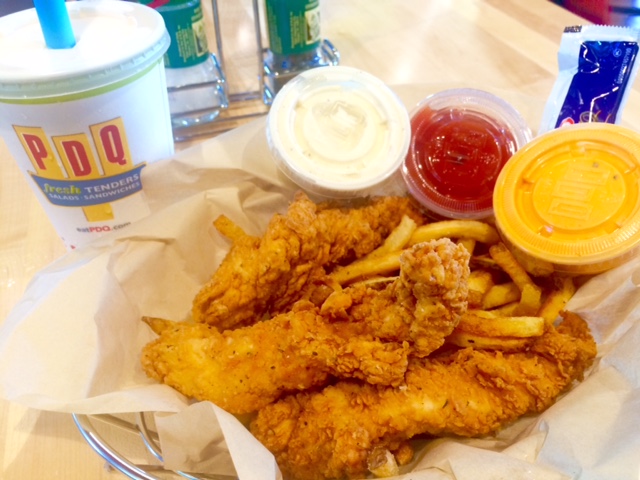 PDQ is known for their speedy service and I thought to myself whether or not they would live up to their claim. With 15 people ahead of me, the line was moving quickly and before long, I was at the front of the line ordering for their most popular meal: the fresh hand-breaded 3 piece chicken tender meal accompanied by creamy garlic & buffalo bleu dipping sauces complete with fresh-cut fries & a beverage. I opted for their seasonal Dreamsicle milkshake, whose smooth & creamy texture of orange flavored goodness gave me a heaping dose of nostalgia. It tasted as though I pulled a Dreamsicle ice cream bar right out of my parent's freezer on a hot summer day! PDQ (which I like to call Pretty Darn Quick) offers a simple menu that packs a ton of flavor with their hand-battered chicken tenders, made-to-order sandwiches, fresh salads, daily cut fries and hand-spun milkshakes. Parents love it because they know they're getting quality food at a great price. Kids adore it because their options include chicken tenders, fries & chocolate milk. Show me a kid who puts up a fight with any of those items!
Chris Gannon, Marketing & Communication Director, gave me the inside scoop on what makes PDQ different from the other fast food chain restaurants & why the Pembroke Pines location was an ideal match. "We love the Fort Lauderdale/Broward county area," said Gannon, "and Pembroke Pines is one of those cities that people love coming to. The mayor is a great guy and the people in the city are a pleasure to work with." When asked why they chose the location on the corner southwest corner of Hiatus Road and Pines Boulevard, Gannon said it was a prime location that offered plenty of parking and enough space to house the restaurant and their drive thru service. We spoke about the culture of PDQ and their employees. "Our team ranges from 16-22 year olds and we've put together an awesome team that remains in constant communication to ensure quick service," said Gannon. "We hire incredible managers who, in turn, hire a great team." There is plenty room for growth at PDQ with a balanced promotional structure. Three of the managers at the Pembroke Pines location started as front line employees & progressed to a salaried career that offers them the ability to lead & manage a team.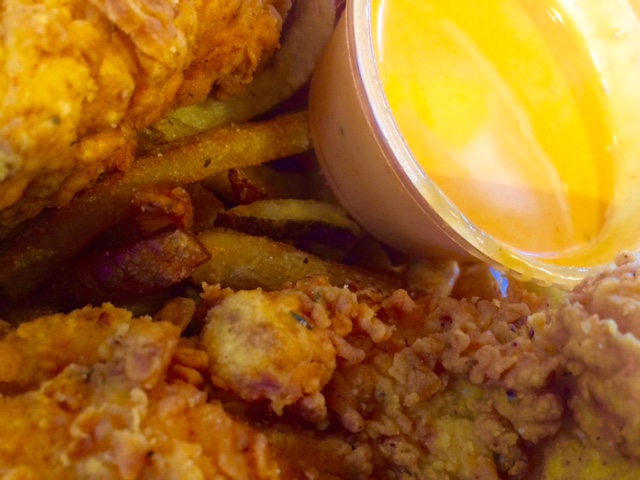 I'm not a fan of restaurants with drive thru windows. It usually screams cheap, unhealthy food prepared with minimal effort. PDQ is a different kind of establishment. Service with a smile, fresh quality food and prices you'll love. You can bring the family here without breaking the bank. Now that's what I call a win-win!
PDQ Pembroke Pines is located at 11211 Pines Blvd, Pembroke Pines, FL 33026. They are opened seven days a week from 10:30am to 10pm and features a drive-thru, a sun room and counter, booth and table seating that accommodates up to 141 diners.
Disclosure: I was not financially compensated for this post. I was invited to attend the grand opening celebration & dine in for review purposes. The opinions expressed are my own.