Cruzan Foodie Foolproof Green Smoothie
If you've been looking for a foolproof green smoothie recipe, look no further! I've had my fair share of green smoothies and I could never find a recipe that did it for me. They would always be "too" something – too sweet, too bland, too earthy, too heavy, too light. After years of experimenting with combinations and flavors, I finally arrived at this tried-and-true recipe that even kids will enjoy.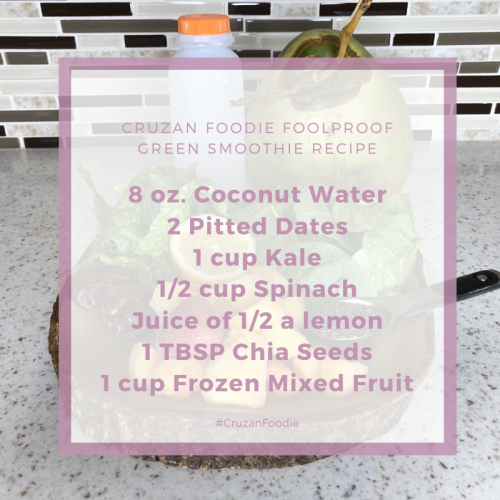 Coconut water is great for post-workout hydration and a great source of potassium, which promotes heart health and good skeletal and muscular function. Kale and spinach are rich in antioxidants and vitamins A, C and K, strengthening your bones, eyesight and immune system. Chia seeds offers another punch of antioxidants and are high in fiber, protein, calcium and omega-3 fatty acids. This combination helps in preventing heart disease and improving bone health. Good stuff all around in this smoothie! The dates and frozen mixed fruit add the much needed sweetness to this smoothie. You can choose any frozen mixed fruit combo you like. I tend to use tropical fruits like mango, pineapple and papaya. My go-to frozen mixed fruit combo is mango, pineapple and strawberries!
SEE ALSO: Cruzan Foodie Cocktail: The Vibe Remix
I would love to hear/read your thoughts on this Cruzan Foodie Foolproof Green Smoothie! Better yet, be sure to let me know if you gave it a go and tried it at home. Snap a pic and tag me in your photos and posts on social media (@CruzanFoodie) via Facebook, Instagram and Twitter. Can't wait to see your smoothies. Cheers!