Why You Can't Miss the 2015 STX Food & Wine Experience

In 16 days, one of the best food & wine events in the Caribbean will kick off on the cultural island of St. Croix in the U.S. Virgin Islands. Pack your bags and leave your passport at home (not required when traveling to the U.S.V.I.) for a fun-filled week on the island packed with a food fight on the beach, a wine dinner, a BBQ Sunset in one of the island's historic cities and the food & wine festival event that started it all! These are just a few options of things to do during St. Croix Food & Wine Experience (STXFWE) as it begins on Sunday April 12th and runs up through Saturday April 18th.
You're probably wondering what makes this food & wine experience so different from all the others that claim theirs is the one that can't be missed. Here a 3 reasons why you should make your way to the vibrant & lively island of St. Croix in 16 days:
1. Location. You can experience the best the culinary world has to offer in America's Caribbean Paradise. Recently ranked #1 by  U.S. News & World Report for Best Places to Visit in the Caribbean, the
U.S. Virgin Islands offer visitors a combination of luxury, unspoiled nature & a story brimming of history. On St. Croix, this island deeply rooted in agriculture has been doing "farm-to-table & "slow food" before it ever became the marvel that it is today. The island's savoir-faire on these recent trends makes it an undeniable attraction to world-renowned chefs and foodies alike. Rum distilleries, sugar cane plantations, pristine beaches & a colonial history awaits you.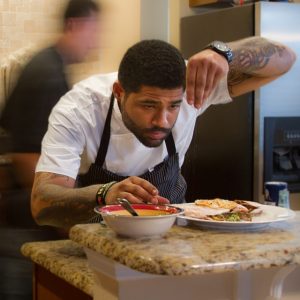 2. Celebrity Chefs. This year, 8 prominent chefs will be hosting and participating in events throughout the week at STXFWE. Cooking classes, meet & greets and guest judging at the inaugural Taste of St. Croix event are some ways these celebrity chefs will lend their expertise to the festivities. When the pros recognize events such as these, one must take note. Their presence at STXFWE further emphasizes the impact the event has made on the culinary world. Chefs include the likes of Duff Goldman from Food Network's Ace of Cakes, Tony Castellucci & Dean Spinks, Executive Chefs at Facebook Headquarters & St. Croix's very own Digby Stridiron, 2014 Caribbean Tourism Organization Caribbean Chef of the Year & Culinary Ambassador for USVI Tourism. View the complete list of this year's visiting chefs here.
3. Giving Back. The St. Croix Food & Wine Experience is hosted by the St. Croix Foundation, a 501(c)3 nonprofit organization that serves the U.S. Virgin Islands in areas of education, historic preservation, community & economic development, public safety and fiscal sponsorship of smaller nonprofits. Since its inception in 2001, STXFWE has raised approximately $1.5 million for community programs throughout the U.S. Virgin Islands.  It feels good to know that your love for enticing food & aromatic wine helps fund these philanthropic initiatives by the St. Croix Foundation.
Visit www.stxfoodandwine.com to view the complete 2015 lineup for all the information regarding each event taking place as well as find hotel packages and special rates here for the best prices available to STXFWE guests.