South Beach Wine & Food Festival: Best of the Munchies
Contrary to popular belief, one doesn't have to be a millionaire to attend the South Beach Wine & Food Festival (SOBEWFF). I had the pleasure of going to the close out event for the festival this past Sunday & believe it or not, I got it through Groupon! "Well Q, how the hell did you find that? I didn't see that deal!" I actually found out about it through the amazing Yelp Community in South Florida. It's mind boggling some of the things I've found by perusing the talk threads to see what's out there with regards to new restaurants, new laws passed & where to get great deals! Let me tell you for $85, I think I got a whole lot more out of it than what I paid for.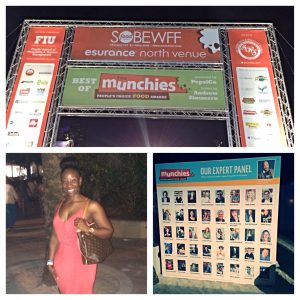 Like I mentioned in my previous post, if you are a self-proclaimed foodie then SOBEWFF is certainly for you! Best of the Munchies was hosted by Andrew Zimmern, host of Bizarre Foods on the Food Network. The event featured foods that were, well, munchies lol Lamb burgers, specialty hot dogs, tricked out corn on the cob, jazzed up tacos & yummy desserts were just a few of the offerings available. Again, I continued to bite off more than I could chew and only sampled 15 of the 25 vendors that were there. In addition to all the food, there was also a wide variety of beer, wine & spirits that I indulged in so that took up a great deal of space in my tummy. The thing that I enjoyed the most at this event was that more than 50% of the vendors there were local so that meant I could find them right here in Miami! Two snaps for me!
Here were some of the highlights for me at Best of the Munchies:
I met Andrew Zimmern.
Yep, this was certainly the icing on the cake for me. I think I was even more excited about it because he recently did an episode of Bizarre Foods on my home island of St. Croix! He enjoyed foods from vendors I've been eating from all my life. He was a cool, laid back guy and I truly liked that about him.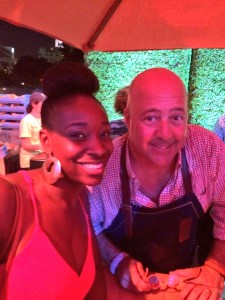 Discovering new restaurants.
Lo & behold, a new restaurant's a-coming to Dadeland Mall! Earl's Kitchen & Bar will be opening their new location at the mall in March! I had the pleasure of meeting some of the folks that work for Earl's including some of the chefs & boy were they quite a bunch! I commended them on their BBQ Pork Steamed Buns and they were extremely happy that I enjoyed it!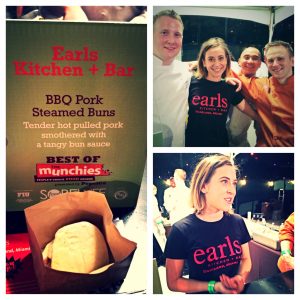 I also discovered Norman Brothers Produce and sampled gazpacho for the first time. This chilled soup was made with farm fresh veggies in a spicy homemade tomato juice. The explosion of flavors was surprising as I never thought I'd enjoy cold soup but I was pleasantly surprised by it. I heart gazpacho now! Thanks guys!!!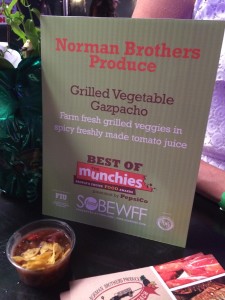 New-found appreciation for classic foods
Corn on the cob, pancakes and the Cuban sandwich are some classic foods that you can find anywhere in Miami and they just about all taste the same. Not at Best of the Munchies! My mind was blown away by how these chefs were able to put their own twists on these classic dishes and have me craving more and more!
Corn on the cob is just that: corn on the cob. No matter how you dress it up, it's still just corn! The folks at Huahua's Taqueria on Miami Beach proved me wrong on that front. Their signature appetizer is grilled sweet corn with red chili mayo, cotija cheese, Tajin, lime and cilantro. Half of those things I had no idea what they were but to sum it all up, it was the best corn I've ever had in my life!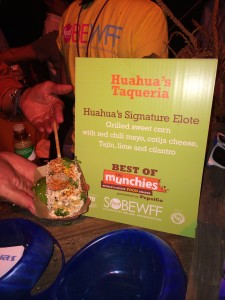 David's Cafe, a late night spot on Miami Beach, made me fall in love with the Cuban Sandwich. I've never really been a fan of it. I always thought it was a regular sandwich: meat, cheese, mustard and pickles. While it truly is a combination of these ingredients, this award winning establishment made it taste like heaven. It was the perfect combination of meat and cheese with an even mustard to pickle ratio. The bread was crispy on the outside but soft when you bit into it. I have no clue how they made it taste so amazing but whatever they're doing, they need to keep it up! No picture from me on that one but you can see what it looks like here. This is why I love my Yelpers. They always take the best pics!
If you've ever been out late partying and drinking, you've probably ended up at a Denny's or an IHOP at some point during your partying years. For me, I would always get pancakes and it has always been my go-to late night after party food. To my surprise, ChefRLI was able to put a twist on my go-to food by making sweet potato pancakes and pairing it with slow roasted pork slathered in a pineapple BBQ sauce, chicharrons and smoke maple syrup. PARTY IN MY MOUTH!!! OMG, I can't even begin to explain how wickedly good this dish tasted.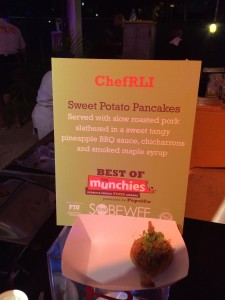 It's pretty indescribable and I have absolutely no words to tell you other than I want to eat this after every late night party from now until the end of time. Unfortunately for you and me, they do not have an establishment where we can go and enjoy this great food. They offer services for private events and catering, intimate dining experiences, cooking classes and personal chef services. One day I'll be on that level but for now, I'll just check out their website here and see where they'll be cheffing it up next!
My word of advice to you out there reading this is to get out and explore all that the wonderful world has to offer with food and drinks. Savor each bite and relish in the moment of satisfaction once your taste buds come to life by the bold, vibrant flavors of food!
Until next time,
Q