Solo Travel with Silver Moon Barbados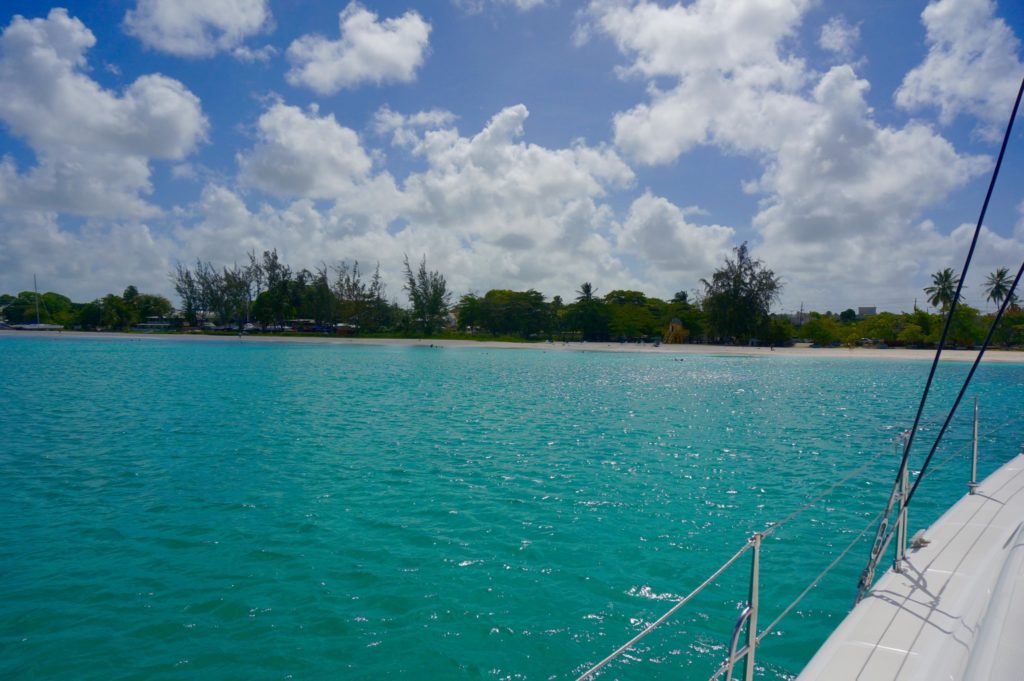 Complement your solo travel with Silver Moon Barbados! My solo vacation to the easternmost island in the Caribbean was made perfect thanks to the crew on the Silver Moon II luxury catamaran cruise. With a friendly group of 12 passengers in an intimate plush setting, the team at Silver Moon Barbados made each passenger feel like royalty from start to finish. Want to be treated like a king or queen for a day on the sparkling blue waters of Barbados? Here's how to make your dream a reality with Silver Moon Barbados.
The day started at 8:20am where Silver Moon Barbados shuttle service picked me up from my hotel. After retrieving all the guests scheduled to indulge for the day on the water, we proceeded to the Bridgetown Shallow Draft where the swanky Silver Moon II awaited us on the sparkling blue waters. After a speedy check-in, we were ushered on board where three crew members greeted us, offering soft drinks, rum punch, coffee or tea to enjoy as we settled in. Rum punch in hand, I sat back and took in the safety briefing by one of the crew members and looked forward to five hours of luxurious bliss. "Whatever you need – a drink refresh, your towel or anything – we will bring it to you. Remember that you are on vacation." These were the words spoken during our safety briefing to assure guests that they should plan on being thoughtfully attended to throughout the day.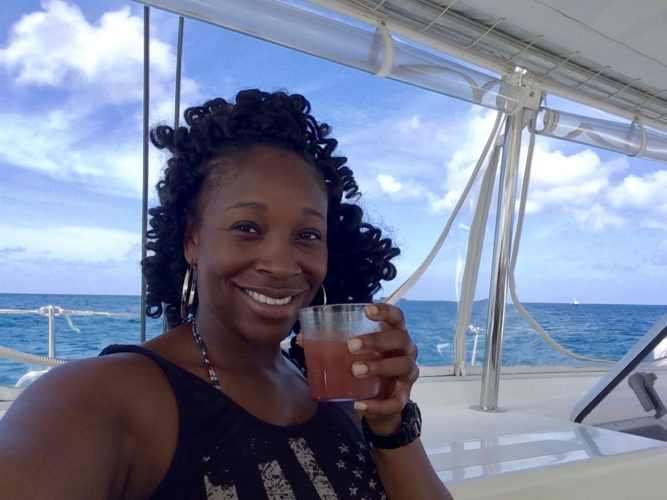 Our first stop brought us to the spot where the Barbados Sea Turtles like to hang out. Guests were supplied with snorkel gear, life vests, water noodles and flippers. JC, one of the crew members, joined us in the water and fed the turtles to ensure their undivided attention while we snorkeled and explored the world below the surface. Three inquisitive turtles came out to play and welcomed our gentle touch along their soft, smooth shells as they swam by to grab the food being served to them.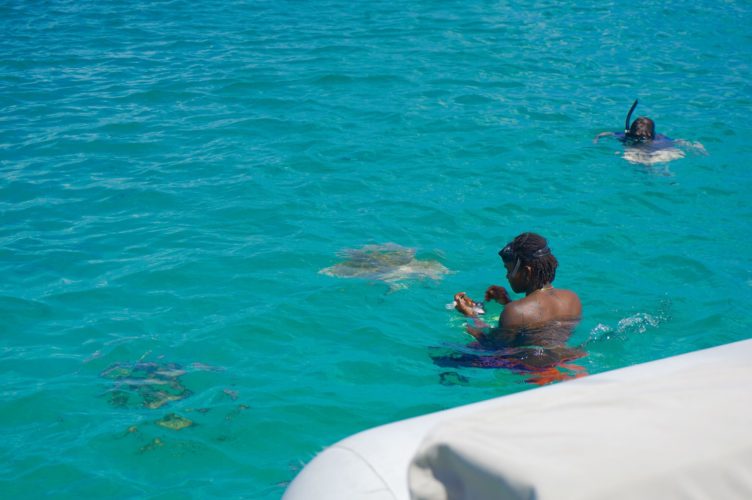 Soon after, we enjoyed snorkeling over two incredible shipwrecks to admire the marine life and coral that lied within before returning to the catamaran. We continued on with the day by sailing along the pristine turquoise waters where the crew shared stories of Barbados with guests. Each person was offered such attentive service that I often thought I was on the catamaran alone. The moment my drink glass trickled down to a sip or two remaining, there was a crew member offering a refresh to keep my glass full. All this snorkeling and day drinking works up an appetite. The crew quickly setup the catamaran with covered tables and woven placemats to serve us a traditional Bajan lunch.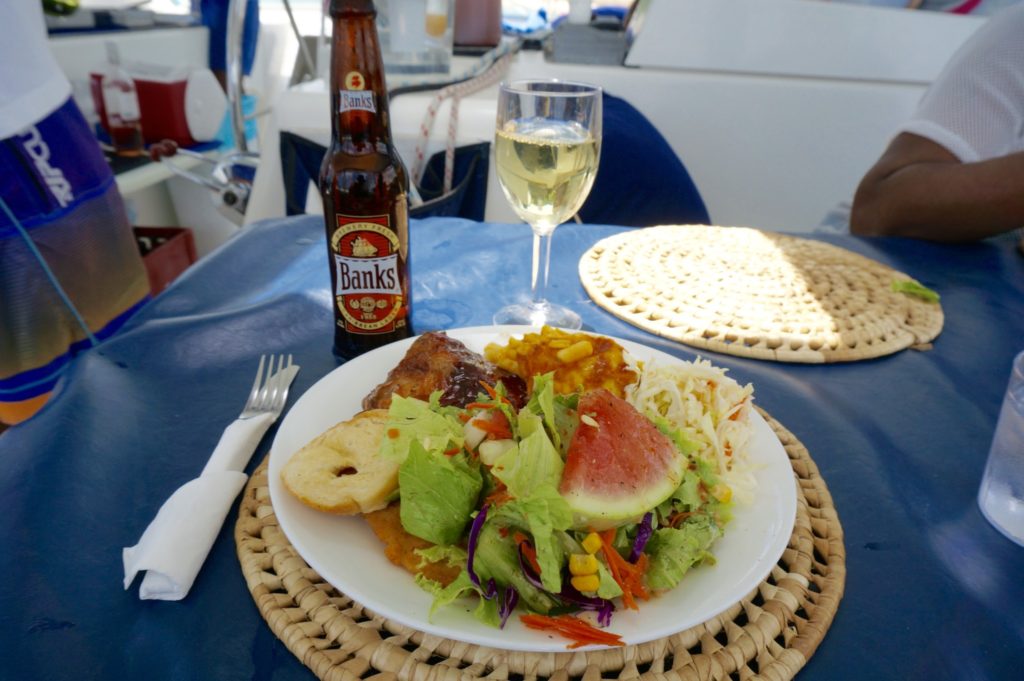 We had our choice of rice and peas, the infamous Bajan macaroni pie, barbecue chicken, fried fish, coleslaw and a fresh salad. I paired my lunch with a refreshing Banks Beer and capped it off with a glass of white wine. Hello! I'm on vacation, people! After lunch, we took in the peaceful scenery of the calm waters around us and enjoyed the bright Caribbean sun as it cast "diamonds" along the water's surface.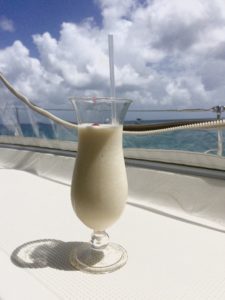 As our time on Silver Moon II began to wind down, the crew made a round of pina coladas & offered slices of fresh banana bread to guests as a sweet finish to the perfect day. One of the guests were celebrating a birthday and was presented with a bottle of bubbly while we all sang the Stevie Wonder version of Happy Birthday!
At $115 USD per person for their lunch cruise, guests can indulge in a truly unforgettable experience that will have you thinking you got more than your money's worth. It's five hours of "placid bliss indulging in seaside splendor" where each moment is more impressive than the last. Prefer to see the sun set while sailing along Bajan waters? Not to worry as guests can choose to enjoy Silver Moon Barbados's afternoon sunset cruise for $100 USD.
My solo travel with Silver Moon Barbados aboard the Silver Moon II was the highlight of my vacation. While there are other catamaran cruises available to choose from, none of them will offer the comfort, hospitality or personalized service that you will receive from Silver Moon Barbados. Still on the fence about whether solo travel to Barbados is for you? This article should convince you to push you over the fence and into solo traveling bliss!
**Silver Moon Barbados provided this lunch cruise aboard Silver Moon II complimentary, however the opinions expressed in this post are my own.