New Kid on St. Croix's Culinary Block: 17º/64º Kitchen + Bar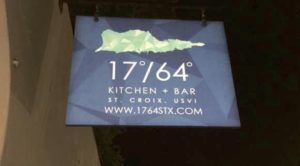 17º/64º Kitchen + Bar is the newest addition to the burgeoning culinary scene here on St. Croix. Named for the geographic coordinates of the big island, 17º/64º opened its doors in late January 2018 despite various setbacks due to two Category 5 hurricanes Irma & Maria.
My visit to 17º/64º Kitchen + Bar happened in early February 2018, a few weeks after they officially opened their doors. I was excited to see what the newest kid on the block had to offer and had the pleasure of sharing it with my followers on my Instagram stories while I was dining in. The space is expertly decorated in a clean, modern look with large open windows accented with dark blue and aqua green colors, bright lighting and local artwork along the walls.
The restaurant's menu showcases an American Caribbean cuisine divided into 3 sections: Kitchen Primers, Dinner Tonight and Sweet Temptations. The menu changes regularly as they go based on what items are in season and what's readily available on island. Locally sourced items are highlighted throughout the menu, like the Sejah Farm lamb burger and the local catch entrée.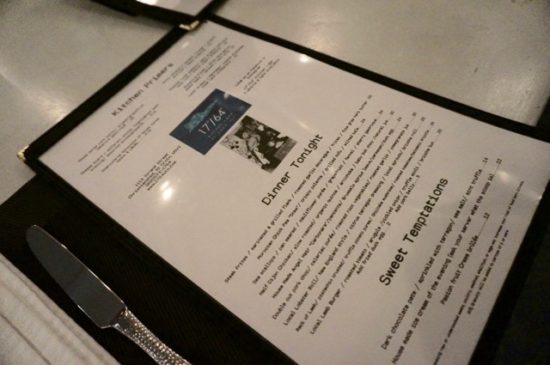 I started out with the house cured pork belly adorned with jicama, grapefruit and tamarind gastriqué ($16).
While the crispy outer skin layer was the ideal contrast to the tender meat found underneath its surface, this dish was underwhelming and lacked depth and flavor. The pork belly itself had no taste and the skin was difficult to cut through. The accompanied salad was heavily salted and I didn't get the slightest hint of grapefruit or tamarind anywhere in the dish. The dish was beautifully plated and as the saying goes, "you eat first with your eyes" so my mind was ready to be blown away. Sadly, this dish missed the mark completely.
For my entrée, I had the seared sea scallops ($34) paired with a crisp glass of pinot grigio ($9). The scallops were tightly nestled on a bed of cauliflower purée and topped with local microgreens complete with a sherry gastriqué drizzle.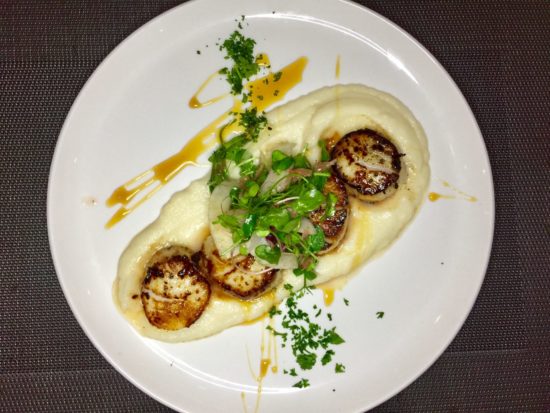 I was pleasantly surprised by how light and flavorful this dish was. A stark contrast from the appetizer, the scallops were perfectly seared and the cauliflower puree complimented the dish well. You couldn't tell me I was eating a vegetable as the texture could easily trick one into thinking it was starchy food like a potato or something similar.
My sweet temptation came in the form of a passion fruit crème brûlée ($12) and was my favorite part of the meal. I am a sucker for a good crème brûlée, especially when the caramelized sugar topping makes the distinct 'crack' when my spoon breaks the surface! If that's not heaven, I don't know what is!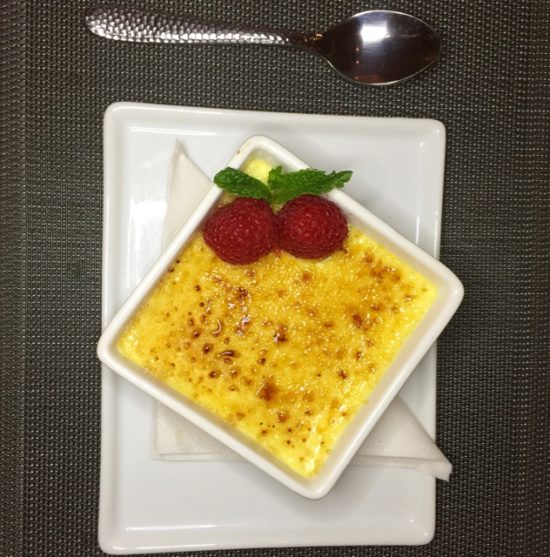 This crème brûlée's custard wasn't too firm or too runny while the sweetness of the passion fruit paired nicely with the raspberry and mint that accompanied the dessert.
The total cost for my meal after tip at 17/64 Kitchen + Bar was $87. I personally felt that I didn't get my money's worth for my meal, specifically since dessert was the course that stood out the most. The portion sizes for the appetizer and entrée were on par with other fine dining restaurants on St. Croix but the dessert with its $12 price tag certainly should have been bigger or better priced.
All in all, I'd say 17/64 left much to be desired. Being that this visit was soon after they opened, one can say they were still working out the kinks in the kitchen that comes with opening a new restaurant. I hope to try them again in the near future and provide an updated review when that time comes around.
17º/64º Kitchen + Bar is located at 3 Strand Street in the Royal Strand Building and serves dinner Tuesday to Saturday from 5pm – 10pm. For more information, visit them at http://www.1764stx.com/.
Enjoyed this review? Check out this and much more reviews over on my Food Adventures page. Be sure to follow me for even more foodie and travel fun over on Facebook, Instagram and Twitter!
Until Next Time,
Q the Cruzan Foodie