An Aphrodisiac Dinner at its Bes
On Wednesday February 14, 2018, I was lucky to find myself entranced by an aphrodisiac sensory dinner at Bes Craft & Cocktail Lounge on St. Croix. This 5-course dinner completely blew me away and exceeded my expectations on what celebrating Valentines Day was all about. I've never been a fan of making much to do about one day focused on showing your significant other love & affection. However when mixologist and chef Frank Robinson closes his lounge for the evening to host a unique sensory aphrodisiac experience using fresh, local ingredients, one can't pass up on this one-of-a-kind opportunity. If that wasn't enough, he joined forces with fellow Virgin Islands culinary artist, Chef Lamar Bough. I knew we'd be in for a real treat!
With only two dinner seating times available, I attended the first seating at 6pm. When I entered Bes, it was immediately apparent that the lounge had been transformed for the evening's aphrodisiac sensory dinner. Ambient lighting provided by KDM Productions was accompanied by smooth, sultry background music that set the tone for the night. Once I entered and took my seat, I was ready to delight my taste buds with the first course. Each course was designed to excite and entice all of your senses with the sole purpose to get you and your significant other in the "mood." Did it do the trick? Find out below!
First Course: Conch Cockle Sprat paired with the Coitus in Blue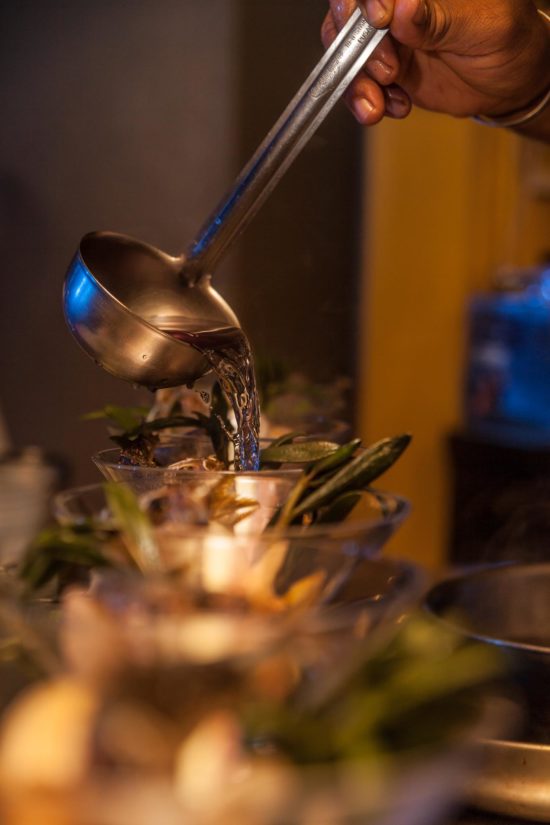 The saltiness of the braised conch and the fried sprat fish perfectly aligned with the light sweetness of the cocktail. Both items were made using the blue clitoris flower and the food dish was adorned with sea pursulane. The most interesting thing about this course for me was that you were able eat every single thing in the food dish, except the glass it was served in.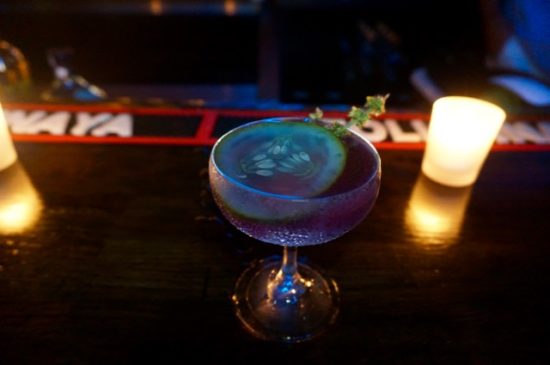 Second Course: Namibian Green paired with the Green Aphrodisiac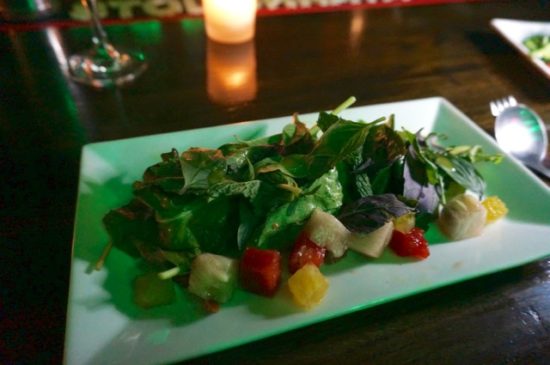 This salad course was inspired by the KAYA scent of the Crucian skincare line, itiba Beauty. Local watermelon, lettuce, arugula and a scotch bonnet vinaigrette married with moringa vodka and hints of lemongrass in the Green Aphrodisiac cocktail. This is one cocktail I've been trying to convince Frank to include on the regular Bes Cocktail menu ever since!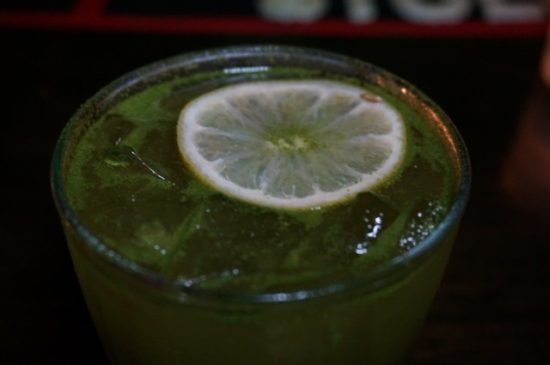 Third Course: Pumpkin in my Coconut paired with "The Calling" Chardonnay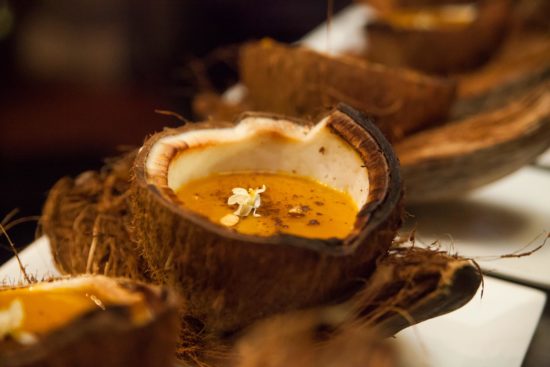 Presentation is almost as important as taste and this course did not disappoint in either category. The vanilla-saffron pumpkin soup was served in a roasted coconut bowl – how incredible is that! The smoothness of this soup paired perfectly with the subtle hints of lemon and fruity notes in this California wine.
Fourth Course: Braising Lambs paired with "Purple Angel" Red Wine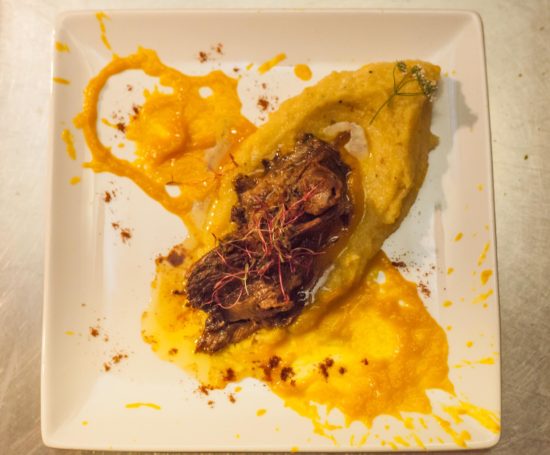 Lamb is one of those meats that have to be made just right. This course was simply PERFECTION! The meat marinated in a combination of aphrodisiacs and red wine was served over Crucian Spice polenta with a carrot gastrique. Again, the Crucian Spice scent from the itiba beauty line was the inspiration behind the flavors in this dish. The Chilean wine pairing complimented the dish beautifully, with its notes of nutmeg and cloves playing nice with the turmeric, nutmeg and black pepper found in the Crucian Spice blend.
Fifth Course: Nuts & Flowers in Bed paired with the I Cream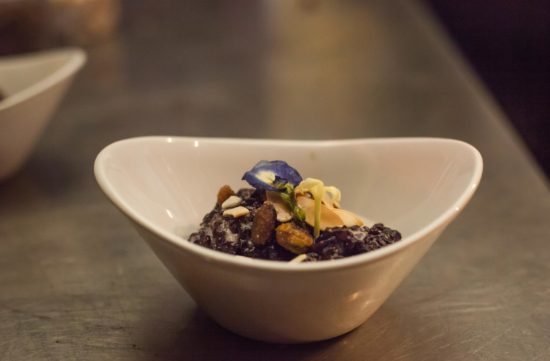 The sweet ending to a delicious evening came in the form of black cacao rice pudding with pistachio & almonds and drizzled with a jasmine-annatto sauce. The I Cream cocktail was a sweet and creamy pairing for this dessert. Made with Kakanga white rum, coconut milk, strawberry, vanilla, honey, nutmeg and Chai Rum, it was the perfect ending to an incredible dining experience.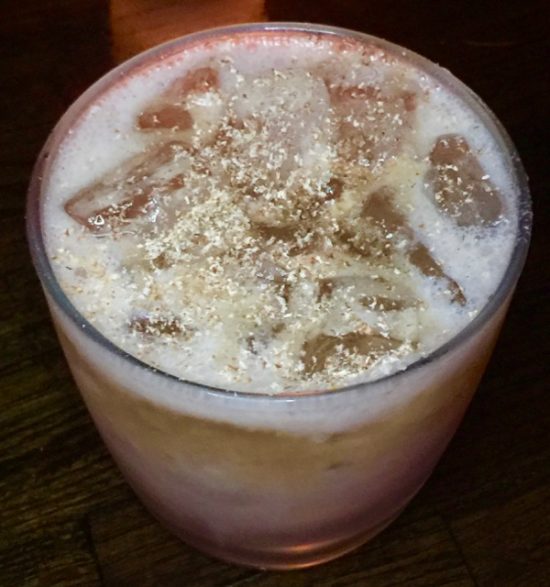 Each guest left with a small gift bag to keep the good vibes from dinner flowing. The bags included the itiba beauty men's beard oil from its men's line (it doubles as the perfect massage oil), a special elixir concocted by Frank and of course, a condom because well, we have to practice safety first! You're probably wondering if the food gave me any sensory, aphrodisiac vibes? Let's just say it's a good thing I'm single. I'm positive that there may be a few "Bes Babies" making an appearance around the 2018 Thanksgiving holidays.
At $140 per person, some may consider this dinner to be a bit steep in price. I'd be lying to you if I said I didn't agree. However, the end result made me understand that this was more than just having a Valentines Day Dinner – this was a plethora of flavors that truly enticed my taste buds, delighted my senses to no end, and was worth every single penny.
Do not pass up on any dinner events at Bes Craft Cocktail Lounge. The time, effort and skill that are put into each food dish and cocktail can be tasted throughout the dinner and lingers on the palate long enough to have you wanting more. In the end, you realized that you got your money's worth and then some!
Until Next Time,
Q the Cruzan Foodie
* Some images are courtesy of Anduze Visuals. All Rights Reserved | Unauthorized Use Not Permitted | Photos cannot be altered, manipulated, printed (without copyright release certificate) or provided/sold to third parties without photographer's consent.