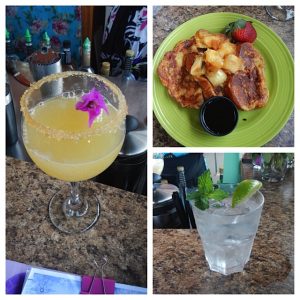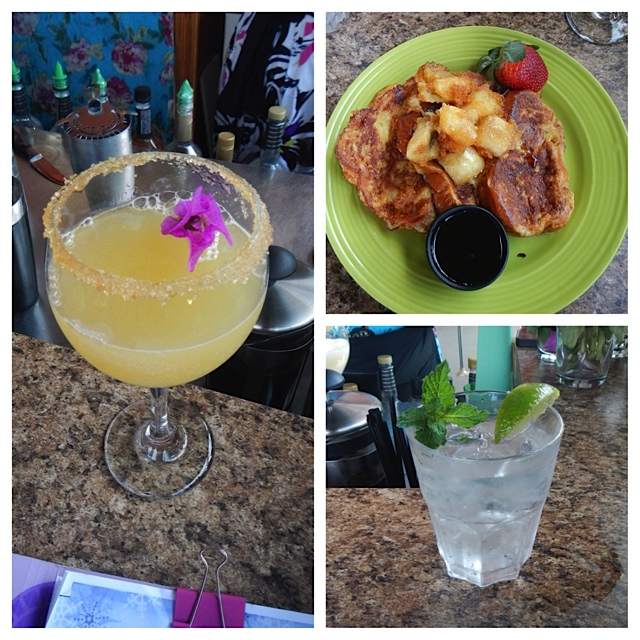 There's something to be said about gourmet omelettes & fluffy pancakes paired with bottomless mimosas. I've always been a fan of breakfast but that cusp between breakfast and lunch creates my favorite pastime known as brunch! These past two weekends I've been blessed to enjoy brunch at one of my favorite hideaways. Chillbar in Hollywood, FL.
The thing that sets this brunch spot apart from all the others is that I get a sense of belonging when I go, like visiting an aunt or longtime family friend. The owners are very involved with the process as the husband is the chef and mastermind behind all of the menu items and specials and the wife coordinates the reservations and is the most gracious host. When you enter this outdoor eatery, they encourage you to engage in conversation with your neighbors. No iPads or iPhones to keep you company here. Just good old fashioned conversation with people you don't know! Sometimes we forget what it's like to just check out of the technologically advanced world and just live in the moment of NOW!
They're well known for all of their handcrafted mimosas with flavors like lemon basil, pear lychee, guava, and ginger peach. Gone are the days of just champagne and orange juice in a flute as Chillbar recreates the brunch experience by putting their own quirky twist on this tried and true drink staple! They also give you infused water with mint and lime to quench your thirst while you're awaiting your drink order to be delivered. It's so refreshing and super easy to do! I often find myself recreating some of Chillbar's traditions at home. Next up is my favorite part, THE FOOD! All the ingredients at this restaurant are fresh, locally sourced, organic and contains no GMO's (genetically modified organisms). That certainly gives me peace of mind knowing that all the food I'm consuming is fresh and free of pesticides! I had the privilege of trying their Challah French Toast Supreme topped with caramelized bananas and a side of vanilla infused maple syrup. Is your mouth watering yet? I'm so ready to go back there ASAP!
My only sad thing to report about Chillbar is that it's only open on the weekends! Can you believe it? I have to wait until the weekend to enjoy this little gem but I guess that's all apart of its charm. It's attached to the local farmer's market, too, so I often do a little shopping for my fruits and vegetables once I'm finished with brunch! I included some pictures above to give you a little taste of what you can expect at my brunch haven. Do you have a place where you escape the craziness of the world and just unwind? Tell me about it in the comments below. I'd love to hear from you!
xoxo,
Q