Farm to Fork – A Brunch Lover's Dream
There's nothing as enjoyable as freshly made omelets, fluffy pancakes, locally grown fruit & unlimited mimosas. When it comes to identifying the perfect place for brunch, these are some of the must-have qualities because without it, brunch can possibly fall short of being epic. Max's Harvest in Delray Beach, FL has all the makings for a unique brunch experience that guarantees guests will be back for more in the near future.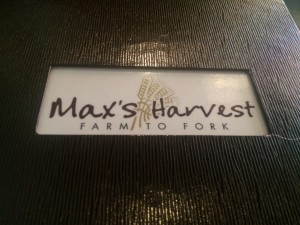 Tucked away on a side street in Downtown Delray Beach, Max's Harvest specializes in farm to fork cuisine. Eat seasonally & shop locally is the restaurant's founding principles and it is apparent in their ever-changing menu. Some menu items are available year-round but the standout dishes – the ones that keep you begging for more – are the ones that are expertly crafted by their chefs based on seasonal fruits & veggies as well as locally sourced meats and seafood. They are open for dinner 7 days a week with brunch offered on Saturdays & Sundays.
There's something for everyone on their compact menu. While it may be small in size, it makes up for the wide array of flavor found in the menu items. First off, they offer an unlimited interactive bar featuring Bloody Marys & Champagne Cocktails at $15 per person with an entrée purchase. What could they possibly mean by interactive? Well, you are the master of your Bloody Mary or Champagne Cocktail! Patrons are directed to the bar where the bartender carefully prepares each drink & encourages guests to make their drink one-of-a-kind by choosing from a variety of add-ins & an assortment of flavors. Passion fruit, cucumber, lychee, pomegranate, orange, lemon, & grapefruit are a sampling of their Champagne Cocktail flavors. You're also welcome to throw in some gummy bears, jellybeans or fresh fruit to give your cocktail a personality (and flavor) all of its own. The Bloody Mary bar offers garnishes & toppings such as jalapenos, celery, hot sauce, pickled green beans and thick cut bacon bites! A trip to Max's Harvest for brunch would be incomplete without this mind-boggling indulgence.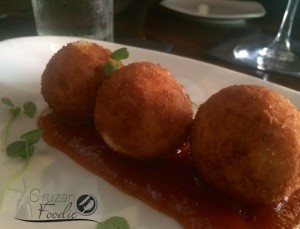 Appetizers set the tone for the meal and their options in their Snacks & Such section of their menu will be sure to have you twiddling your thumbs in anticipation for what's next. Fresh fried donuts, goat cheese croquettes in a red chili-guava jelly and a sticky bun layered with cream cheese frosting and candied pecans are just some of their starters available. The goat cheese croquettes are rich, creamy dollops with a Marcona Almond crust. The red chili-guava jelly balanced out the savory dish with the right amount of sweet and a touch of spice in the chili. You can't go wrong with any of the appetizers offered, as they are sure to tease your taste buds and tempt your palette for the next course!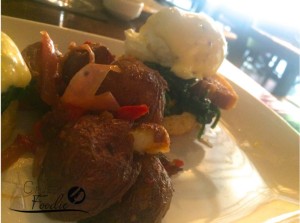 Make reservations and get there early because a dish that your heart (and appetite) may desire can very well run out before the end of brunch service. Please note that their Yardbird & Waffles entrée found in the Between the Bread section of their menu is hands down their most popular dish. Choose a backup dish in the event your dreams are shattered when they say there isn't anymore left. Because this is one of their menu staple items, a safe bet would be to go with one of their seasonal menu items like their pulled pork omelet or pork belly benedict. The benedict delivered an explosion of flavors upon the first bite. Creamy, tart hollandaise sauce atop a firmly poached egg with slices of crisp pork belly perched on a hot & fluffy buttered biscuit made other tables look on with jealous eyes and watering mouths. Keep in mind that these items are not available year round so the options available may be different by the time you make your way over.
Max's Harvest believes simple, sophisticated flavors bring out the true essence of a well-crafted meal and their weekend brunch menu proves that less is indeed more. For more information, please visit them at http://maxsharvest.com/.