Wanderlust Wednesday – Quito, Ecuador
This week's edition of Wanderlust Wednesday takes us to a 16th century Incan city nestled in the Andes Mountains of South America! Quito, the capital of the South American country of Ecuador, sits at an altitude of 2850 meters above sea level which makes it the highest official capital city in the world! Founded on the ruins of an Incan city back in the 16th century, it was declared a UNESCO World Heritage Site for being the best-preserved, least altered historic center in Latin America.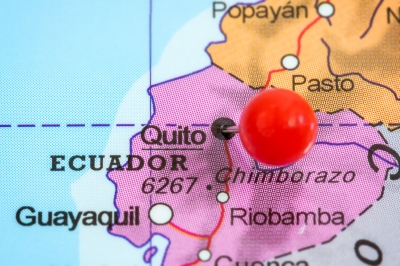 Be at "the center of the world" and stand in two different hemispheres at the same time *side note: this should totally be on your bucket list* Walk the equatorial line in the Middle of the World at Latitude Line 0°0'0" and experience the mystical energy of having one foot in the Northern Hemisphere and the other in the Southern Hemisphere. Talk about a travel experience that is out of this world! Quito is considered one of the Best Destinations to Discover by National Geographic Magazine and sits at the entryway to Ecuador. It's close access to a number of places allows visitors to experience up to 5 different vacations in one location: beaches, hiking, bird watching, mountaineering and history.
Sea lion, Punta Pitt, San Cristobal island, Galapagos islands, Ecuador

Head to the Pacific Coast with its fishing towns, beaches and phenomenal gastronomy

Explore the Andes Mountains, the world's largest mountain range and visit Volcano Avenue
Lush greenery and captivating wildlife awaits you in the Amazon Rain Forest
The Mindo Cloudforest is a bird watchers' paradise with over 500 different species of birds, specifically hummingbirds
In the Galapagos Islands where Charles Darwin studied the theory of evolution, you will encounter plant and animal species unique to this volcanic archipelago in the Pacific Ocean (Image to the right courtesy Diego Delso, Wikimedia Commons, License CC-BY-SA 4.0)
This Wanderlust Wednesday, we're celebrating Quito, Ecuador with an incredible flight deal from Fort Lauderdale with Jet Blue Airways! This, along with a plethora of other flight deals to Europe, Asia & the Caribbean flight deals, can be found on my Facebook page, Cruzan Foodie! Don't forget to like my page on Facebook and share this post with your fellow wanderlusters! I think I see a passport stamp from Ecuador in your future. Cheers to Wanderlust Wednesday 🙂
Until Next Time,
Q the Cruzan Foodie
*Image courtesy of Tuomas_Lehtinen at FreeDigitalPhotos.net