Cruzan Foodie Fave: Peanut Punch
I am excited to share my peanut punch recipe with you today! This creamy, delicious beverage is a staple in most Caribbean countries and regularly enjoyed by locals and visitors. Growing up in St. Croix, US Virgin Islands, the sight of a huge gallon bottle from the inside of the fridge filled with peanut punch was a promise of a sweet, rich dessert-like drink that I couldn't wait to get a taste of.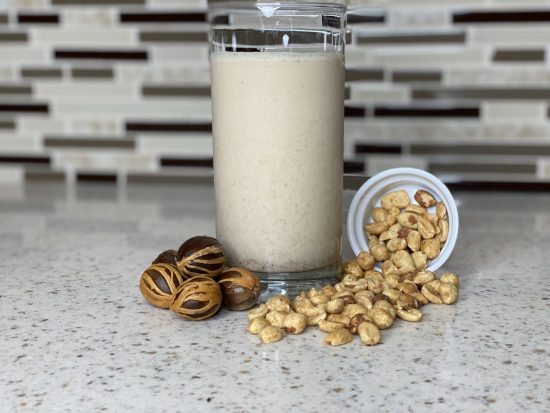 What is Peanut Punch?
Peanut Punch is a creamy, refreshing and nutty beverage that is traditionally made with peanuts, evaporated or sweet condensed milk, vanilla, cinnamon and/or nutmeg and blended together with ice. Over time, many people have opted for using peanut butter over shelled peanuts for ease of preparation. Additionally, you can change up the recipe to make it vegan/vegetarian friendly with the use of plant-based milks like soy, coconut, almond or oats. Regardless of how you substitute or switch up this peanut punch recipe, I promise your taste buds are still in for a delightful treat.
Health Benefits of Peanut Punch
For a natural and yummy energy boost, peanut punch packs a "punch," delivering a natural energy boost due to the high fat and protein content in the peanut butter. Because protein keeps you fuller longer, you might feel like you ate a full meal after having a glass of peanut punch. I have used it as a meal replacement most recently in my fitness journey. It does a great job of keeping me full without that heavy, bloated feeling.
SEE ALSO: CRUZAN FOODIE FOOLPROOF GREEN SMOOTHIE
Ready to make your own? Check out my peanut punch recipe below!
Peanut Punch Recipe
Ingredients
½ cup smooth peanut butter
1 cup milk of your choosing
1/4 cup coconut milk
1 TBSP sweetener (sweetened condensed milk, brown sugar, honey, agave nectar)
½ tsp vanilla extract
¼ tsp nutmeg
¼ tsp cinnamon
Ice
Water (optional)
Add all ingredients to the blender and blend until smooth. If peanut punch is too thick for your liking, add 1 TBSP of water at a time and blend until desired consistency. Yields 4 servings.
I would love to know what you think about this Cruzan Foodie Fave – Peanut Punch! If you've tried it before, are you a fan of this drink? Also, if you made this drink using my peanut punch recipe, be sure to let me know in the comments below. I love reading them!
Feel free to snap a pic and tag me in your photos and posts on social media (@CruzanFoodie) via Facebook, Instagram and Twitter.
Until Next Time,
Q the Cruzan Foodie