Patés in the US Virgin Islands
Let's sink our teeth into the warm folds of a paté (pronounced pah-tay)! You have not lived a full life until you have enjoyed eating a saltfish, beef or veggie paté with a passion fruit juice to wash it all down. I'm literally salivating as I type these words…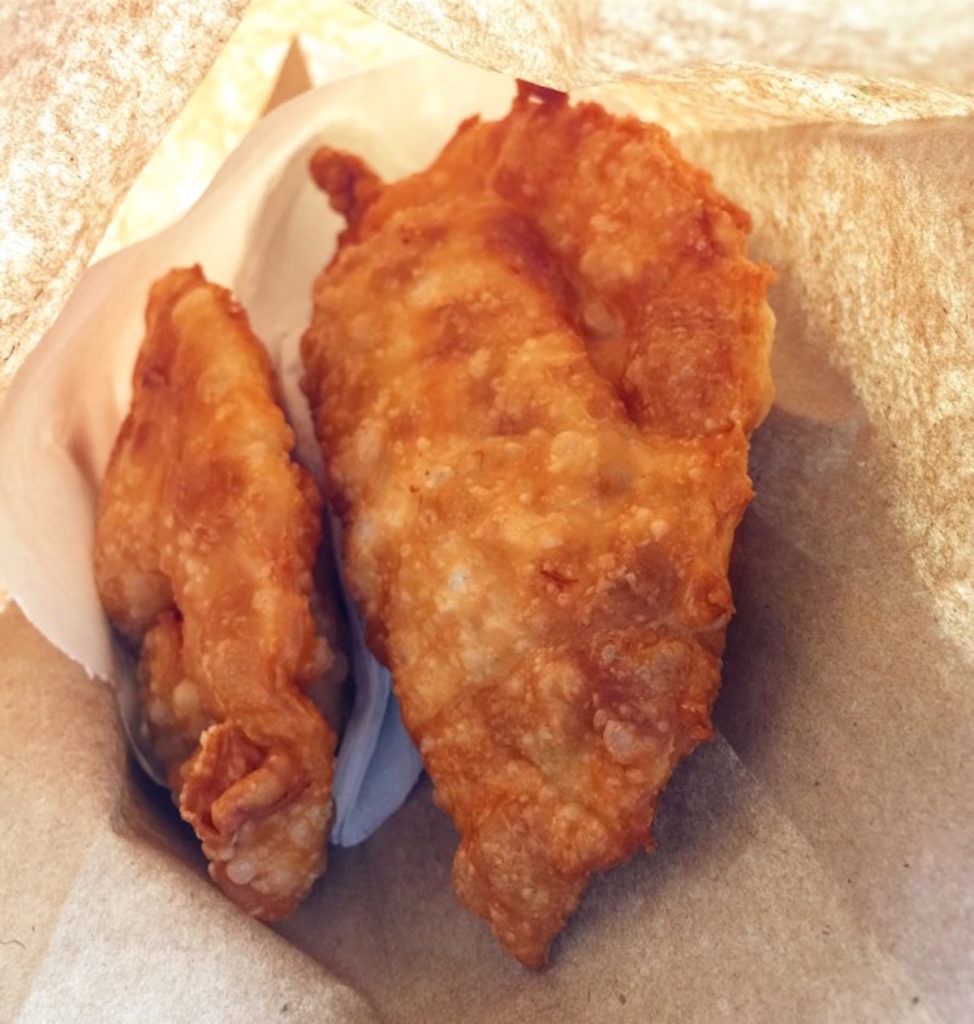 Don't confuse Virgin Islands paté with Jamaican patties or empanadas or meat pies. Yes, they all consist of a meeting of some form of meat or fillings wrapped in dough. However patés in the Virgin Islands – specifically in St. Croix – are unlike anything I've had anywhere else in the world. These savory treats typically have this crispy, crunchy dough with a slight softness to it.
Your paté experience can be a complete failure if the dough isn't done right. The same goes for the fillings. The usual suspects for paté fillings are beef, saltfish, chicken, conch or veggie. The beef has to be seasoned to perfection – not too salty, not too bland. The saltfish has to have the right balance of onions and peppers to fish with NO BONES! The conch has to be soft and tender. You get my point here, right? Great dough + delicious filling = a delicious snack that you can't pass up! Oh, and your paté CANNOT under ANY CIRCUMSTANCES be an oily mess! If you can soak up enough oil to grease up your hands when you grab your paté, that's a red flag of all red flags!
For the first time, St. Croix is hosting the Virgin Islands Paté Festival! On Sunday, June 18, 2023, this event will focus on the cherished Virgin Islands treat as they celebrate our culture, cuisine, family, fun and PATÉ. It will be held at the Agriculture Fairgrounds near University of the Virgin Islands St. Croix campus from 11am to 7pm. You can learn more on the event's Facebook page here.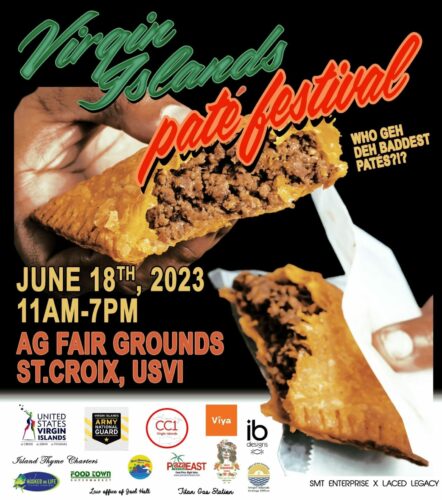 Now that I've made you salivate, you're probably wondering 'where can I get a paté when I visit St. Croix?' The best ones are found in the food trucks all around the island. Much like my directions from the Armstrong Ice Cream post, it's going to be a bit challenging to guide you to these spots. St. Croix isn't known for their abundance of street signs and clear directions. We're more of a "take a left by the pink house and make the right after the mango tree on the left." This makes the adventure to find these spots all the more exciting AND rewarding!
---
Here are a few #CruzanFoodieApproved places to get pates on St. Croix.
Thomas Dining & Catering – Christiansted
Featured on Andrew Zimmern's Bizarre Foods on the Travel Channel, Thomas Dining & Catering is located at 6A La Grande Princesse near Food Town Supermarket. Coming from Christiansted town, you will pass McDonald's in Golden Rock and drive through the Five Corners intersection. The white building they're located in is on the same side of street as Food Town Supermarket. If this sounds absolutely foreign to you, find the nearest Crucian and they will direct you there! Now prepared by the son, their patés are large enough for a full meal!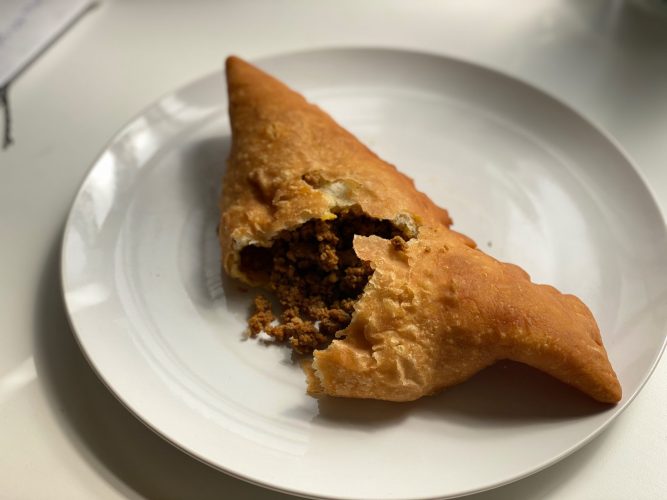 He also has local juices like passion fruit, sorrel and chlorophyll to help wash down your hearty paté. The chicken is my personal favorite but I could never turn down a beef or saltfish on a good day! Pair it with a passion fruit juice and you'll be set for a fulfilling lunch. Be sure to try it when you go! You can visit their Facebook page here to see their daily menu.
Miss Rosa in Whim – Frederiksted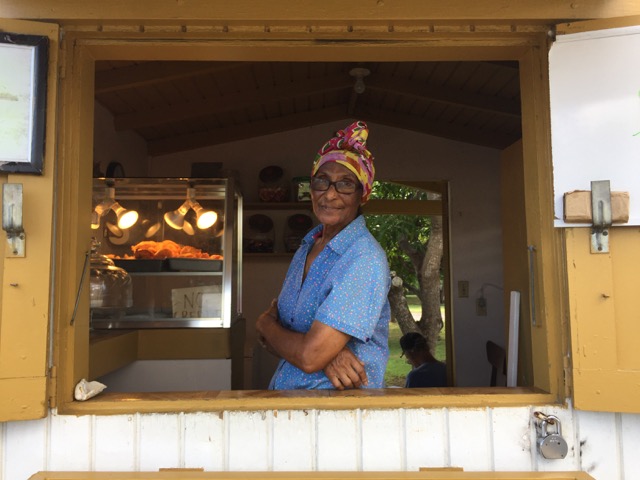 I honestly don't even know HOW to begin to direct you to Miss Rosa Booth in Estate Whim. I'll try my best to use my Crucian directions with this one. She's across the street from the baseball field in the Whim neighborhood in Frederiksted. She's open Tuesday to Saturday (usually) and occasionally on Sundays but don't be surprised if you pull up to her booth at the front of her yard and it's all locked up. This is the epitome of island living – we're open when we're open and closed when we're not lol
Freedom City Service Station – Frederiksted
One thing I love about St. Croix is how the best food is found in the most unlikely places. Freedom City Service Station is a gas station, convenience store and deli in one serving up some of the best patés on island. Chicken, beef, saltfish, veggie and more, you can't go wrong with whatever you choose. They always sell out quickly so the earlier you arrive, the better. They are located on Queen Mary Highway aka Centerline Road at 49 & 51 Concordia. Visit their Facebook page here for more information.
Have you tried patés on St. Croix before? Where are your go-to spots? Share them below and be sure to share this post on your social media channels!
Until Next Time,
Q the Cruzan Foodie