The Open Road With Soul! – 2015 Kia Soul! Review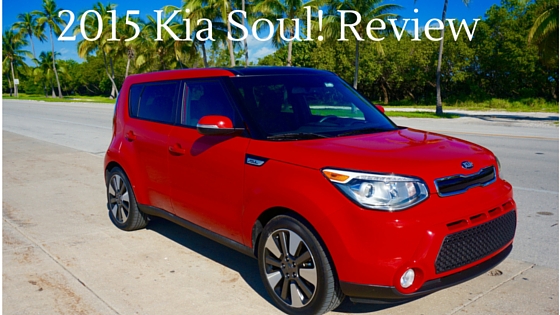 More often that not, people between the ages of 21-35 tend to shy away from road trips. In a generation that's all about speed and the need for instantaneous gratification, getting to the final destination on vacation as quickly as possible rarely includes a road trip. On the contrary, some road trips are critical in making a vacation one for the books, to be relived and glorified for decades to come!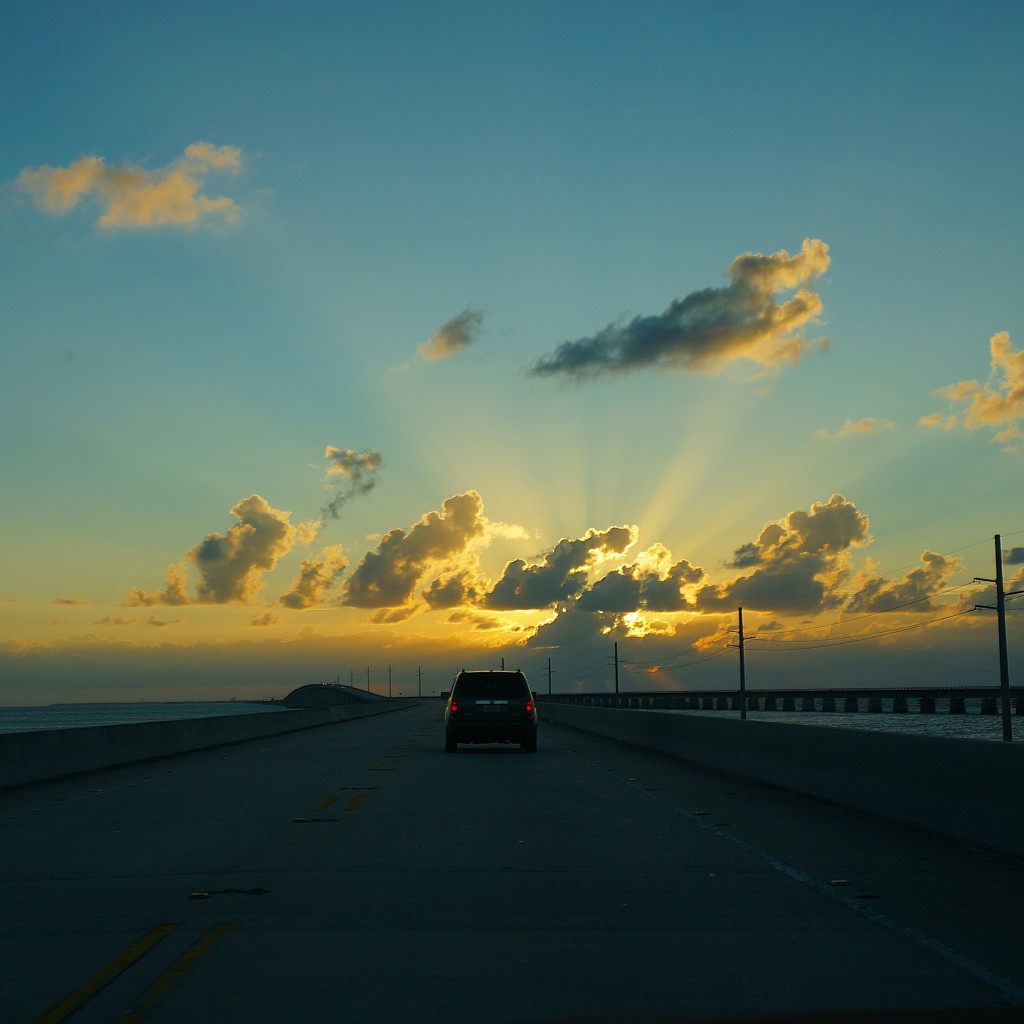 Enter The Florida Keys & Key West – 120 miles of tropical islands stretch out into the Gulf of Mexico and offers the most picturesque drive along an All-American Road, the only one in all of Florida! Thanks to the folks of Drive Shop USA and Kia Motors America, I was offered a 2015 Kia Soul! to test drive and usher in this iconic road trip. Equipped with the Sun & Sound Package and The Whole Shabang Package, I knew was in for a sweet ride The 2015 Kia Soul! was provided to me to drive for a week in exchange for honest feedback on my experience. All opinions expressed are my own and are not influenced by this arrangement.
I'm a die-hard Kia driver. I've leased two Kia Optima's in the past 3 years and was interested in experiencing a new vehicle within the Kia family. My initial impression of the vehicle was that it had a compact, spacious feel with a hip & modern flair. With a bright, vibrant Inferno Red color, I knew I wouldn't mind cruising around the streets of Miami in this snazzy bit & I certainly couldn't wait to hit the open roads and head off to Key West, turning a few heads in the process!
Here are the highlights of my 2015 Kia Soul! Review:
Appearance – The invigorating Inferno Red was mesmerizing, easy on the eyes and added to the snazzy sports feel of the car. A panoramic sunroof with a power sunshade was a great feature to the car, allowing driver & passengers to bask in the sunlight! With 11 different colors to choose from, it's hard to be unhappy with the look of this car. It's compact in size and makes parallel parking anywhere a breeze. Why have I never considered this vehicle before?
Gas Mileage – One of the best features of the 2015 Kia Soul! was how great it was on gas for its size. It gets 31 mpg (miles per gallon) on the highway and 23 mpg in the city for a combined 26 mpg! To say I drove this car a lot would be an understatement. After all, I did go on a road trip! I drove approximately 180 miles before having to stop for gas and even then, I was only at a half tank. I drove another 380 miles before I had to fill up all the way. Again for the size of the car, the gas mileage amazed me!
Technology – The technology found in the 2015 Kia Soul! was superb. Here are a few of the technological features that had me in awe:

Rearview camera – The camera offered an expansive view of the area behind the vehicle. Putting the car in reverse activated a full screen mode on the display screen. Thanks to Kia, there will be no more people saying, "I swear that sign came out of nowhere!"
Heated/cooling seats – My favorite feature of the car! Living in South Florida means there are days when your car's leather seats can literally burn the skin right off your butt! Because that is not a good look (and hurts like heck), the cooling seats were an added bonus. With the touch of a button, the seats would reach an ideal cooling temp in less than 15 seconds.
SiriusXM – The inclusion of satellite radio pleased this music lover's heart. Music from the 1920s to the present in every genre known to man along with comedy, sports and talk radio, it made the road trip even more pleasant when I was in need of a change from my open road playlist.
Bluetooth – Connect your smart phone to the car to make and receive phone calls or play music. It allows you to keep your eyes on the road and your hands on the steering wheel at all times.
Navigation with 8-inch screen & Sirius traffic – Use the touchscreen to set your navigation that includes Sirius traffic that helps you avoid traffic backups, closed roads and overall bad traffic. I personally preferred the GPS on my phone to the car navigation but it served as a great alternate in the event phone service was in the area was less than ideal.
Cruise control & Trip computer – Sometimes, you just want the car to do some of the work for you and the cruise control helps in that regard. It's easy to set and even easier to control. The trip computer keeps a log of the places you've traveled to. With a few touches on the screen, you can be on your way to your destination without a lengthy process of typing it in all over again.

Space – When the car initially pulled up, I was sure there wouldn't be much space. Boy was I wrong! The backseats fold down allowing more space for groceries, luggage or any other items you're likely to transfer from one place to the next. Being a bit on the taller side myself, I had ample space on the driver side and passengers in the backseat didn't request any adjustments from the front for comfort. Win-win all around!
Safety – Safety is clearly a top priority for Kia Motors and their safety features say it all: dual front advanced air bags, front seat-mounted side airbags, full-length side curtain airbags, anti-lock braking system (ABS) with brake assist (BAS), traction control system (TCS), electronic stability control (ESC), vehicle stability management (VSM), hill-start assist control (HAC) and tire pressure monitoring system. See, I told ya…
With all of the great features of this vehicle, it was hard to notice any areas that I could either improve or do without. There were only three things I would change with this vehicle to make it the ultimate driving machine.
Engine power – This was a bit weaker than what I anticipated. A 2.0 liter four-cylinder with an Active Eco System and a G-Speed automatic transmission meant that I didn't have the engine speed that would allow me to zip out from behind a tractor trailer or get around the 16-year old student driver. Granted, the car's size plays a role in how powerful the engine could potentially be. If they could kick this up to a 2.5-liter engine, the car would be able to move effortlessly through traffic.
Sound system – I was disheartened by the lack of the sound system in the 2015 Kia Soul! Every great road trip is equipped with a booming playlist that makes the drive fun & exciting. Unfortunately, the volume in the car seemed fairly low and I couldn't hear the bass that makes music so powerful where you can feel it.
No CD Player – I know, I know… It's 2015. Who's using a CD player? Well, I recently unearthed my CD booklet from my teenage years and was ready to take a trip down memory lane on my road trip to Key West. I was slightly heartbroken when I found out there was no CD player but it wasn't that big of a disappointment!
All in all, Kia Motors America has created a remarkable vehicle with countless features that works to make your driving experience fun, easy & exciting. You can't help but look forward to taking a drive in this car because of the effortless ease of driving and it's fashionable look. For more information on specifics and pricing, visit Kia Motors.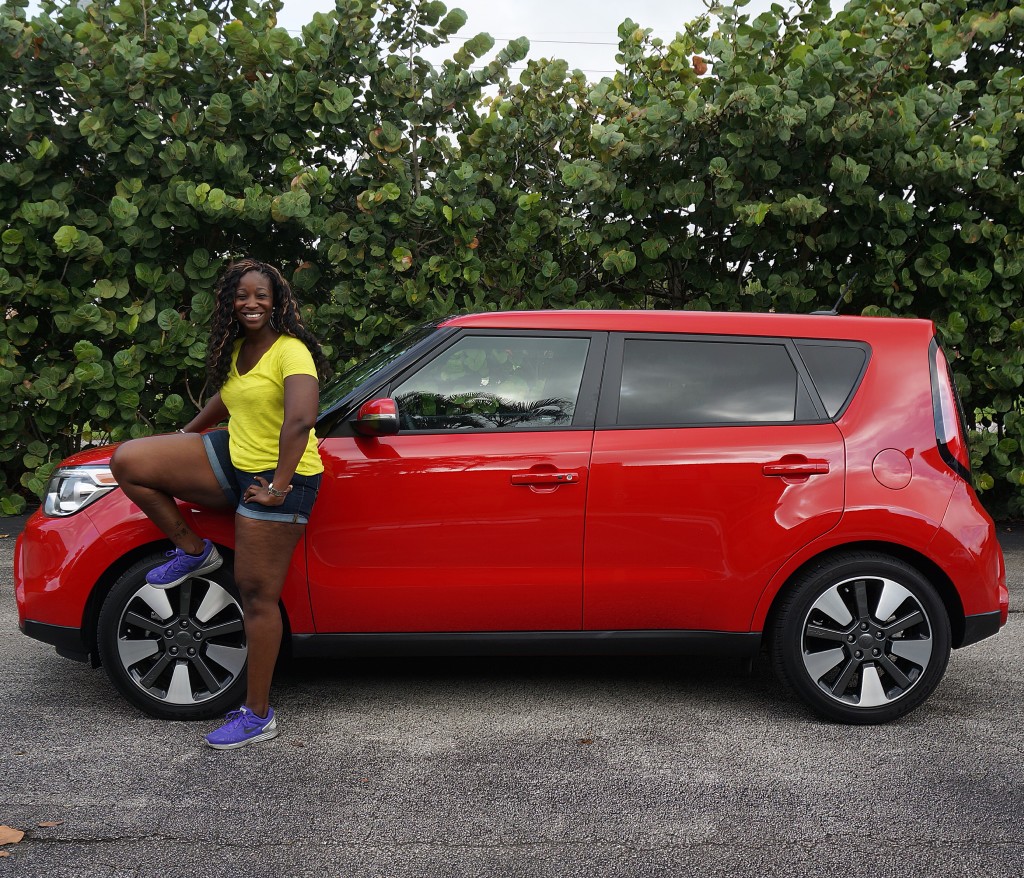 I'd love to hear your thoughts on the 2015 Kia Soul! Would you consider hopping behind the wheel of one of these babies? Do you have any questions about the vehicle? Leave a comment below. I can't wait to hear from you!