Two Words: Devour Brewing
Boynton Beach is quickly becoming a go-to craft beer city here in South Florida. Due South Brewing, Tequesta Brewing Company, Copperpoint Brewing Company and SaltWater Brewery are just a few of breweries that have taken the craft beer scene by storm with Due South being the first of these breweries to export beer outside of the state. Most recently, another kid has appeared on the proverbial craft beer brewery block: enter Devour Brewing Company.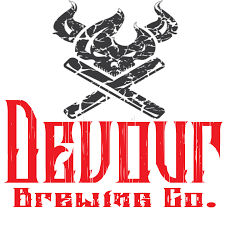 Opened June 2015 by husband & wife team, Chip & Trish Breighner, their home brewing hobby that started in their kitchen grew into a 2600 square foot nano-brewery. Their tap list is currently comprised of eight craft beers and two special releases that are rotated every 1-2 weeks, dependent on their brewing schedule. Beers are offered in 5oz and 16oz servings at $2.50 and $5.50 respectively (IPAs and special releases are available in 12oz servings, not 160z). Create your own flight with 5oz servings or sample a few beers and settle in on your favorite brew. Their fully air conditioned warehouse has ample seating in a laid back setting, TVs for sports viewing and even a Nintendo Wii in the front room adding some extra fun to an already jazzy space.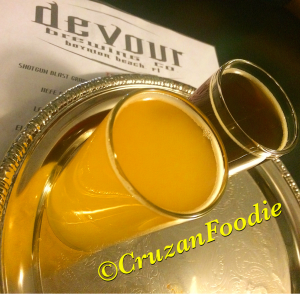 "It's just me and my wife brewing beer that we love," said Chip. "We started out in the kitchen and with the support of family and friends, we opened up Devour Brewing." Considered a labor of love, this dynamic duo use locally sourced ingredients and partners with a Boca Raton tea company for the tea used in their popular Fruity Loops Blonde Ale, Hefe on Vacation & Roasted Almond Delight Brown Ale. They're also partner with local food trucks to host  beer dinners throughout the year!
I sampled a few of their brews and was in for quite a surprise when I tasted each one! Here's the rundown on each craft beer I tried at Devour Brewing:
Shotgun Blast Grapefruit India Pale Ale – I am not a fan of India Pale Ales (IPA). Actually, I pretty much hate them all. However, Devour Brewing has me rethinking my feelings of detest for this particular style of beer. As you bring the glass to your lips, your nose is immediately filled with the hops aroma all IPAs are well known for. You also get a blast of citrusy notes from the grapefruit infused in this brew. With the first sip, you taste the bitterness of the hops but it is mellowed out by the grapefruit along with a smooth and full texture in the mouth. As a person who detest IPAs, I could easily drink a pint of this brew without a second thought about the fact that it's an IPA! Devour Brewing, you wowed me with this one!
Hefe on Vacation – I immediately thought "hefe" in the beer title was pronounced like "jefe" which means "boss" in Spanish. However, "hefe" in this craft beer's name referred to hefeweizen (pronounced "hay-fuh-veyt-sssenn"), a German style yeast wheat beer that has a cloudy, unfiltered appearance. This beer is infused with a local tropical tea and has a crisp mouth feel. A zing of lemon, hibiscus and a hint of mango dance on your tongue and with little to no carbonation, this brew was an easy drinking beer. If you're looking for a light to medium bodied beer with flavors that pack a punch, this craft beer is for you.
Lemon Drop Wheat – Another craft beer from Devour with a healthy balance of citrus notes. In this instance, lemon zest is added to this American Wheat Ale. This had a light, crisp feel with the lemon notes making an appearance on the back end of each sip. I expected more lemon flavor on the forefront but it lingered behind on the end and left something to be desired.
Coffee & Cream Brown Ale – One thing the Miami/South Florida area is known for is their love for Cuban coffee. This medium bodied craft beer uses lactose and cafe Cubano coffee to create a creamy, smooth brew with subtle chocolate notes that is sure to put a pep in your step. The Cubano coffee engulfs your senses before you even bring it to your lips! If you're a coffee lover, this one will put a smile on your face.
Fruity Loops Blonde Ale – Last but certainly not least, this craft beer was my absolute FAVORITE! OMG, who would have thought a craft beer could taste like the Frooty Loops cereal I loved growing up? Who would have thought it was infused with a specific tea and not fruit, giving it this captivating aroma and this unforgettable fruity flavor? I definitely never would have, that's for certain! The Fruits of the Forest Tea infused in this beer makes you think you're drinking the leftover milk from your cereal. This light bodied brew had a great balance, mild hop flavor and a light & smooth mouth feel. I could drink this beer everyday and would never be bored. Traces of lemon, blueberry and strawberry (maybe raspberry?) are found on the nose when you initially smell the beer. Although Froot Loops cereal pieces all taste the same (say it ain't so), the Fruity Loops Blonde Ale gives you an abundance of real fruit flavor, making this beer a delight to drink. Lucky for you (and me), this craft beer is still on tap at Devour Brewing and I think it's gonna be there for a while.
If you're in the mood to try undiscovered quality craft beer, Devour Brewing is where you should be headed. They are located at 1500 SW 30th Avenue in Boynton Beach, Florida. You can find them on Facebook, Twitter & Instagram or online at www.devourbrewing.com. They recently acquired a distribution deal with a Beerstream Distribution Company and will be available in a alcohol & craft beer shops in and around South Florida very soon! Learn more about it from Broward-Palm Beach NewTimes.

Let me know when you're headed over to Devour Brewing Company for a pint or two (or three) – I'll make it my business to join you 🙂
Cheers,
Q the Cruzan Foodie