Are You Celebrating this Friday June 5th?
It's that time again – the most wonderful time of the year! No, it's not summer and it's June so I can't possibly be talking about Christmas. I'm talking about the celebration that occurs every 1st Friday in June. It's National Doughnut Day, people!!! Are you not as excited about this as I am? Perhaps, you'll have a change of heart by the end of this post and start counting down the hours until Friday June 5th.
National Doughnut Day was established back in 1938 by the Chicago Salvation Army to honor the women who served doughnuts to soldiers during World War I (see, a history lesson). Now with each passing year, more doughnut shops across the country are joining in on the celebration to share some history and spread a little doughnut cheer for everyone to enjoy.
Here is a list of doughnut shops around the country that will be sure to fulfill your doughnut craving and put a smile on your face this Friday: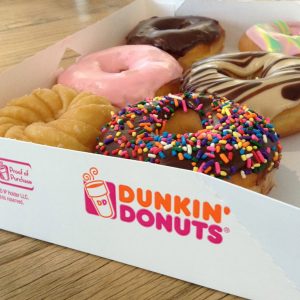 Dunkin' Donuts: The world's leading baked goods & coffee chain is offering a free doughnut with any beverage purchase this Friday. The offer is good all day long so feel free to save your doughnut for the ride home from work or as a lunchtime treat!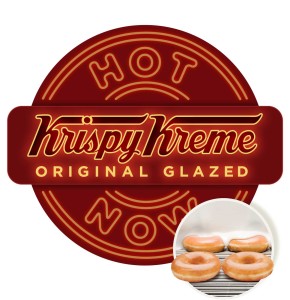 Krispy Kreme: Known for their flashing "Hot Now" red light, Krispy Kreme will be giving away a free doughnut of your choosing to every guest that comes into their stores this Friday June 5th! FREE – meaning no purchase necessary! Participating countries include Australia, Korea, Japan, Indonesia, Malaysia, Mexico, Puerto Rico, Philippines, and Turkey. Offer not available in Connecticut or Puerto Rico locations though. Sorry guys 🙁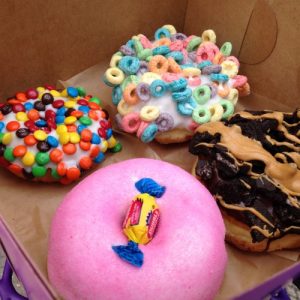 Voodoo Doughnut: This Portland based doughnut shop is known for its quirkiness and unique donut creations like Captain My Captain topped with vanilla frosting & Cap'n Crunch cereal. With a line that wraps around the corner regardless of the time of day, you'd be wise to celebrate this national holiday at one of the most popular doughnut shops in the country that has been featured on Good Morning America & the Travel Channel.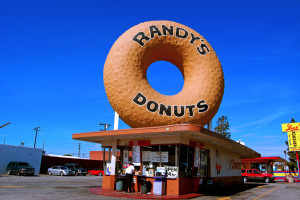 Randy's Donuts: With a giant iconic donut perched atop of this walk-up shop that can be compared to the Hollywood sign, Randy's is arguably the best donut shop in Los Angeles. If you happen to stop off in LA this Friday (or any other day for that matter), make your way over to Randy's for his famous jelly filled donuts or any of the other confectionery treats on their extensive menu. With the prices starting at $0.90 a donut (yes in America), you don't have to wait until National Doughnut Day to enjoy a treat here.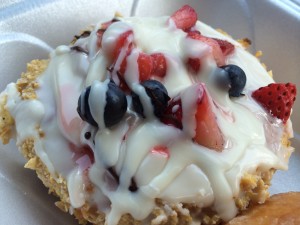 Mojo Donuts: One of my all time favorite donut shops is located right in my backyard in South Florida. A wide variety of flavors to choose from await customers as early as 6am seven days a week. Crème brulee, s'mores, maple bacon & guava are just a few of their doughnut options and it's no wonder they were recently listed on Thrillist's 33 Best Donut Shops in America list. You'll want to get here early this Friday because once they've sold all their donuts, they close up shop and do it all over again the next day. That could mean they close at 2pm or 11am, which is why calling ahead can save you a trip and potential heartbreak. Because I love you, I'll tell you a little secret. Use the Yelp app & check-in for their buy one, get one free offer! You're welcome 🙂