48 Hours in Zanzibar with Cruzan Foodie
Spending a whirlwind 48 hours in Zanzibar is possible with the right plan and good timing. This captivating island off the coast of Africa is a treasure trove of history and culture that made failing in love with this island country easy to do. If you're short on time and want to add Zanzibar to your East African itinerary, hakuna matata (it really means "no worries")! Save this guide and use it as a resource when planning your trip. 48 hours in Zanzibar with Cruzan Foodie starts NOW!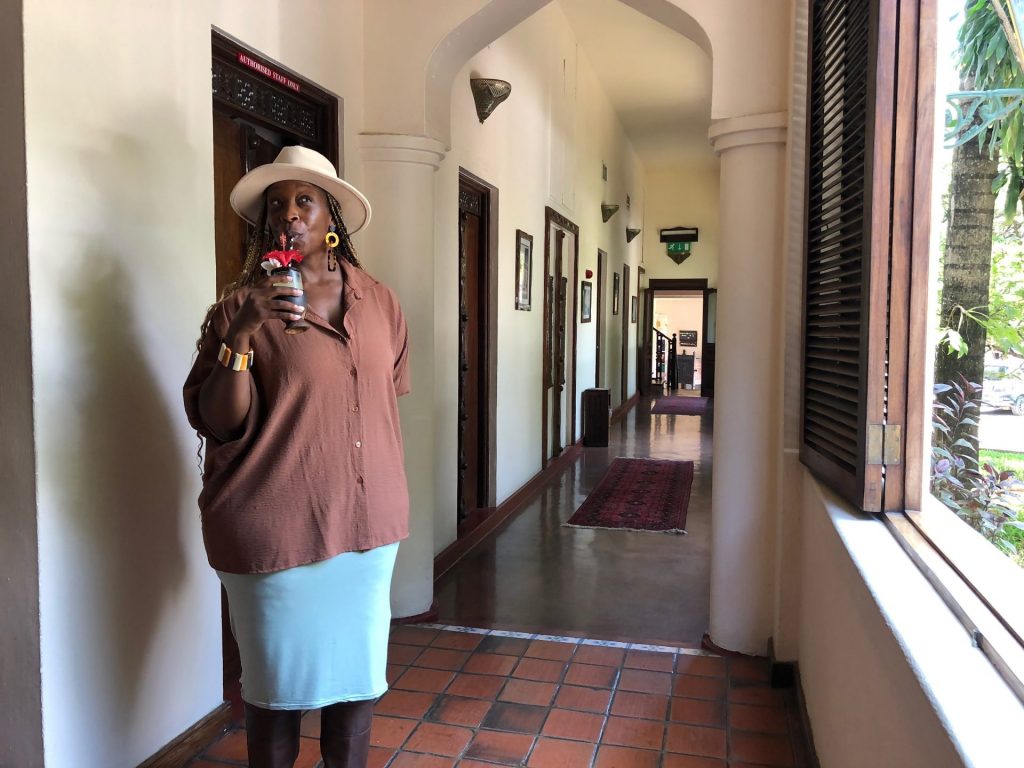 What You Need
For your 48 hours in Zanzibar, you will need the following items to enter the country:
Passport with at least six (6) months before expiration
Yellow Fever Vaccine Certificate – Must be administered 2 weeks or more before entry
Tanzania Visa
*Negative Covid Test taken within 72 hours *requirement at time of posting
Getting my yellow fever vaccine was quite the adventure. Since I was traveling from Miami, I was able to get a yellow fever vaccine appointment two weeks before my trip. I tried getting the vaccine in the U.S. Virgin Islands, but it was unavailable because it is not a disease we encounter, if at all, in the United States and its territories. PRO TIP: Get the yellow fever vaccine as soon as it becomes available where you live. If you have plans to visit any tropical/subtropical regions of Africa and South America, the yellow fever vaccine is recommended and even MANDATORY in some countries. The upside is that the certificate is good for ten (10) years. While no one asked me to present my yellow fever certificate at the customs gate, it is required to enter the United Republic of Tanzania (Zanzibar is part of this republic). Imagine if I was asked to present it and didn't have it? That wouldn't be a good look for the trip. Don't be that person boarding the plane back to wherever you came from. Get the yellow fever certificate and take it with you!
Getting There
Most visitors traveling to Zanzibar depart from Dar es Salaam, the largest city in Tanzania. You can take the scenic route via the ferry which brings you to Stone Town, Zanzibar in a little under two hours. This option offers magnificent views of the Indian Ocean and gleaming glimpses of dolphins swimming alongside the vessel. The other option would be to a twenty-minute plane ride from Julius Nyerere International Airport (DAR) to Abeid Amani Karume International Airport (ZNZ).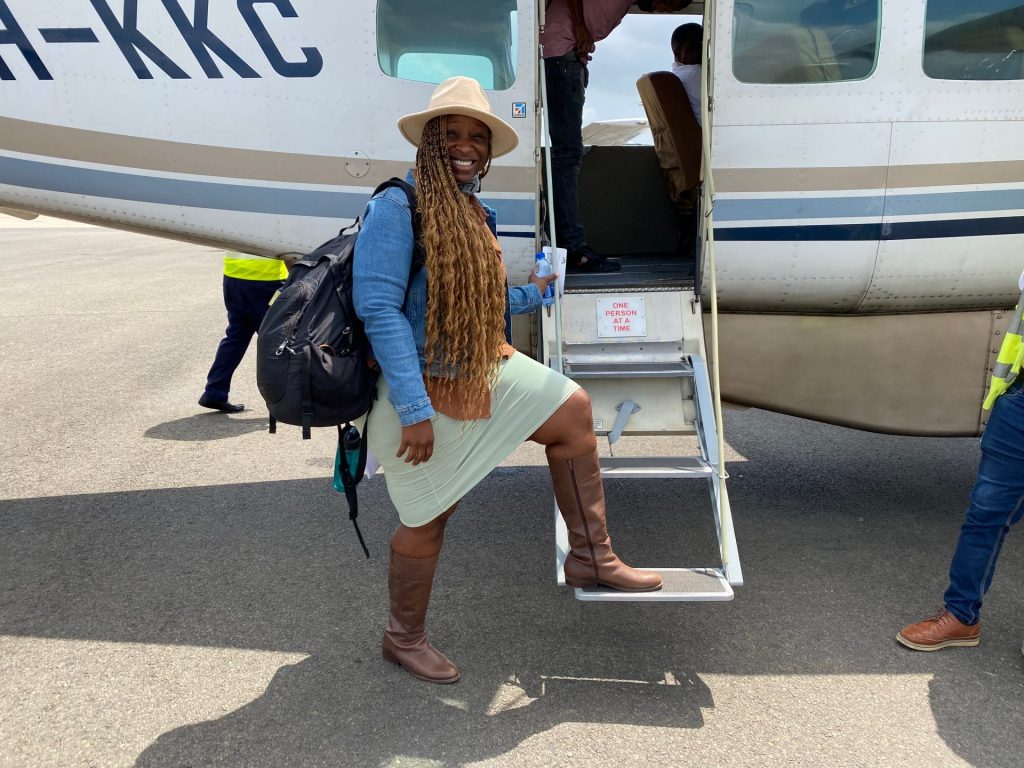 I opted for the flight over the ferry solely based on the ease. When I inquired about the ferry ticket, the general feedback from the local people was that it wasn't as pleasant of a journey unless you booked a business class ticket or higher. This would be a little more expensive ($40-80) and you'd sit on the inside of the ferry. The $100 one-way flight with Auric Air was on a smaller plane (insert praying hands here) that lasted all of 20 minutes. PRO TIP: Pack light. Small charter planes have weight restrictions that applies to your carry-on AND checked baggage. Only so much extra weight can be purchased.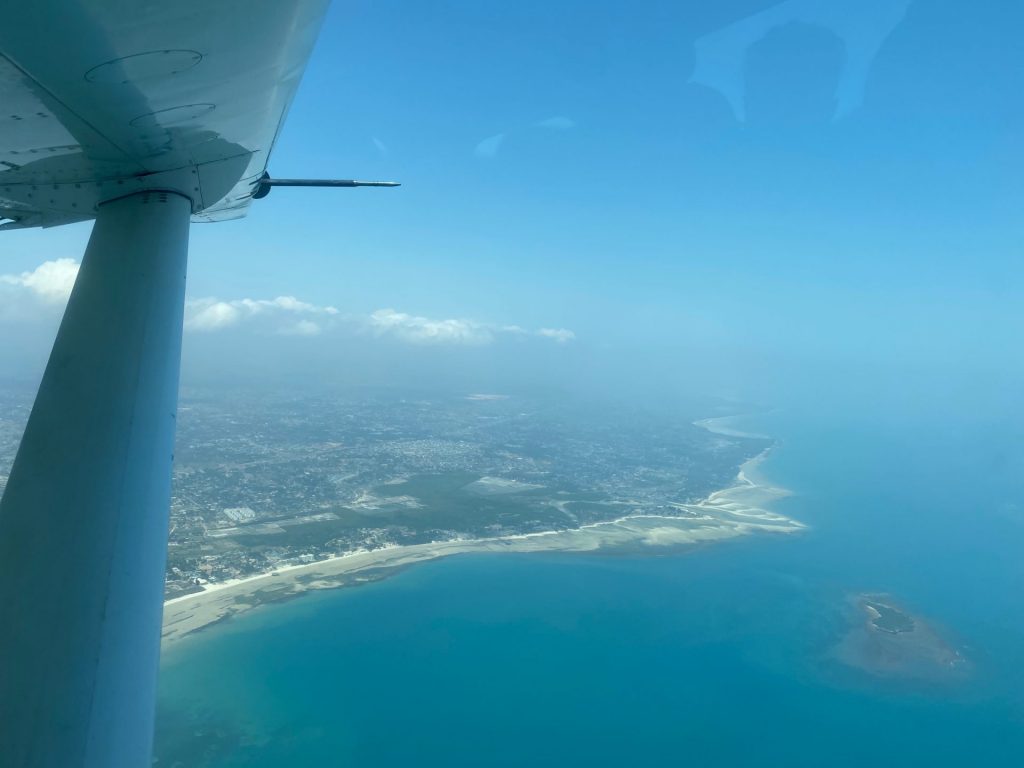 Where To Stay
Because you only have 48 hours in Zanzibar, I recommend staying in Stone Town, the old part of Zanzibar City. A UNESCO World Heritage Site thanks to its stunning architecture, you can easily spend your entire time in this area traversing the winding streets and truly getting lost in its magic. It's easy to get around the island from Stone Town and the cost for taxis are affordable, especially for the distance traveled in some instances.
I had the most amazing service at Zanzibar Serena Hotel! From check-in to check-out, the staff at the hotel went above and beyond in more ways than one.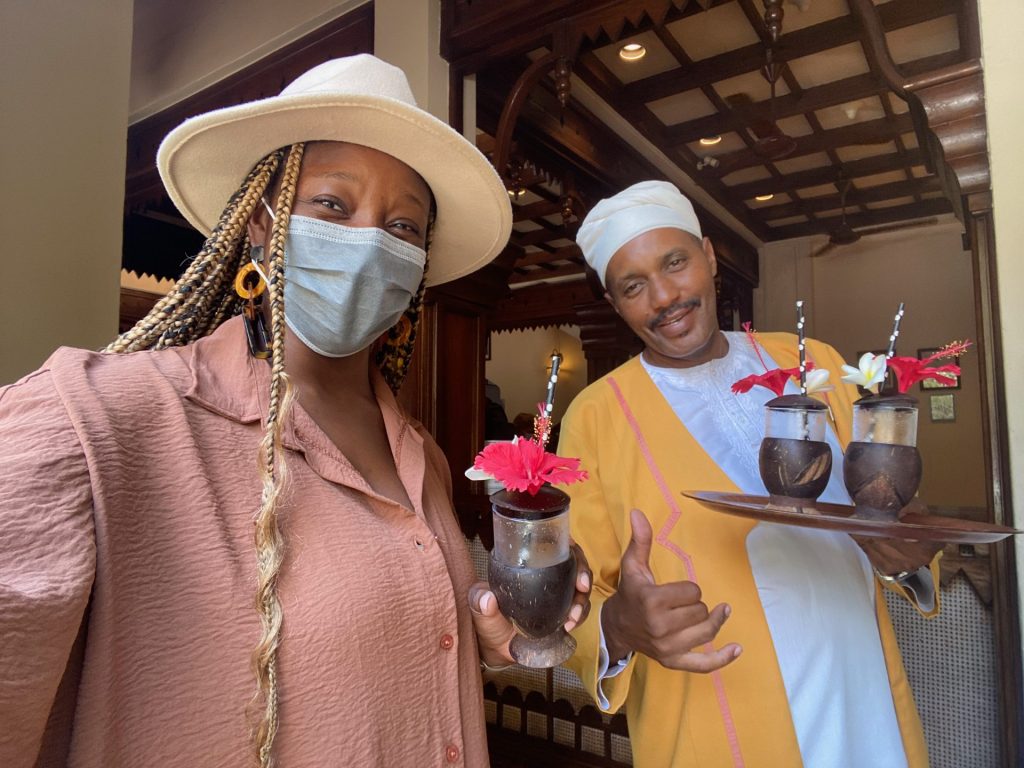 For example, I left my crossbody bag at the table when I went to grab a juice from the buffet station. Our waitress saw my purse unattended and immediately took it up in fear of someone stealing it while I was away. She walked directly to me and gave it back, explaining why she had it. I also had a terrible fall on the stairs as I went to check out (no fault of the hotel's) and the way they cared for me makes me emotional when I recall this part of my trip. They brought me an ice pack with a towel, gave me a muscle soothing cream for my knee and made sure I didn't lift ONE FINGER getting to the taxi. ABOVE AND BEYOND doesn't even begin to describe the staff here. While it is an older hotel, it was clean, comfy and perfectly situated on the beachfront. Waking up to waves crashing on the shore each morning was bliss!
SEE ALSO: CAYMAN UNCOVERED WITH CRUZAN FOODIE
Walk This Way
Take a historical walking tour of Stone Town. Learn of its rich history and see firsthand why it was declared a UNESCO World Heritage Site back in 2000. Be sure to include a visit to the East African Slave Trade Exhibit while on this tour. Whatever you do, do not rush through this exhibit. Not only does the museum drive home the scope and injustice done to Africans who were forced into slave labor, but it also highlights the fact that slave labor STILL continues in many countries around the world, both rich and poor. I was sad I didn't get to spend more time here taking in all the information. It was a somber, yet sobering exhibit that made the visit to Zanzibar worthwhile.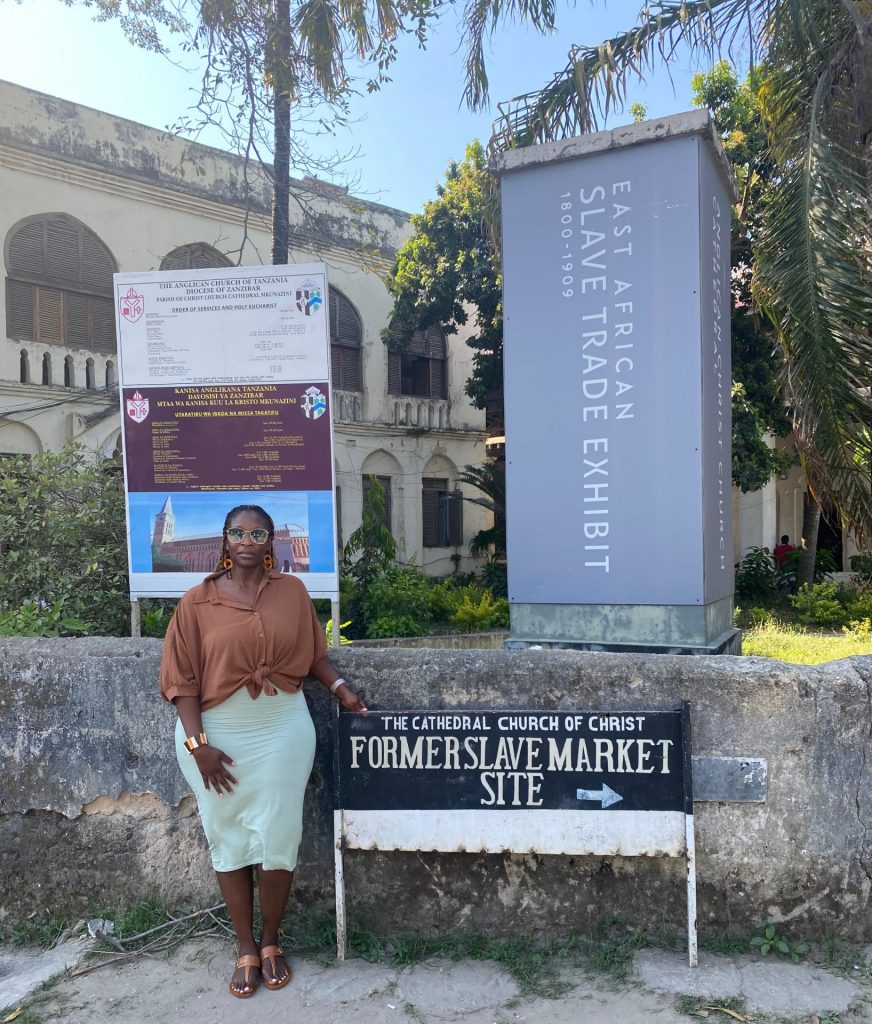 While I didn't get to go, head to Forodhani Gardens in the evening to enjoy the festive atmosphere of this busy street food market. Located inside Stone Town along the main promenade by the seafront, here is where you bring your Tanzanian Shillings and try authentic Zanzibari foods like Zanzibar Pizza, fresh barbecued seafood, Swahili donuts and sugar cane juice. PRO TIP: Proceed with caution with any outdoor food market. Pay close attention to how the food is being handled and bargain food prices before ordering. Also, alcohol is prohibited in Forodhani Gardens. If someone offers you a beer or any other alcoholic beverage, politely decline and walk away.
Spice It Up
Once known as the spice capital of the world, Zanzibar is overflowing with every color and flavor of spice imaginable. Your walking tour of Stone Town will take you through the Darajani Market where you will find seafood, fresh meat, fruits, vegetables and of course, SPICES! It was here when I spent my weight in gold on vanilla beans, saffron, vanilla extract, masala spices, sorrel leaves and much more. PRO TIP: Sharpen those negotiation skills and bargain, bargain, bargain! Never take the first price. Have in mind how much you're willing to spend and have fun getting to that amount or even lower.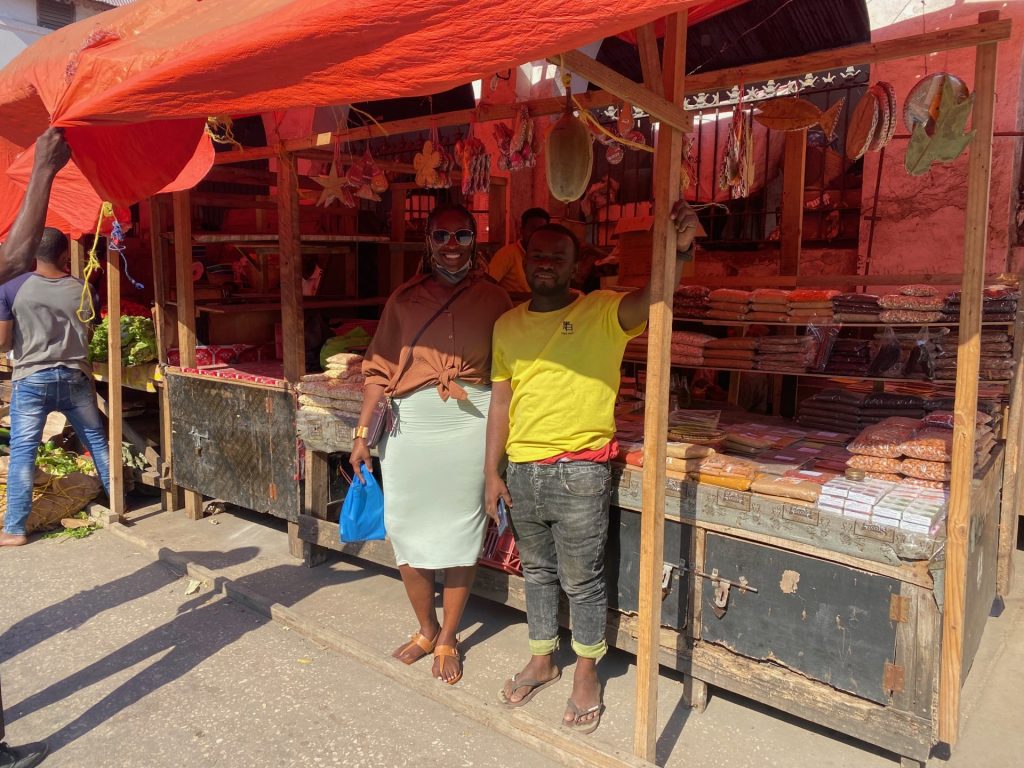 I recommend doing one better though – do a spice tour + cooking class! Learn how many of the ingredients in your kitchen cabinet came to be, tour a local village, cook in an outdoor kitchen with a local woman farmer and finish up with a delicious lunch. This Zesty Zanzibar tour was one of the things I WISH I had more time for when I visited. Now you can go on this excursion and tell me all about it!
Do It On the Rooftop
One dining experience you must have during your 48 hours in Zanzibar is located Emerson on Hurumzi Rooftop Tea House. It was by far the best dining experience I had during my 2-week East Africa trip. With 360-degree views over Stone Town and the Indian Ocean, guests are seated is Swahili style on thick Persian rugs with low tables. They usually have a traditional Taarab singer & band perform during their dinner service while you dine on authentic Zanzibari cuisine merged with Omani and Persian influences.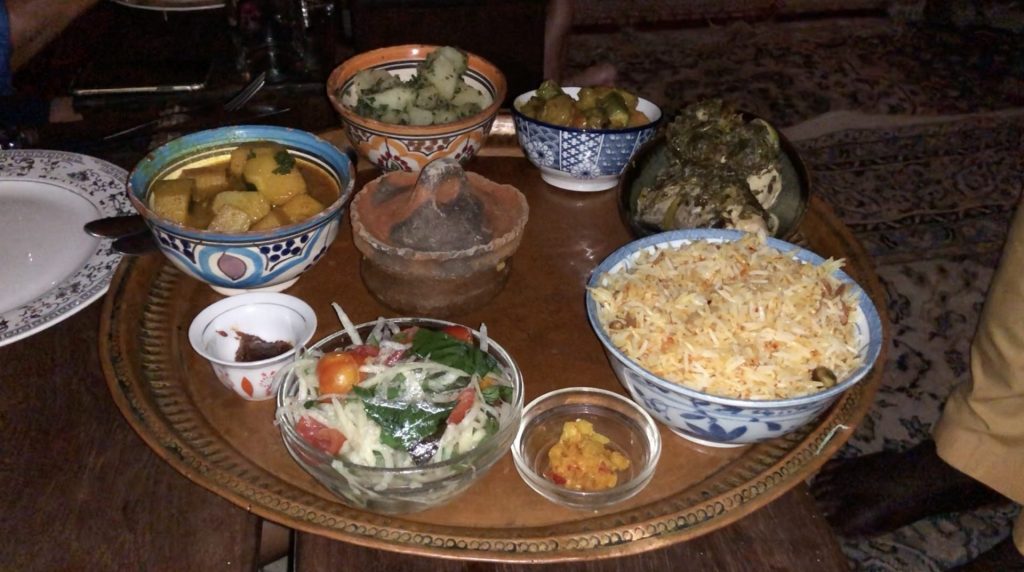 Let me warn you – be prepared for a transformative dining experience. They have you wash your hands with rose water before, during and after your meal, the food and drinks were delicious, the service was impeccable and the traditional band lent an authentic feel to the evening. Get there NO LATER than 6pm to catch the sunset. Sadly, I only caught a glimpse of the last moments of the day but boy, was it a glorious view!
PRO TIP: The restaurant is located on the rooftop and there aren't any elevators. Let's just say you work up quite the appetite as you make your way to the top! Take your time – the rooftop will be there whenever you arrive. For my ladies, opt out of the super long dress or skirt when you go. Ascending flights of stairs and long dresses don't go hand in hand.
Sail Away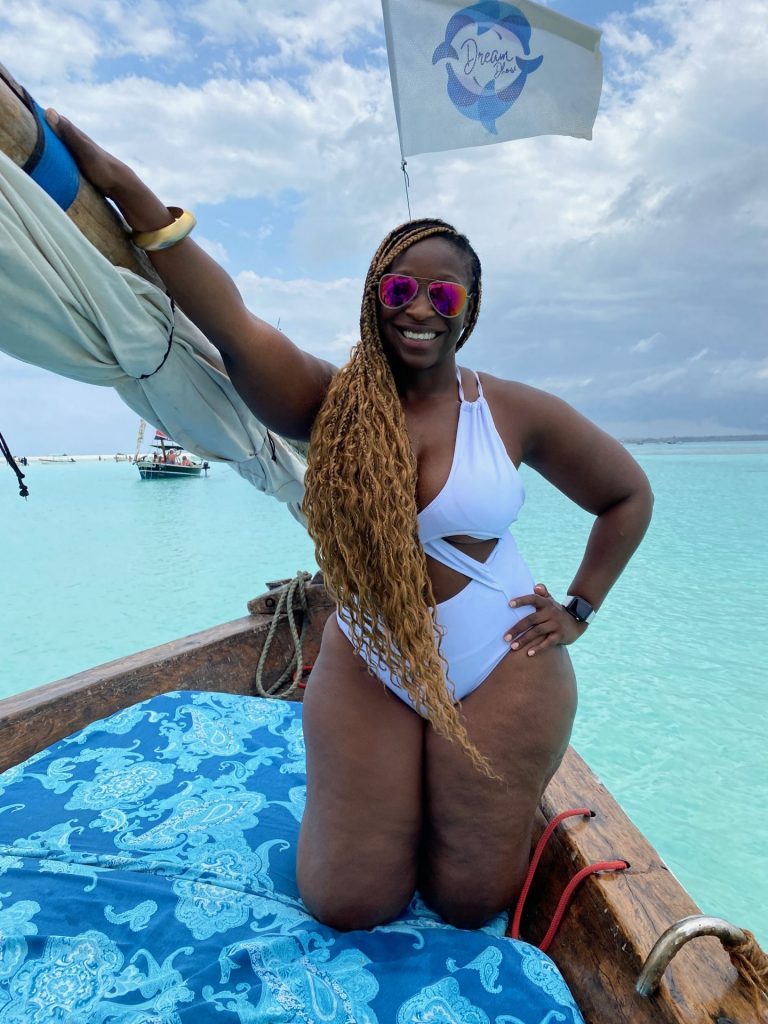 One of the most memorable experiences I had in Zanzibar was the Dhow boat sail to Mnemba Island. A pleasant one-hour drive from Stone Town brought me to Kendwa Beach where a Dhow sailboat captained by Dream Dhow awaited me. As we set sail to Mnemba Island, I saw dolphins flying through the sparkling, unspoiled waters at a close distance while the co-captain/chef began prepping the ingredients for lunch.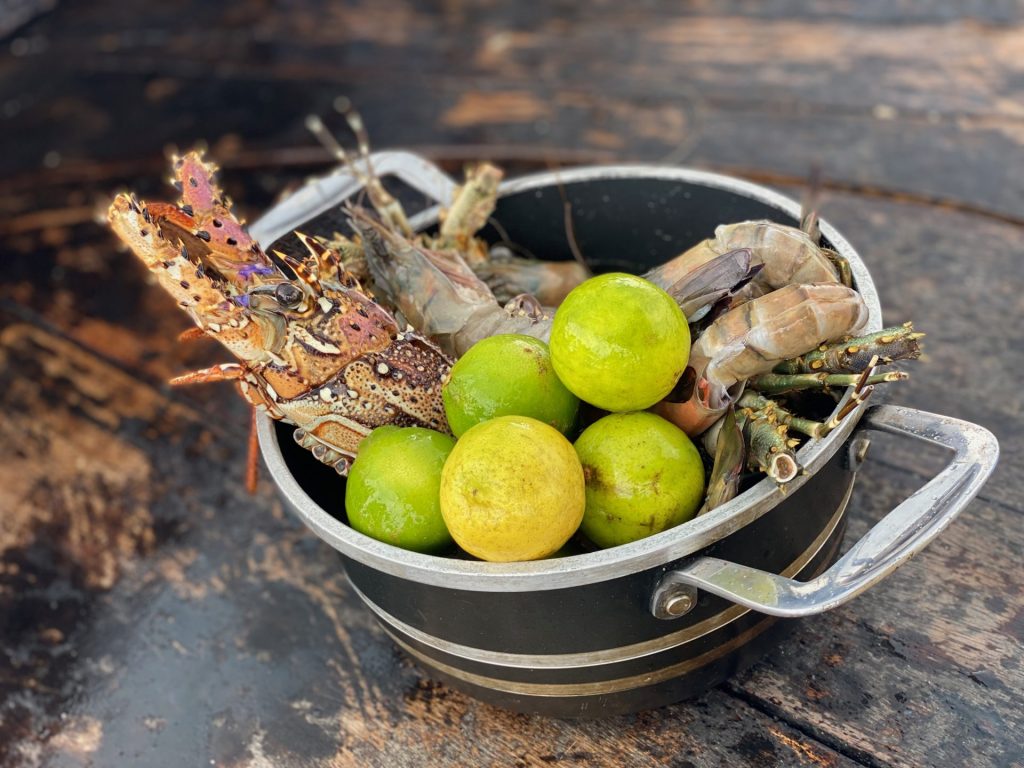 The menu consisted of grilled lobster, shrimp, chicken and tuna, rice topped with a tomato-based sauce, fresh pineapple and watermelon and kachumbari salad. Kachumbari salad is a popular East African salad that includes peppers, carrots, tomato, onions, cucumbers, cilantro and avocado and tossed with a mixture of oil, salt, pepper & vinegar. Seeing the entire meal unfold before my eyes from start to finish made this dining rendezvous my all-time FAVORITE EVER!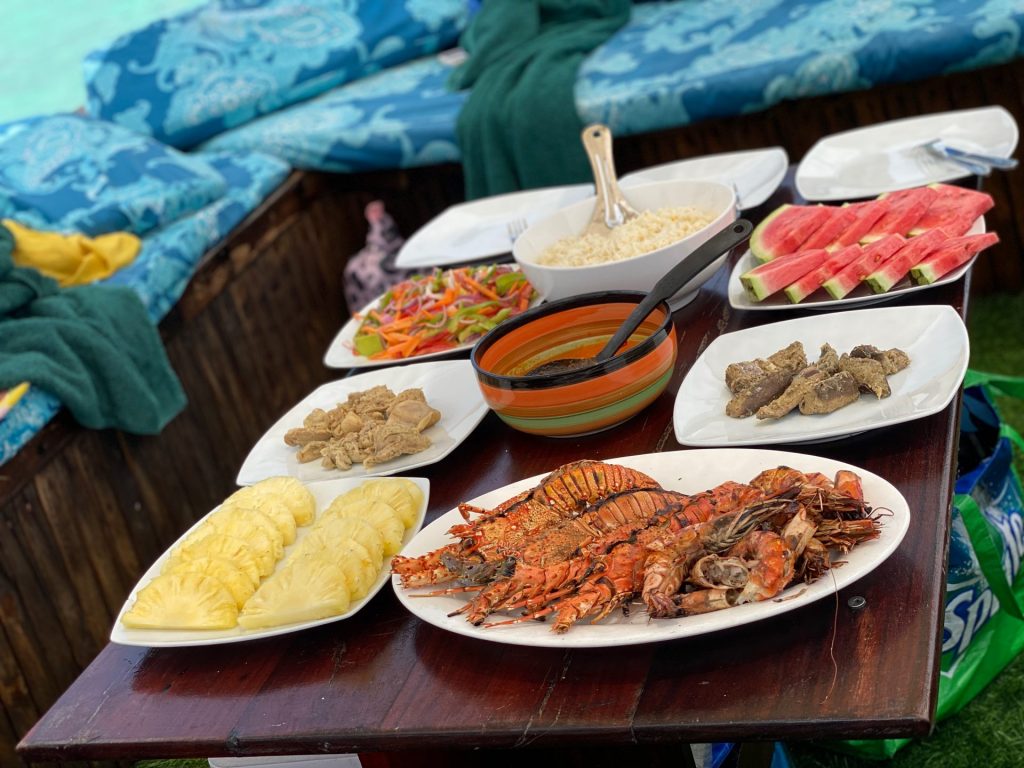 After swimming around the picturesque sandbank at Mnemba Island, lunch was promptly served on board followed by an hour of snorkeling in a different location. With hoisted sails, we headed back to shore about 2 hours before sunset where the happy hour at The Z Hotel was the perfect place to unwind after a day on the water.
ANOTHER PRO TIP: Check the weather before your Dhow sail. While this was my most memorable experience, it was also the most terrifying due to choppy waters caused by heavy rains. The sail back to shore really had me plotting the best way to keep my cell phone dry in case the Dhow capsized. I also wondered who would tell my mother I died in the Indian Ocean. I would do it again but only on a reasonably sunny day.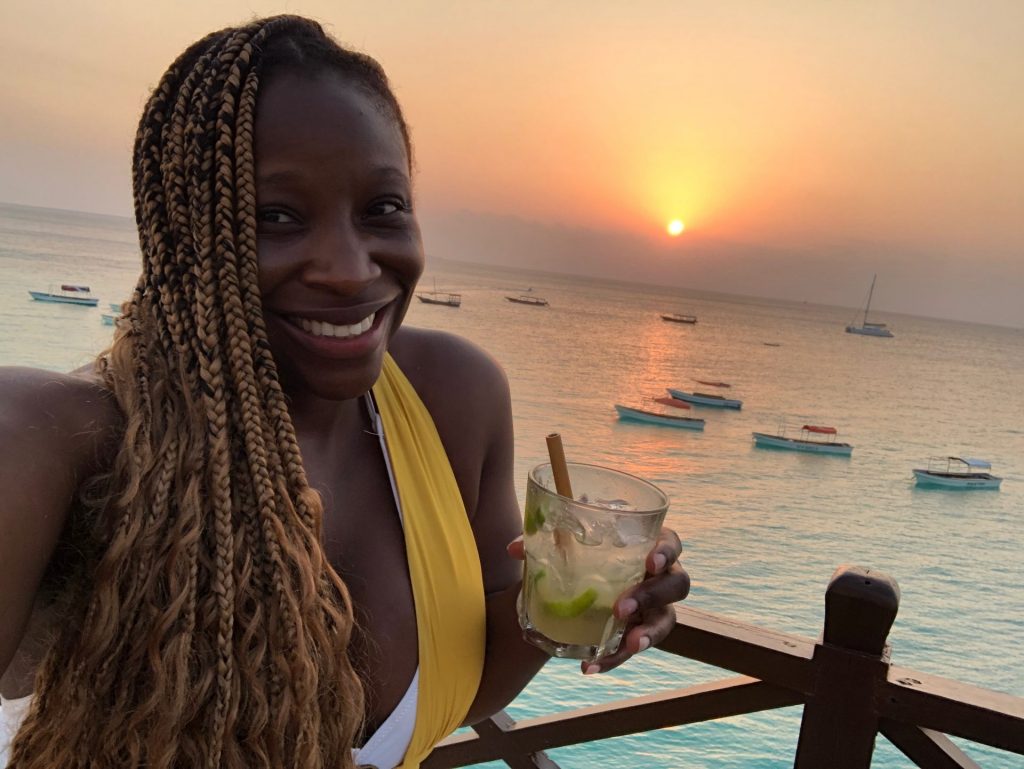 I Wish I Had More Time For…
These are the activities and places I was unable to visit due to my limited time in Zanzibar. I felt it was necessary to include them here in case you're able to squeeze out one or two more activities during your trip.
Princess Salme Museum – an intimate space dedicated to the eventful life of Princess Sayyida Salme, a sultan's daughter who eloped with a German merchant in the late 19th century and wrote a book about her life.
Kuza Cave Culture Centre – An ancient limestone cave and crystal-clear healing mineral water pool where you can swim with turtles and be one with nature!
Forodhani Gardens Food Tour – What better way to experience this bustling food market than with a local guide. Pack Tums and Beano as a precaution!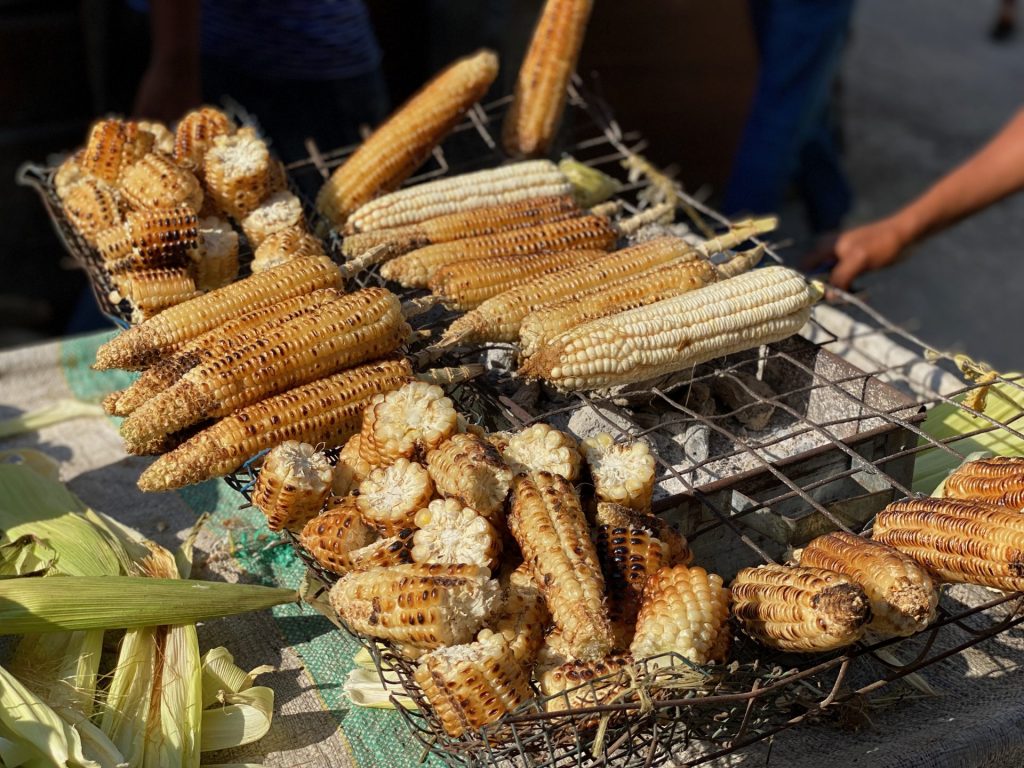 The Magical Secret Garden at Emerson Spice Hotel – I stumbled upon this mystical space on my walking tour of Stone Town and could have easily spent the entire day there but alas, time did not allow this.
Changuu Island aka Prison Island – Avid turtle lover here! I was crushed about not seeing the Giant Aldabra Tortoises during my 48 hours in Zanzibar. If you're a lover of nature and interested in seeing turtles as big as a car, do this!
Jozani Forest – The only national park in Zanzibar. Here is where you can spot the rare red colobus monkey. The height of the trees and palms in the forest are absolutely mind blowing (or so I've heard).
Drinks and Appetizers at The Rock Restaurant – This atypical restaurant is located on a rock in the middle of the Indian Ocean. Because of its location, it was impossible to include it in my trip. I am a die-hard foodie but I wasn't too disappointed since the reviews on the food were hit or miss. I recommend going there during the lunch hour for drinks, appetizers and those Instagram worthy pics!
Hope you find this 48 hours in Zanzibar guide helpful. Let me know in the comments below when you plan on visiting the Spice Island. Will you be there for more than 48 hours?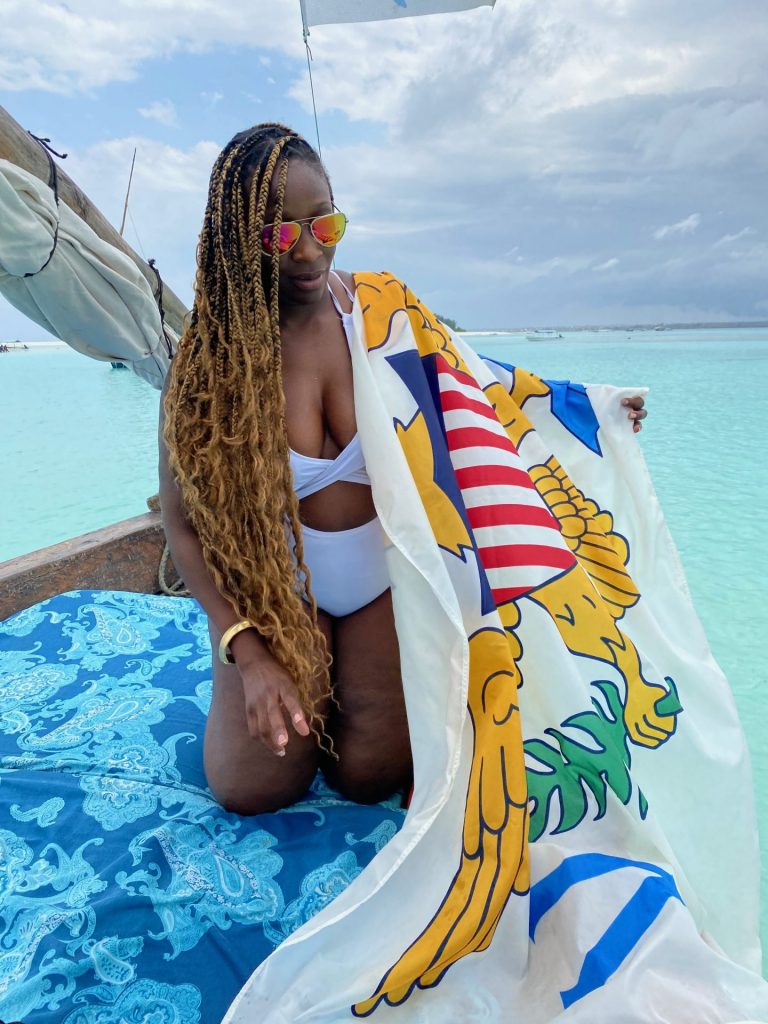 Until Next Time,
Q the Cruzan Foodie