Wining & Dining in Plantation – Vienna Cafe & Wine Bar
After more than a decade in the restaurant business, it's no surprise that Vienna Café & Wine Bar is food done right! Located off of State Road 84 between Nob Hill Road & Pine Island Road in the Pine Island Plaza, this hidden gem in Plantation takes you on an "epicurean excursion to Europe without leaving the USA." Upon entering this first class establishment, you are whisked away to a quaint European bistro tastefully decorated with white tablecloths, dimmed lighting and appealing artwork where one can bring family, friends or that special someone. This is a place that would certainly be reserved for special occasions as it is moderately priced with appetizers ranging from $6 – $17 and entrees from $18 – $36.
One of the great things about Vienna Café & Wine Bar is their specials. Mondays & Tuesdays offer half priced wine bottles and each night, you can expect to see some great entrée specials being prepared by their amazing chefs. Their wine list has been carefully prepared by the owner and has something for everyone. They also offer a full bar and prepare hand crafted cocktails that are sure to knock your socks off. For me, the Stella Maris Washington Red Wine Blend was the perfect complement to my meal.
I started off with the Not-a-Pizza appetizer ($10) which was a flat-bread topped with mushroom & onion ragout, goat cheese, cracked pepper and basil. The flavors in this dish complemented one another very well. Very light and flavorful, the mushroom & onion ragout paired with the cool goat cheese created a sensational party in my mouth. This dish is sure to appeal to anyone in your party and can easily be shared. Ask your server to have the kitchen split it into four pieces so that everyone can have a taste.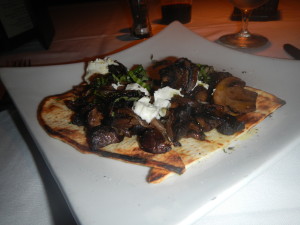 For the main course, Vienna offers a well rounded assortment of entrees that will please the pickiest of eaters. From roasted Portobello mushrooms for the vegetarians to the lamb chops and filet mignon for the carnivorous bunch, Vienna does an impeccable job with their entrée offerings. I went with one of the restaurant's specially prepared entrées. With four options to choose from, I made the difficult decision and selected the seared Corvina fish with pear, mushroom and pancetta served on a bed of mixed grain risotto in lemon vinaigrette ($32). AMAZING and PHENOMENAL are the two words that immediately come to mind when I think about the taste of this dish. The Corvina was seared impeccably, not too crispy and not too mushy. The risotto was the perfect texture where it wasn't undercooked but still had a little bite to it. Surprisingly, it wasn't a creamy risotto as that is what I'm used to seeing paired with most fish and seafood entrees. It was refreshing to see a new take on the side dish with the addition of pear, mushroom, pancetta, grape tomatoes and chives. Additionally, the lemon vinaigrette balanced out the dish by giving it a citrusy, lemony flavor that accompanied the Corvina and the risotto quite nicely.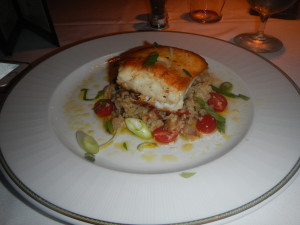 Lastly, your meal here would not be complete without at taste of one of their freshly, made in house desserts! All desserts are made on site and used the freshest ingredients to satisfy any sweet tooth. Whatever you're in the mood for, they have something to sooth your craving. Nutella Fudge Squares and Crème Brûlée Cheesecake are just a few of their yummy goodies created to cap off your meal. I indulged in the Crème Brûlée cheesecake ($7.50) and it was probably the best decision I've made all year with its smooth and creamy cheesecake filling with an ideal brown sugar crust that was torched just right! Combined with a touch of whipped cream and strawberry on the side with a raspberry sauce, it was a sweet ending to a wonderful meal.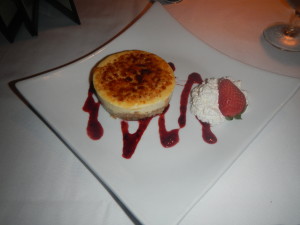 If you're in the market for an unforgettable meal with incredible service, Vienna Café & Wine Bar is the place to be. They are open 7 days a week for lunch and dinner, offer Saturday and Sunday brunch and host a monthly five course wine dinner that varies in price. Reservations are highly recommended being that the restaurant is on a smaller scale although there are plans to renovate starting in July. Be sure to visit their website http://www.viennawinebar.com and check out their Facebook page https://www.facebook.com/viennacafeandwinebar for more information about the restaurant. They are located at 9100 State Road 84, Fort Lauderdale, FL 33324 and their phone number is (954) 423-1961.
Until The Next Meal,
Q