Another #FoodieFriday with Cruzan Foodie! This week's foodie find is often considered one of the official dishes of the US Virgin Islands but I won't lie – it was something that I learned to appreciate when I was older. Kallaloo is a traditional soup made with an assortment of leafy greens, okra, seafood and/or pork and served over a ball of fungi in true Crucian style.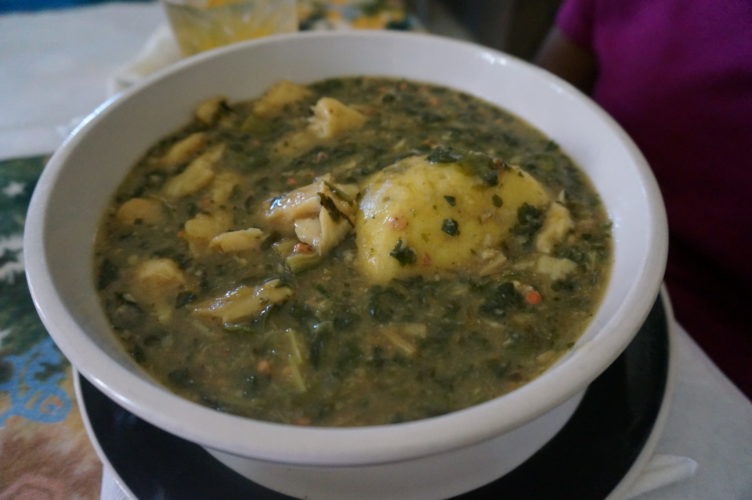 This traditional New Year's dish in the US Virgin Islands is said to bring good luck in the New Year, especially for lovers. Old time Crucians swear by the notion that if you serve this dish to your darling on Old Year's night, there will be a wedding by June. Oddly enough, they don't exactly specify WHOSE wedding it will be but you get the gist of it all!
SEE ALSO: Foodie Friday: Fish & Fungi
Kallaloo originated in West Africa much like many of our Caribbean dishes. When Africans were brought to the Caribbean as slaves, they would forage for local ingredients and boil them up to make a hearty one-pot stew. Back then, taro leaves – sometimes called callaloo – grew in abundance throughout the islands, becoming the essential ingredient in this dish. Today, spinach is most widely used as the base for this green, leafy soup. To add some substance to kallaloo that will stick to your ribs, ground provisions like tannia and dasheen is often found in the soup. You might even find some pumpkin in there to add a hint of sweetness to the dish.
While it doesn't photograph well, the flavors in kallaloo are absolutely divine. Green onion, celery, thyme and parsley are the seasonings often used to make kallaloo with fresh fish, crabs, conch, lobster and smoked pork or pigtail giving it a robust flavor. Trust me, this is unlike any other soup you may have had in the past. Crucian kallaloo is a true delicacy that may not be for everybody, but you owe it to yourself to try it at least once!
Here are a few places on St. Croix where you can get a taste of this local dish on specific days of the week. Make sure to call ahead first as to eliminate any disappointment!
Junie's Bar & Restaurant
132 Peters Rest
Christiansted
340.773.2801
Cast Iron Pot
North Shore Road
10A La Grande Princesse
340.692.2477
The Kallaloo Man
Under the Taman Tree
Located in Basin Triangle in Christiansted