South Beach Wine & Food Festival: Moët Hennessy's The Q
After 11 years of living in South Florida, I finally made it to an event at the South Beach Wine & Food Festival (SOBEWFF). Moët Hennessy's The Q was the ultimate foodie's dream and I had arrived, honey!
Rubbing elbows with the best of the best in the culinary arts world, sampling their foods and experiencing why the rest of the world praises them as they do was an unforgettable experience.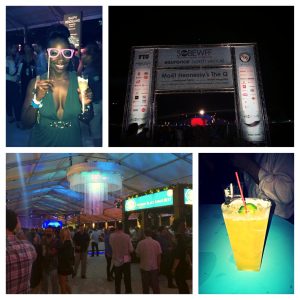 I was fortunate enough to win a ticket to this coveted event through the amazing Yelp Miami team through a contest in the talk thread on the website! Can you imagine my surprise when I found out that I had won a ticket? I felt like Charlie in Willy Wonka & the Chocolate Factory! I had received a golden ticket and I knew that a blog post on this experience was in my near future FOR SURE!
Was it everything I expected to be? You bet your lucky stars it was! After attending this event, it became even more clear to me that THIS was what I wanted to do: attend fabulous food events, meet the masterminds behind the culinary treasures and go home and write about it. I mean what is there not to love about that???
Here are the 3 things at this event that had me making promises to myself to save money to attend events in 2015:
Tasting Foods Outside of my Comfort Zone
I am not a fan of BBQ but I threw my hat in the ring for this contest because I figured if anyone could change my mind (and tastebuds) towards BBQ, it would be the chefs from The Food Network along with other well-known chefs from around the country. The dish that was completely outside of my comfort zone was the grilled marinated quail. The poor little bird didn't stand a chance. When I saw that dish was being offered and presented by Marco Canora, owner of Hearth in NYC, I knew I had to try it. Honestly, when will I ever try quail again? While I was not a fan of the petite bird, I was pleasantly surprised by how much it tasted like chicken. It was tender and juicy with a slight gaminess to it and paired exceptionally well with the farro salad.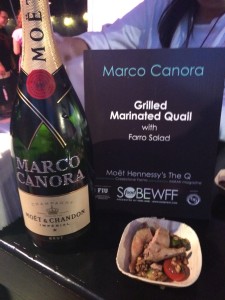 I'm not a fan of gamey meat so I probably wouldn't have it again unless a 3 star Michelin chef asked me to sample their dish. At that point, I won't be declining an invitation from a chef of that caliber!
 Meeting and Conversing with Celebrity Chefs
This one is pretty self-explanatory. If your TV is fixated on the The Food Network, you know exactly when certain shows come on and you dream about tasting the foods of your favorite chefs, this experience will put you over the top! I had the pleasure of meeting 4 chefs that I've seen on television countless times but never imagined having a conversation with them.
Clockwise from top right: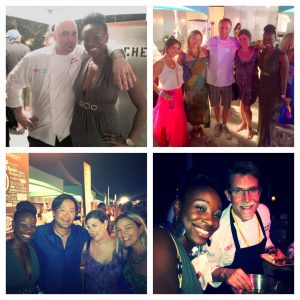 Chris Santos – Partner and Chef of The Stanton Social and Beauty & Essex in New York judge on the hit Food Network TV series Chopped.
Marc Murphy – Executive Chef and Owner of Landmarc and Ditch Plains in New York  and judge on the hit Food Network TV show "Chopped"
Ming Tsai – World renowned chef and owner of Blue Ginger and Blue Dragon in Massachusetts, host of Food Network's TV show East Meets West
Rick Bayless – World renowned chef and owner of 5 award-winning restaurants in Chicago: Frontera Grill, Toplobampo, Xoco, Tortas Frontera and Frontera Fresco.
Eating & Drinking Great Food Without Limitations
If I wanted to eat at each of the 38 chef tasting stations multiple times throughout the evening, I was free to do so. Additionally, if I wanted to try every drink on the drink menu and down an entire bottle of Chandon, I was able to do so as well. While I never eat in excess, it was comforting to know that I COULD have if I wanted to. Of the 38 chef stations available, I only sampled foods from 20 of them because I'm really bad at sampling. If something tastes good, I want to eat all of it. I can't take a bite and throw away the rest. I believe my mother's constant reminder of hungry children in Somalia is forever emblazoned in my mind so I never bite off more than I can chew. That's currently a work in process but I'm sure I can overcome my mother's warning over time. On the other hand, I can drink like a fish! Being that I had to be in the office the next morning, I was the responsible adult (why me???) and drank in moderation. Below are some of the dishes I sampled with their descriptions. My favorite dish was the Cinnamon & Pomegranate BBQ Ribs with a side of mustard & pickled jalapeno-glazed brussel sprouts presented by Geoffrey Zakarian, the Iron Chef! That one deserved seconds and thirds but I settled for seconds.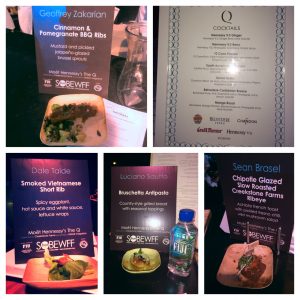 Overall, the event was absolutely amazing! Would I spend my own hard earned $320 to attend this event? Maybe. Maybe not. If I have it to spend, I certainly will because I know I will get my money's worth from it. Knowing what I know now about SOBEWFF, I plan on keeping a little savings account entitled "SOBEWFF 2015" because I certainly plan on attending events next year, God's willing!
Until next time,
Q