Food Tour in Seville, One Tapa at a Time
Without a doubt, I knew a food tour in Seville, Spain would be the only concrete plan in my 48 hours in one of the most historic cities in the world. Whenever I travel, the first thing I seek out is a food tour. I wholeheartedly believe that the best way to learn the culture of a new place is to learn the food. It's the stepping-stone to unearthing the beauty and history of a people & the place where they live, work and play. In my quest to uncover the secrets of the self-proclaimed tapas capital of the world, I knew the key to this journey would be in finding someone to guide me through the magical city riddled with unknowing tapas bars in the nooks and crannies of winding, cobble stoned streets.
Devour Spain Seville Tapas, Tavern & History tour proved to be a superbly crafted 2-in-1-experience that allows me to delve into the history and culture of this sensory city by providing eye-opening insight about the city's 2000-year history while getting a comprehensive guide on how to "tapear" like a pro. Pronounced Sevilla by locals, the city was once under reign by the Romans, Muslims, Jews & Christians throughout its existence, resulting in a melting pot of culture seen in architecture, customs and of course, the food. With over 3000 tapas bar, there was no way to be able to know where to go, what to see and most importantly, what to eat without a respected local guide pointing me in the right direction. As a result, it was only natural I would seek out the best food tour in Seville!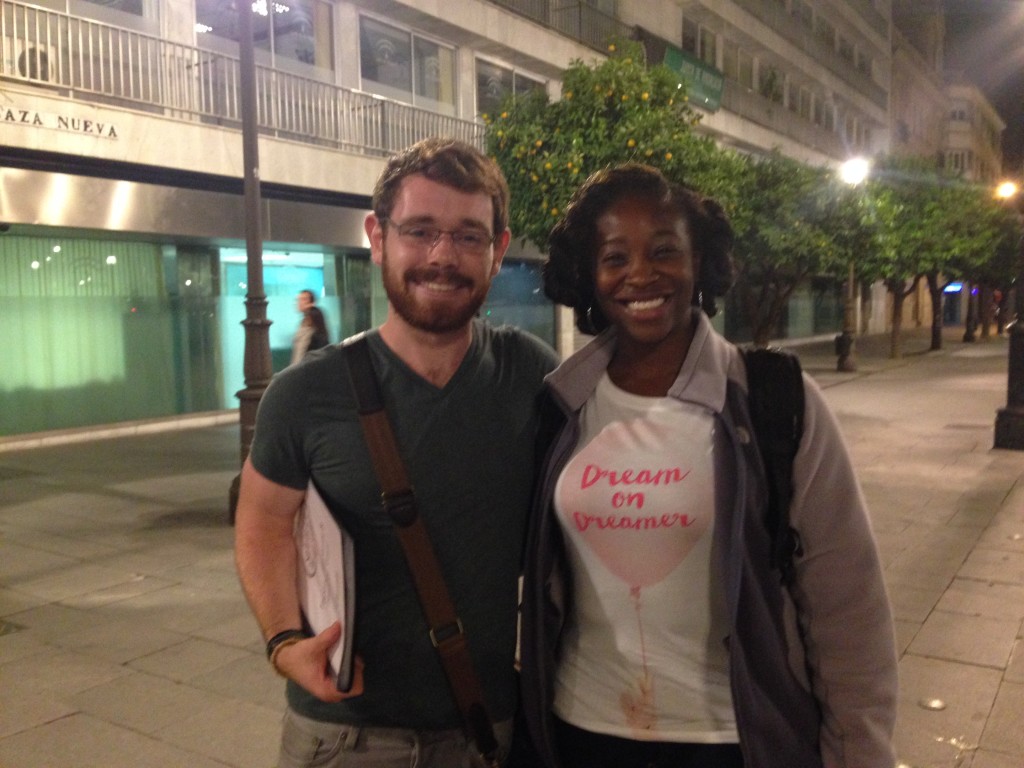 I met the tour guide for the evening at the starting point in Plaza Encarnación. Jamie would lead the 4-hour food tour in Seville that boasted to teach me everything I needed to know to enjoy my short time in this magical city. Initially, I couldn't understand why the tour required 4 hours. 240 minutes on a food & history tour? I thought to myself that they couldn't possibly have that much ground to cover without  being a bit of a bore. Boy was I in for one heck of a surprise! Armed with a tasting menu, Jamie provided a layout of the tapas bars and taverns we would be visiting that evening along with a description of what bites to expect at each stop. After a few safety announcements, we embarked on our what was set to be one of my most memorable travel experiences to date.
1. Bar El Comercio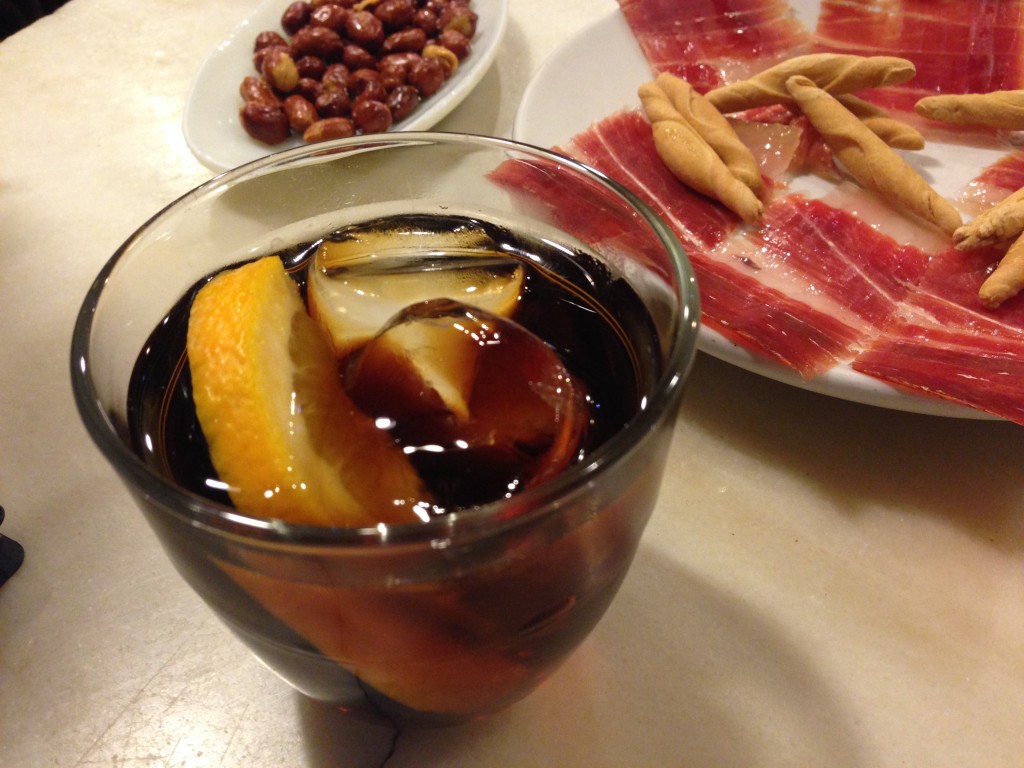 The first stop on the tour revealed one of the oldest bars in the city where we were blown away by Jamon Ibérico de bellota and homemade sweet red vermouth! Passed down from one generation to the next, this local's favorite was packed with little to no sitting room, a clear indication of its popularity. The jamón offered here comes from the town of Jabugo, Spain, known for having the finest jamón ibérico the country has to offer. Why is it the best? Well, the pigs from this area stick to a specific diet that allows the cured ham to melt in your mouth the minute it connects with your tongue. Pair it with the bar owner's homemade sweet red vermouth and you'll be trying to figure out how to smuggle Paco back to your hometown or at the very least, his homemade vermouth.
2. Taberna Peregil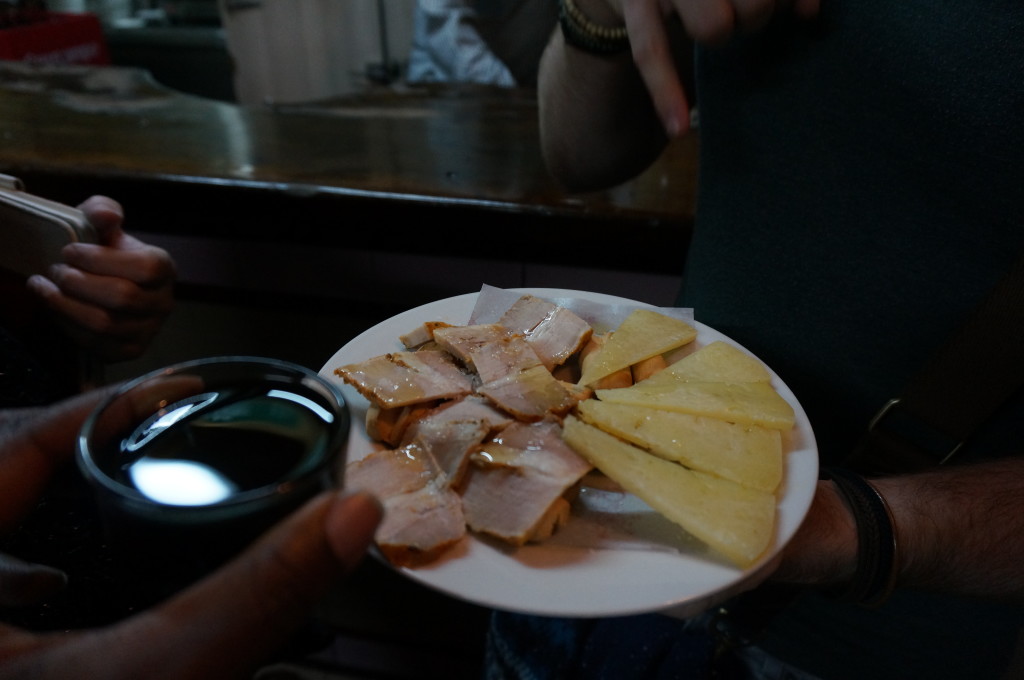 The second stop on the tour introduced guests to an 18th-century orange wine, rich aged manchego sheep cheese & chicharrones from a historic tavern in operation since 1908. In an half oval shaped bar, guests can make their way to the front to order their glass of this sweet aromatic wine that left strong citrus notes having a party with your taste buds.
3. Casa Morales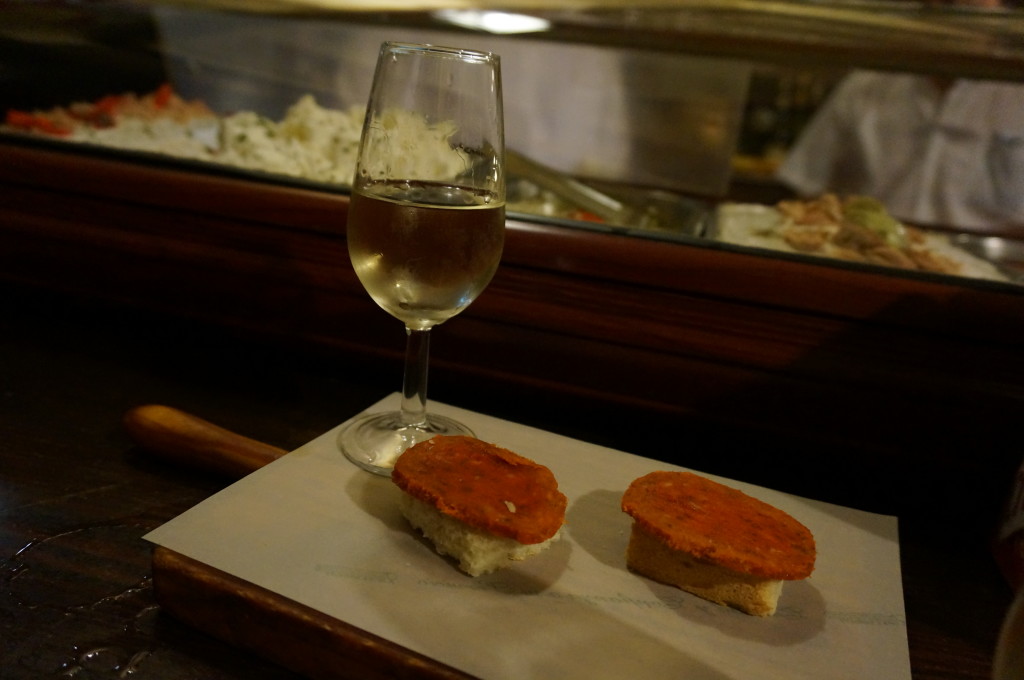 Sherries are one of the popular drink choices in Sevilla often overlooked by visitors because they are unsure of what to expect.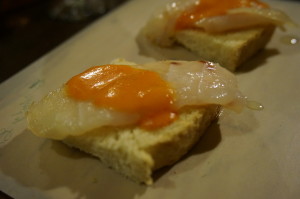 On the third stop, Jamie explained the different types of sherry and how to pair each one with a variety food options in tapas bars across the city. Here we tried unique bite-sized sandwiches called montaditos. The word 'montadito' comes from the Spanish verb montar, which means to mount. Essentially, montaditos are small slices of bread that are topped or 'mounted', with a smorgasbord of quality Spanish ingredients.
It was paired with a bone-dry style of Fino sherry called manzanilla sherry with a flavor reminiscent of chamomile tea.
4. La Taberna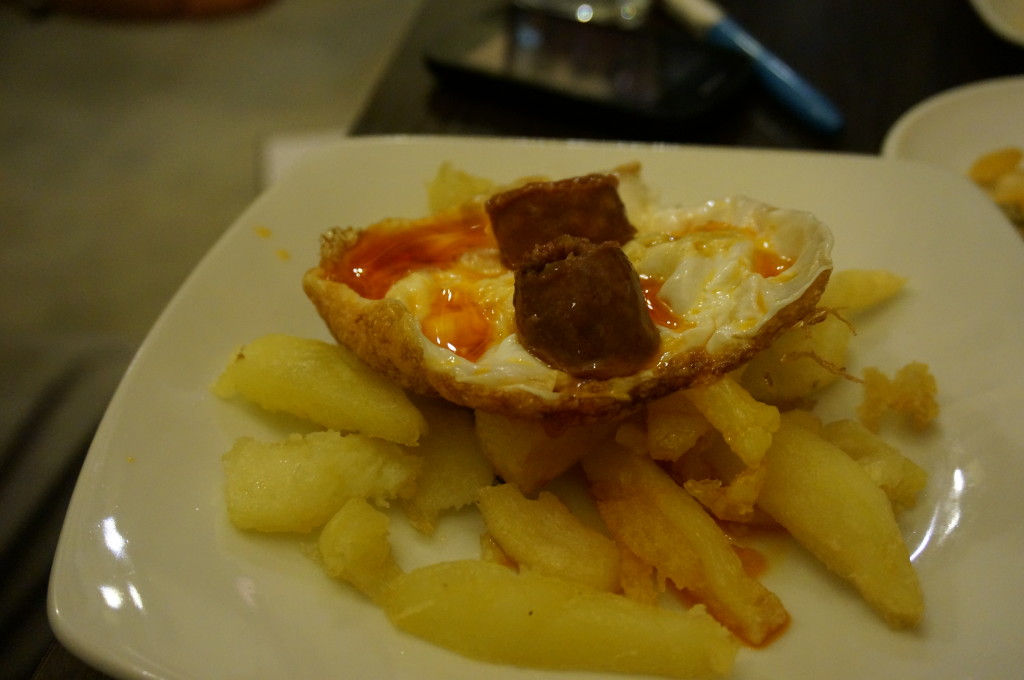 The moment you walk into the fourth food stop on the tour, it instantly feels like home. Hand carved tables and chairs, dried herbs and spices hanging from the ceiling and photo-lined walls that tell a story of hard work and perseverance greet you as you enter this family run tavern. Maria is one-half of the dynamic duo running this place and she cooks all the tapas in a small kitchen where only one person can reasonably function. Here you choose from a list of homemade tapas along with your choice of beer, wine or soft drink.
5. Enrique Becerra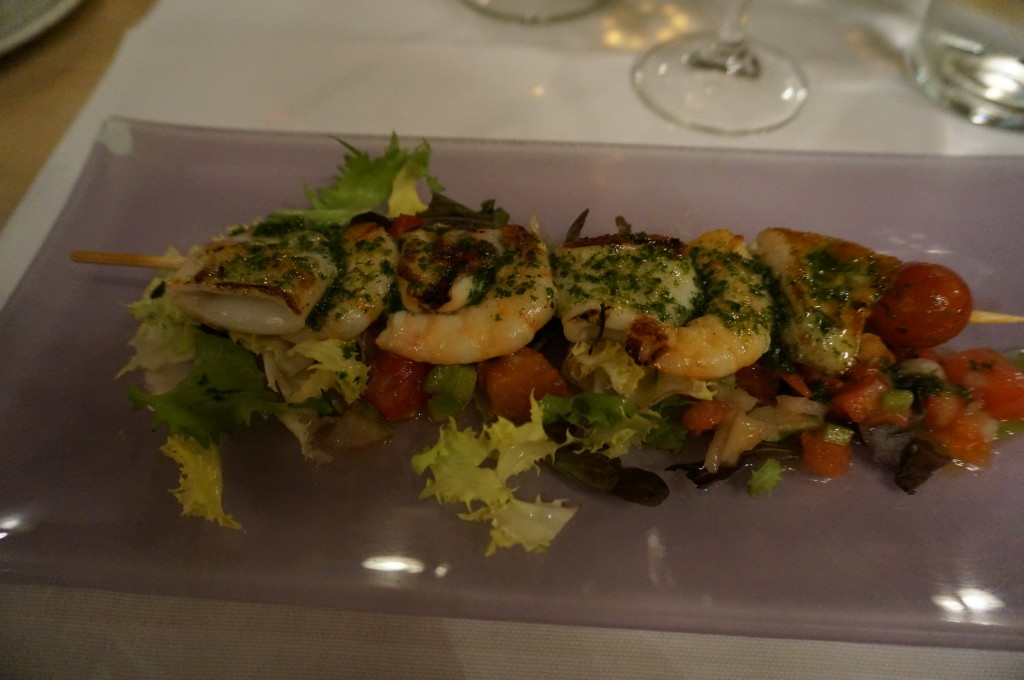 When you get to this final stop, you begin an honest conversation with yourself in your head where you try to reason from within. You know there's no possible way you can eat one more thing, but then Jamie begins to give the history of this iconic restaurant and describe each tapa offering along with the suggested wine pairing and you think to yourself, "Why the heck not? Life is short!" Cap off the night with a sweet treat of Tocino de Cielo, a traditional custard dessert of Sevilla often compared to flan.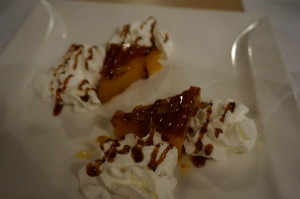 Unlike flan, this dessert is surprisingly light and tender with a smooth creamy texture. No good dessert in Sevilla is complete without a glass of wine or sherry and this one is no exception as we cheered the successful night tour with a glass of sweet sherry to complement the decadent dessert.
I've been on my fair share of food tours throughout the world and Devour Spain Seville Tapas, Tavern & History was, by far, one of the most eye-opening food tours I've ever encountered. You gain one-of-a-kind insight into the history and culture of the city and discover why this food tour in Seville is a foodie lover's dream fulfilled. With a balanced combination of walking, history and food pairings, you come to the end of the tour wishing there were 4 more hours to go! The icing on the cake was the additional tips and local secrets shared by Jamie at the end. They offer a Devouring Seville handout with tapas tips, a Spanish language guide for eating out, their top three restaurant favorites sorted by meal and the hidden gems and personal suggestions on how to get the most out of your visit. Do yourself a solid and book a food tour in Seville with the folks from Devour Spain Seville. They offer two different food tours: Taste, Tapas & Traditions of Seville Food Tour in the morning (65€) and Tapas, Tavern & History Tour at night (95€). Don't let the price tag sway you as it is worth every penny and you won't be disappointed.
**Devour Spain Food Tours provided Tapas, Taverns & History of Seville Tour complimentary, however the opinions expressed in this post are my own.