#FoodieFriday – Breadfruit
This week's #FoodieFriday is all about a fruit – breadfruit that is! Its starchy, potato-like consistency is high in protein and is rich in nutrients & vitamins. The question most often asked about this green-scaled beauty is whether or not it is really a fruit. Yes, the word 'fruit' is in the name but it's not eaten like a typical fruit.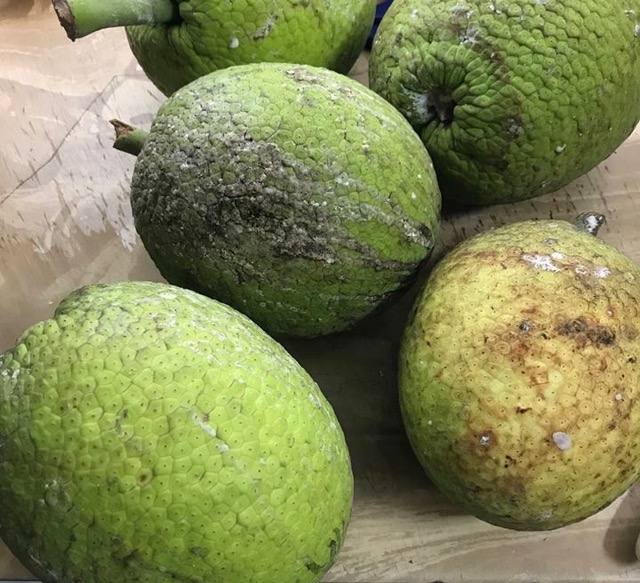 For a long time, I never looked at breadfruit as a fruit. We would eat it as a side dish in a meal of saltfish or smoked herring growing up in St. Croix. It wasn't until Frank Robinson, owner and cocktail extraordinaire at Bes Craft Cocktail Lounge, showed me otherwise. A rum infusion with the fruit made its way into a unique libation. Down the hatch, this boozy cocktail changed the way I looked at this fruit forever.
Breadfruit can be enjoyed at any stage of its growth. When it's small, it has a flavor of an artichoke. At its prime picking stage, it's similar in taste of a potato but when it's soft and ripe, it's more of a dessert with a distinct flavor of sweetness unlike any other fruit out there.
There is no shortage of ways in which you can prepare breadfruit to eat. Here are a few ways you can enjoy this versatile fruit:
Fry it like tostones for a sweet side dish
Roast it over hot coals for a smoky treat and pair it with saltfish or smoked herring like my daddy loves to do
Blend it into a smooth, creamy drink
Cut into "fries" and deep fry them for a protein rich French fry
Boiled and sprinkled with a touch of olive oil for a tasty snack
It is found all over the Caribbean, Central America and South America. Breadfruit trees are easily grown in tropical climates and one tree can bear up to 250 fruits per year! A recent news article by NPR revealed that breadfruit could possibly solve world hunger! On St. Croix, you will most often find breadfruit being served with saltfish or fried and served as a side in a number of vegan & vegetarian restaurants on island. Have you ever tried breadfruit before? Be sure to comment below if you have and share this #FoodieFriday post on your social media channels!
Until Next Friday,
Q the Cruzan Foodie