My First Craft Beer Dinner Experience
A winning combination of locally brewed craft beer and a thoughtfully curated menu was the result of my first beer dinner experience at Tucker Duke's Lunchbox in Deerfield Beach, FL. Voted as South Florida's #1 Craft Burger & Craft Beer joint, this restaurant is the brain child of Florida native and recent tw0-time winner of Food Network's "Cutthroat Kitchen", Brian Cartenuto. Tucker Duke's launched their Summer Brewmaster Series in 2014 where the restaurant's chefs prepare a unique four to five-course dinner menu featuring a local brewery for the beer pairings with each course.
The beer dinner I attended featured Due South Brewing Co. of Boynton Beach, FL, a local brewery that opened back in 2011. It all started with one man's desire to create the perfect beer for his wife! What started as home brewing led to serving beer at festivals and finally became the first full production brewery in Boynton Beach, FL.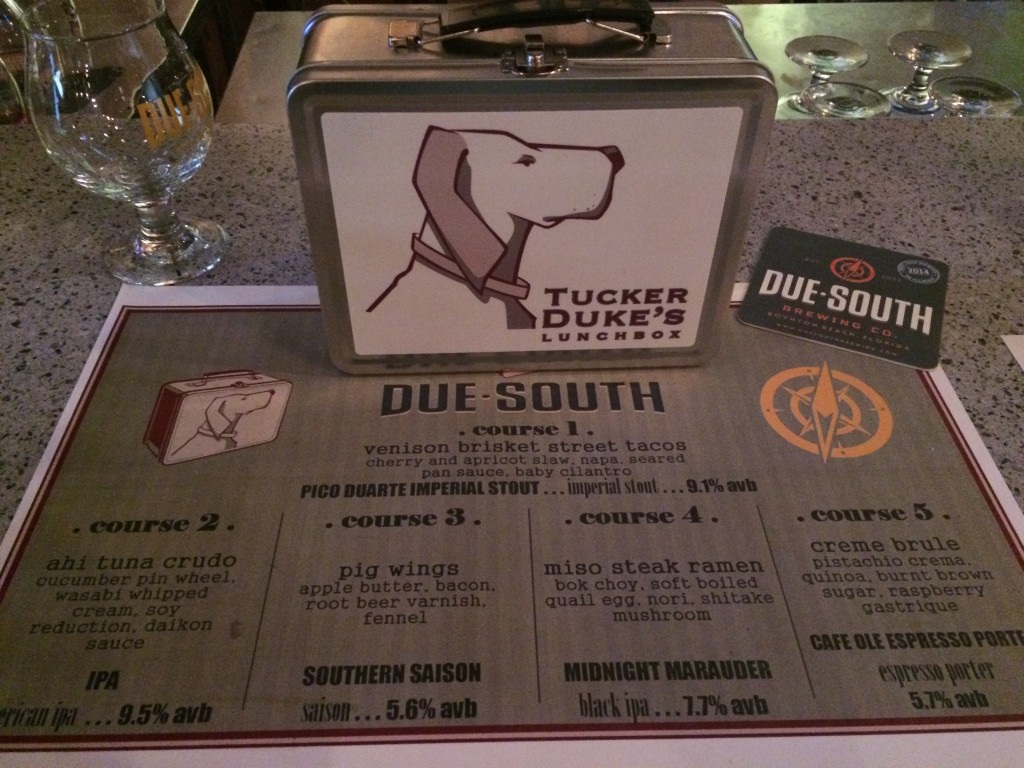 To say that I thoroughly enjoyed each course would be an understatement. Bold dishes were crafted by Chef Malcolm & Chef Dominic and paired perfectly with Due South's craft beers where each course was better than the last. Additionally, the guests that attended this dinner were familiar with everything there was to know about craft beer. They were laid back and easy to talk to, willing to share their insights on each beer that was presented. Brian Tonnessen, Regional Sales Director of Due South Brewing was on hand to introduce each beer and give a bit of background on how it's made and ingredients that were used. He came to each table throughout the courses to ask questions and give some tips on the best way to enjoy the beer.
Without further ado, here's a rundown of each course and beer pairing pictured above from left to right. I apologize in advance for you attempting to eat your screen.
Course 1: Venison Brisket Street Tacos with Due South's Pico Duarte Imperial Stout (9.1% ABV)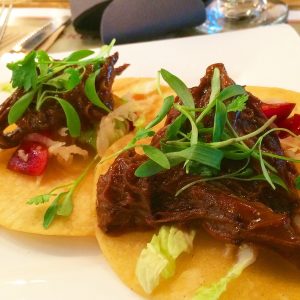 Can you say DELICIOUS! I'm not a big game meat eater especially when it comes to venison but these tacos were paired with a cherry & apricot slaw with a sprinkle of cilantro. The Pico Duarte Imperial Stout had lots of chocolate notes that balanced out that game-y flavor of the venison that most are averse to. The guests who were at the table with me cupped their beer glasses after the stout was poured to warm it up a bit. It definitely made a difference in taste, as the chocolate flavor was more distinct on the tongue.
Course 2: Ahi Tuna Crudo paired with Due South's Triple Threat IPA (9.5% ABV)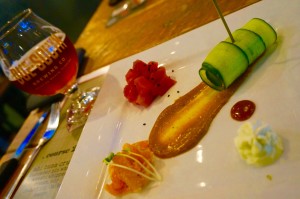 This course had a spicy Asian flare to complement the hoppy-ness of the Triple Threat IPA. When it comes to IPAs, it's either you like them or you don't and I am NOT a fan of IPAs. However, pairing it with the ahi tuna dusted with chili manzano pepper, the refreshing cucumber pinwheel, wasabi whipped cream & daikon sauce made me appreciate the hoppy, bitter flavor found in the IPA.
Course 3: Pig Wings with Due South's Southern Saison (5.6% ABV)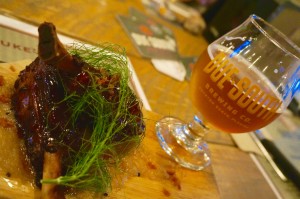 When pigs fly, they'll probably wish their wings would lie on a bed of apple butter & bacon, garnished with root beer and fennel. This was my favorite course of the night! The pork ribs were served with a Southern Saison. This Belgian style beer was light in color and body but had an intense flavor of fresh herbs and slightly hoppy. Between the saltiness of the ribs and the slight sweetness from the root beer varnish, I could have ended the night right here but who skips on dessert?
Course 4: Miso Steak Ramen paired with Due South's Midnight Marauder Black IPA (7.7% ABV)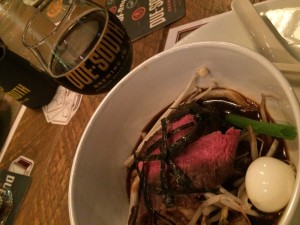 This course was the most surprising to me due to the variety of ingredients included in the dish. Bok choy, nori seaweed, shiitake mushrooms & a soft-boiled quail egg served in a 6-hour broth tickled my palate and had me begging for more. This was my first time having a soft-boiled egg and surprisingly, the flavor & texture were a treat! The yolk from the quail egg wasn't harsh in flavor and had somewhat of a lighter taste to it than a regular egg. The Midnight Marauder, a black IPA paired beautifully with the dish and had me rethinking my dislike for IPAs.
Course 5: Crème Brûlée paired with a Cafe Ole Espresso Porter (5.7% ABV)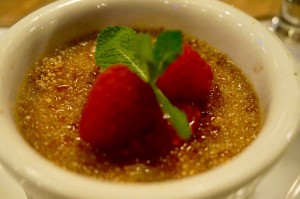 This course was my least favorite of the night but not because it lacked flavor. This was simply a modern take on the classic crème brûlée dessert, my all-time favorite. The texture was different to that of a traditional crème brûlée since it was made with quinoa and pistachio crema, which offered a slight nutty flavor. The texture was similar to that of a tapioca pudding, which I'm not a fan of. The dessert was not overly sweet, a typical characteristic of a traditional crème brûlée and complemented the Cafe Ole Espresso Porter. The combination of the coffee and vanilla with chocolate & caramel notes made this dessert a hit with other guests.
Interested? Intrigued? Convinced? Either way, you'll have to experience this awesomeness for yourself. The chefs at Tucker Duke's Lunchbox continuously push their offerings to the next level and this beer dinner was no exception. Ready to try it yourself? You're in luck because they're hosting the 3rd installment of their Brewmaster Series on Tuesday August 18th at 7pm. For more information on this and to buy tickets, click here so you don't miss out on one of the best foodie experiences I've had to date.