Tasting the Capital: Carpe DC Food Tours
Carpe DC Food Tours was a welcoming experience during a recent visit to our nation's capital, Washington D.C. As a town known for its political clout, ties to the African American community and widely recognized national monuments, I was intrigued to learn more about the food behind this renowned city. That's where Carpe DC Food Tours came in. It was inspired by a passion for Washington D.C., its diverse neighborhoods, their cuisines and the desire to share this experience with everyone.
I decided on the U Street & Shaw Neighborhood Tour as it included two of the city's most iconic neighborhoods with its famous streets, notable landmarks and multifarious restaurants & cuisines. I brought my friend along who lived in the DC area as a thank you gift for accommodating me during my stay. We met our guide at the meeting point, which happened to be the tour's first tasting location. It was easy to find and was the perfect jumping off point to dive into the foods of Washington D.C.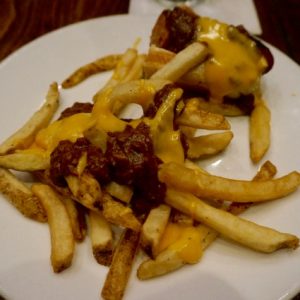 This Washington landmark – known for its famous chili dog – has been around since 1958. From Martin Luther King Jr., Ella Fitzgerald, Anthony Bourdain and President Barack Obama, the list of celebrities, politicians and other noteworthy individuals have graced this location with their presence. We were entertained by a quick video on the history of Ben's Chili Bowl & Ben's Next Door before digging into our tasting that consisted of a half smoke, their most popular dish. This half pork, half beef hot dog is pressed between soft white bun and covered with Ben's Chili and melted cheddar cheese. A fun fact learned about this dish was that President Barack Obama ordered this same item back in 2008 as the President-Elect. From time to time, he still visits Ben's to get his iconic half smoke, probably since he never has to pay to eat there! Perks of being the President of the United States! We had a smaller version of the half smoke paired with a side of spicy chili cheese fries and an ice-cold DC Brau beer.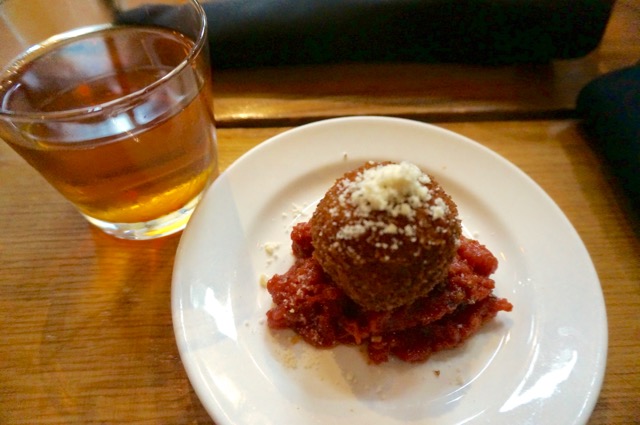 On our second stop we visited Matchbox, a former bowling alley, billiards parlor and jazz club where the symbolic songstress Billie Holiday performed. A brick oven pizzeria with contemporary dining, we indulged in an arancini risotto ball sprinkled with mozzarella cheese on a bed of fresh roasted tomatoes. The locally brewed beer that accompanied this tasting paired well with the risotto ball and left a lasting impression that stayed with me long after I departed Washington D.C. Heaven on a plate!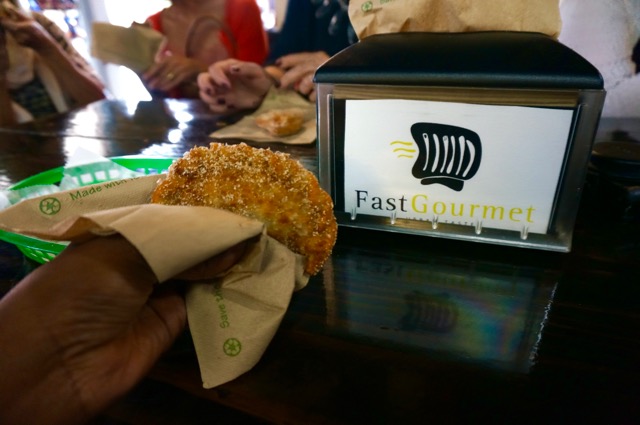 Our next stop brought us to the back of a Valero gas station and I was immediately concerned about the direction this tour was going. Luckily, it went to Fast Gourmet, a place where corn empanadas reigned supreme and what a surprise this tasting was! Piping hot from the back, I dived into my empanada, eating it so quickly that it didn't make it to the walking portion of the tour #SorryNotSorry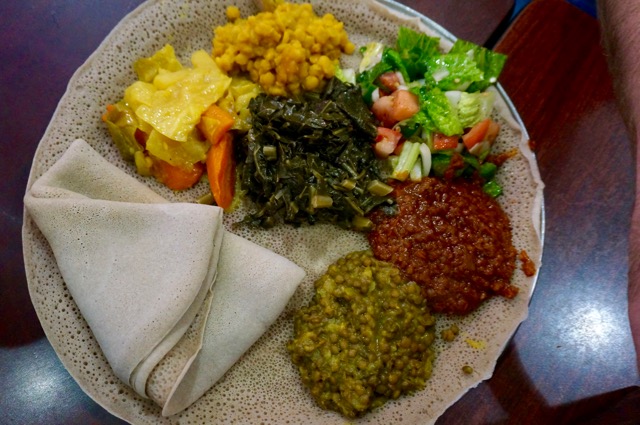 This stop was probably one of my faves because it involved the traditional, authentic Ethiopian dish of injera bread with a six vegetarian side dishes. The D.C. area boasts a large Ethiopian population where restaurants like Etete can be found through the city. I can't say if they're all as delicious and welcoming as Etete but if they are, you're in for a mouthwatering experience! This tasting had me considering going vegetarian and devising a plan to eat like this for the rest of my life. Paired with an Ethiopian-style honey wine called tej, its sweet taste left a slight tartness on the tongue and is made in house. This drink is a must try when eating Ethiopian food and the fact that its made in house adds to its authenticity!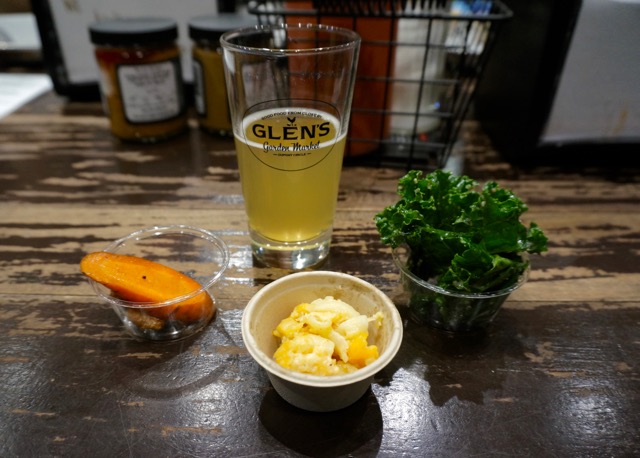 Nothing says 'I love you' like mac and cheese. When it's decadent, ooey-gooey mac and cheese, I know the love is real. This is what was uncovered at Glen's Garden Market. This specialty food store featured gourmet foods, craft beers, artisanal sodas, delectable desserts and everything in between. Our tasting here consisted of mac & cheese, a fresh kale salad, a roasted sweet potato side and a locally brewed craft beer. I loved that the tasting had great balance, which means devouring 3 servings of mac & cheese was perfectly fine since vegetables were also part of the tasting! #NoShame
The final stop on the tour was coined as the "dessert stop" but it's not what one would expect. Calabash Tea & Tonic is a trendy, vegan/vegetarian locale in the heart of DC that is operated by a young lady with Jamaican roots named Sunyatta. She trained alongside master herbalists learning the medicinal value of teas & spices and opened a location in DC. Here we enjoyed sorrel, a Caribbean drink similar to the hibiscus flower, and small cookie bites made with granola and other nourishing, good-for-you ingredients. While I was hoping for a truly sweet ending to the tour, it ended on a much healthier note than I anticipated. The sorrel tasted much like my aunty in St. Croix made it with sorrel flowers from her backyard. It was a welcoming treat for this island girl 1600 miles away from home!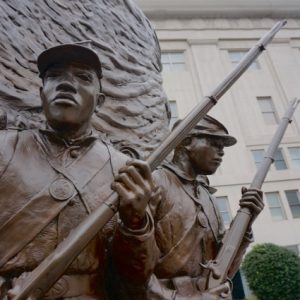 Carpe DC Food Tours U Street & Shaw Neighborhood Tour was a delightful experience during my short stint in the nation's capital. While food is the highlight of the tour, they offer a great deal of insight around the city's history and culture. Take in local street art, learn of historical landmarks and monuments not seen on TV and discover the DC alleyway culture. 5 of the 6 tasting locations were small businesses whose ties to the city can be seen through their food offerings.
When guests take this tour, they're also giving back to the community their visiting. Part of the reason why Carpe DC Food Tours is such an incredible company is because a portion of each ticket sold goes towards feeding a DC resident in need for a day through their partnership with Bread for the City. A front line agency serving Washington's poor, Bread for the City provides comprehensive services such as food, clothing, medical care, legal and social services to low-income Washington, DC residents. This makes Carpe DC a true winner in my book! Enhance your visit to Washington D.C. by booking a tour with Carpe DC Food Tours. They offer two different food tours: U Street & Shaw Neighborhood Food Tour in the morning and 14th Street Happy Hour Tour in the evening. Explore Washington D.C. with Carpe DC Food Tours leading the way. Your taste buds will thank me later!
Carpe DC Food Tours provided U Street & Shaw Neighborhood Tour complimentary, however the opinions expressed in this post are my own.