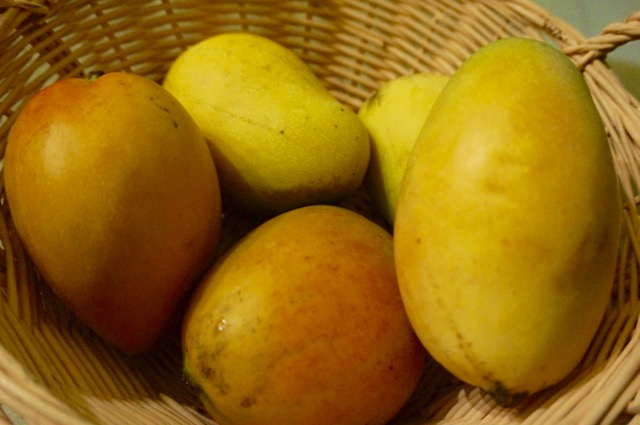 The #FoodieFriday feature for this week is all about MANGOES on St. Croix! It's mango season in the Caribbean and here on St. Croix, there are probably more mangoes than people at this point. As the local saying goes, "It geh mango knocking dog!" I truly have no idea what something that is plentiful has to do with hitting a dog but hey… I'm simply sharing lol Mangoes on St. Croix are basically coming out of our ears and we find various ways of using them!
There are mangoes on St. Croix being sold at roadside vendors, at the farmers market, mangoes being offered in the supermarket parking lot from a friend or family member or mangoes in the backyard! See what I mean? Mangoes are literally EVERYWHERE!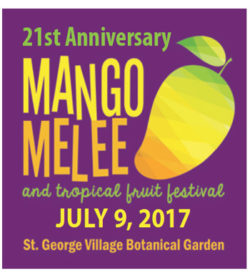 There are so many mangoes on St. Croix that each year we have an event known as Mango Melee! It is the premier foodie event of the summer held at St. George Village Botanical Garden. Currently in its 21st year, attendees can learn anything and everything there is to know about mangoes on St. Croix this coming weekend on Sunday July 9th. There is a mango-eating contest, educational workshops, foods and drinks on sale made with the ever-popular fruit and a host of fun activities for guests – all centered on mangoes!
Remember my #FoodieFriday post about Armstrong Ice Cream? Well, they make mango ice cream too – all year round to boot! You can enjoy a creamy cup or cone of sweet, rich mango ice cream that will make any mango lover sing psalms to the heavens!
My all-time favorite mango made item? Mango juice from Ital in Paradise! The owner, Chris, can pretty much make a juice from anything. His mango juice, however, is made with freshly picked mangoes, a touch of water and sweetened (if necessary) with local honey or brown sugar. He puts other stuff in it that makes it fan-freaking-tastic but it's pretty much a mango party on your taste buds! Be sure to stop in at 22-20B Queen Cross Street in Christiansted and give one of his local drinks a try while you're on St. Croix. Tell him Cruzan Foodie sent you!
In the meantime with all the mango knocking dog around St. Croix, we'll be busy getting our fill of this cherished fruit while it is in season!
Until Next Friday,
Q the Cruzan Foodie