Ales & IPAs: Green King Craft Beer Review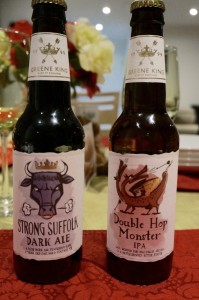 My Green King craft beer review features two seasonal brews from a skillful brewery nestled in the city of Suffolk, England. Any one who has even the most limited knowledge of beer knows that England is pretty high up on the list of places with fantastic brews. With more than 200 years of brewing excellence under their belts, Green King Brewery is responsible for some of the best known beers that hail from England such as Ruddles County, St. Edmund & Olde Trip. They also produce numerous seasonal ales, much like the brews featured in the video review below.
This Green King craft beer review features the brewery's Strong Suffolk Dark Ale & their Double Hop Monster IPA – brews that tickled my taste buds and left me quite surprised in my experience. Is it possible that my feelings towards IPAs are changing? Find out in the video below and check out how these craft beers poured, their appearance, flavor profile, food pairing recommendations and much more. Also, learn about ways to cleanse your palate between tastings and add to your craft beer knowledge one sip (and video review) at a time. Enjoy!
Cheers,
Q the Cruzan Foodie