The Kimmie, The Yink, & The Holy Gose
Ever had a drink that made you want to consume it ALL THE TIME? That's the thought I had in my mind when I took my first sip of Anderson Valley Brewing Company's Gose Ale, The Kimmie, The Yink & The Holy Gose. Something about the flavors lingered beautifully on my tongue and made me look forward to my very next sip.
What is a Gose?
Pronounced "Go-zuh," this particular style of beer originated in Gosler, Germany in the early 16th century! Yes, it clearly been around for quite some time and they've had centuries to perfect it. Traditionally, it was brewed using salted water and 50% malted wheat, spiced with coriander and hops and finally fermented using some good ol' yeast & lactic bacteria. Tasty, right? It may sound gross but trust me when I say, the fermentation process is what makes this beer one of a kind. Gose beers have a slight tartness to it and can be known to have a sour, saltine taste. This is one of those styles of beer where you either love it or hate it. The guy in this article thinks Gose killed craft beer but I disagree – you just have to find one that you like. As the saying goes, you have to kiss a few frogs before finding your prince. In this case, you have to drink a few bad Gose beers before finding your perfect Gose match. After kissing a few repulsive frogs, I finally found my Prince Charming – er, I mean Gose beer match!
The Kimmie, The Yink & The Holy Gose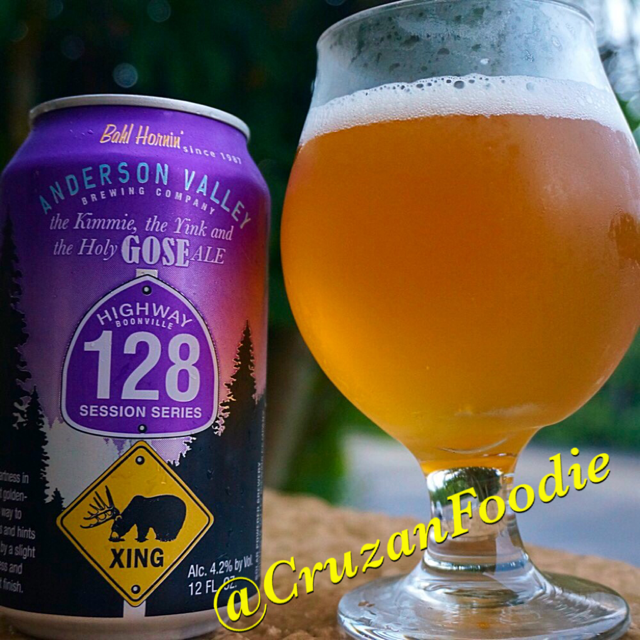 Anderson Valley Brewing Company
Boonville, California
ABV: 4.2%
Style: Gose
The moment you pop the top of the can and begin the slow pour into your glass, a citrus aroma hits your nose before even bringing the glass to your lips. As seen in the picture on the right, the beer has a rich, golden hue, faint cloudiness and a light, frothy head. Flavors of lemon zest and tropical fruit engulf the tongue with a zing of salt. This light bodied beer has medium carbonation with a tart, acidic finish thanks to the sea salt dryness and lemon sourness. These flavors linger on the tongue well after the first sip. It's the perfect balance of salt, sweet and sour. I can assure you that this is a hard thing to accomplish but Anderson Valley Brewing Company was able to achieve this without a hitch.
Food Pairings
What's the point of a great beer if you can't enjoy it with food? Cruzan Foodie got you covered! Because of the sea salt, limey flavor of this beer, I would recommend pairing The Kimmie, The Yink & The Holy Gose with a zesty guacamole recipe like the one found at Chipotle Mexican Restaurants. Hands down, they have the BEST GUACAMOLE EVER & the company finally shared the recipe with the world here. The saltiness of the guacamole and lime flavor found in this dish will perfectly complement the flavors found in this beer.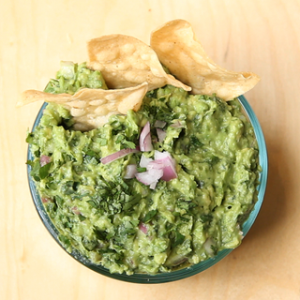 This beer would also pair well with a seafood dish like ceviche, a Peruvian originated dish made from fresh raw fish cured in citrus juices and spiced with peppers. This recipe from Craft Beer & Cooking includes lager beer, shrimp and crab meat as ingredients. Talk about a boozy appetizer! With the NFL Season officially kicking off on Thursday September 10th, you can start prepping some kick-ass dishes for some Sunday Funday Football watching.
Have you ever tried Gose style beers before? Like 'em? Hate 'em? Wanna build a shrine in its honor? Tell me about it in the comments below and don't forget to use those social media share buttons to spread the word about this awesome beer and food pairing!
Cheers,
Q the Cruzan Foodie