Hurricane Maria Relief: Rebuilding St. Croix
On September 20th, Hurricane Maria made landfall on St. Croix with category 5 winds causing much devastation and damage to the island paradise I've been blessed to call home. Being away in South Florida when it happened brought about a plethora of feelings, guilt being one of them. While I had endured the wrath of Hurricane Irma in Miami, my family, friends and loved ones were without power, running water, limited supplies and some had even lost their homes. On the flip side, my absence allowed me the opportunity to help those back home in a way that would be impossible had I been on island when Hurricane Maria hit. This is where I had the idea to organize a mail-in relief drive to collect critically needed supplies for people on St. Croix affected by Hurricane Maria.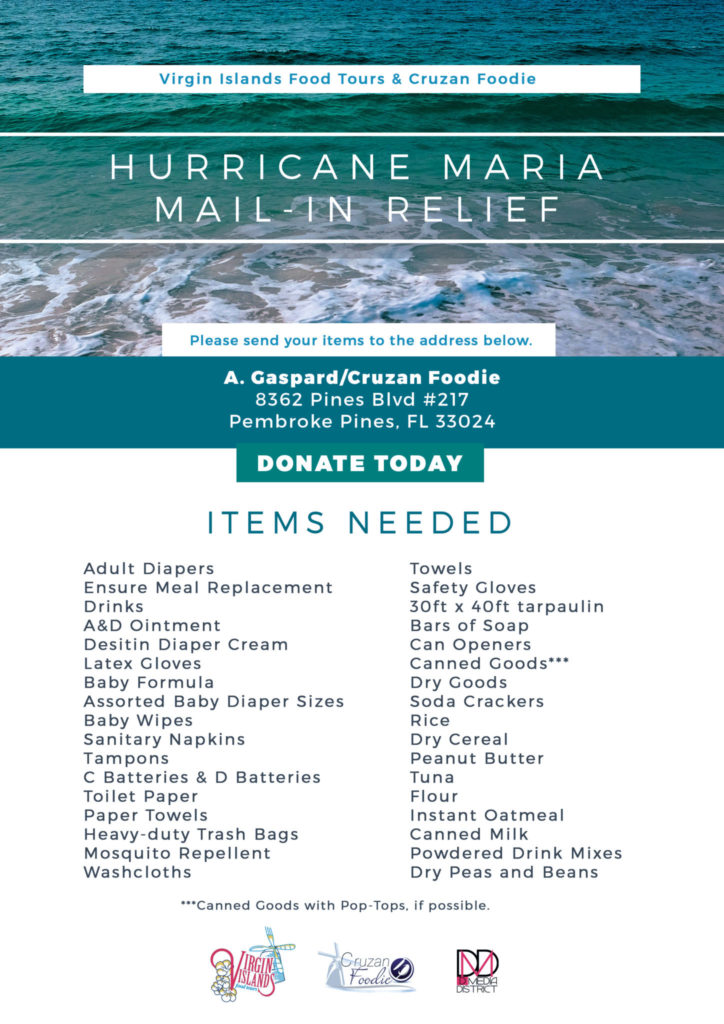 Cruzan Foodie in conjunction with my walking food tour company, Virgin Islands Food Tours launched this mail-in relief effort where donations and supplies would be collected via mail. You can mail items directly to my Florida address using any number of online retailers such as Amazon, Walmart, Vitacost, Target or Jet by October 31st. Thankfully, many of these retailers offer free shipping over a certain dollar amount so you're able to save on shipping costs there. Once received, I pack up the items and deliver them to a cargo shipping company in Miami, Florida that ships directly to St. Croix. From there, I will work with various non-profits on island to distribute the items to those in need.
It was important for me to be a part of the process since I recently moved back home in October 2016 to launch Virgin Islands Food Tours. The food tours that share St. Croix's distinctive foods, extraordinary history and eclectic culture with each visitor are on pause until we can receive visitors in the territory again. However, these relief efforts are necessary to help the people of St. Croix during this trying time. With your help, the items collected will be delivered directly to St. Croix and we will get them into the hands of those who desperately need it.
Ship items by October 31st to:
A. Gaspard/Cruzan Foodie
8362 Pines Blvd, Suite 217
Pembroke Pines, FL 33024
Thank you in advance for your supply donations. Getting St. Croix back on its feet to receive our amazing visitors (YOU) is a top priority for myself and many others on the island. Tourism is the driving source of revenue for the US Virgin Islands and many islands in the Caribbean. We're ready to make our territory #VirginIslandsNice again and we can't do it without your help! If you have any questions, feel free to email me at agaspard@www.cruzanfoodie.com.
Until Next Time,
Q the Cruzan Foodie