The Epitome of Black Girl Magic: Summit21 Conference Recap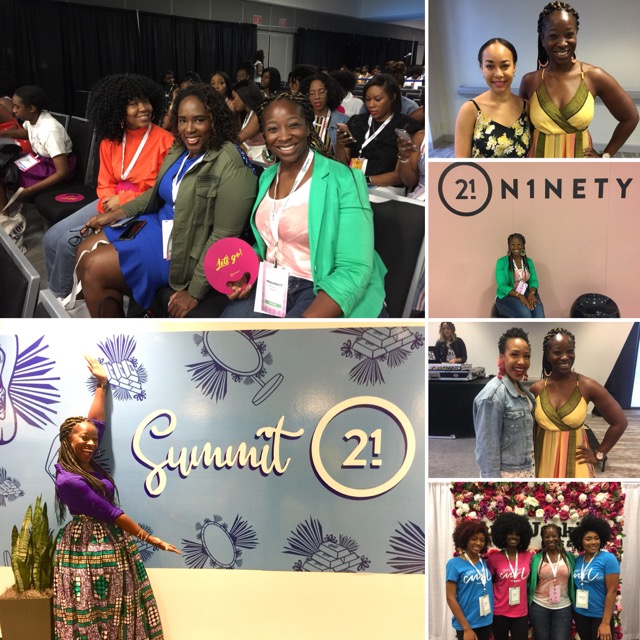 It's one thing to say the words 'Black Girl Magic' but it's a whole other story when you get to experience it firsthand. From June 8-9, 2018, this is what 21Ninety's Summit21 conference set out to do in Atlanta, GA. When I say they did just that, I mean it! Summit21 Conference was a 2-day culminating experience that was designed to help women attendees enrich and elevate themselves to their best life.
There's something about the power of the black woman – our strength, resilience, versatility, and beauty are just some of the things that make us a force to be reckoned with – not to mention the power of our dollars! At the end of Summit21, I felt empowered, encouraged and ready to take on the world and all my #BlackGirlMagic goals with an undeniable focus! Check it out below to see what this powerful conference was all about.
What Exactly Is It Again?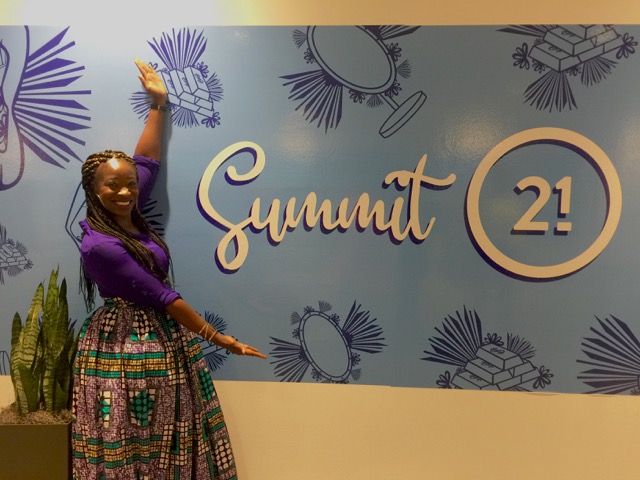 Summit21 was orchestrated by 21Ninety, the wellness arm of online-based media company, Blavity. In its third year, this conference consists of a mix of master classes, breakout sessions and fireside chats featuring the brightest and most inspiring leaders and innovators in the African-American community.
Get On The Right Track
The schedule for Summit21 Confernece was well rounded and gave attendees the choice of three different tracks, or paths, to go on: Beauty, Money and Impact.
Beauty
This track was where they discussed how more and more African-Americans are designing products the FUBU way: For Us, By Us. Therefore, it's important that women of color do their part to become stakeholders in this industry, exploring ways to make their claim creatively and financially.
Money
Regardless of what track you're on, one should ALWAYS be on the money track! With African-Americans being the fastest growing group of business owners, this track provided firsthand advice and useful tips from powerful women of color that have been and continue to shatter through the glass ceiling. I'm all about making those coins that will allow me to be financially independent, which made this track a priority for me and many other attendees.
Impact
Unless you've been under a rock these past few years, African-Americans – specifically women of color – have been making their voices heard from Congress to the voting booth. This track focused on answering the relevant and crucial questions, "What now?" and "How can I truly make a change?"
They Got The Juice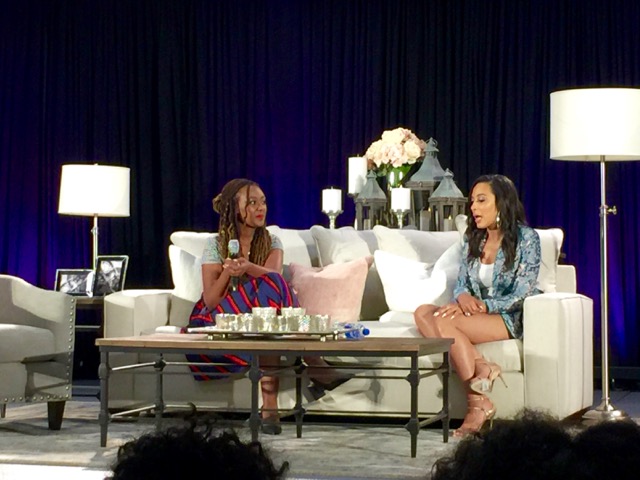 The speakers! Oh Em Gee the speakers at Summit21 Conference were absolute fire! There wasn't a single speaker that wasn't bringing their true authentic selves to the table and dropping the most precious gems about being better versions of who we are. Initially, I didn't know many of the speakers that were featured. Prior to being invited to the conference, most of the speakers were lost on me as to who they were and what they've done. I was unsure that I would be able to take anything away from the conference, as my focus was primarily food and travel. Boy, was I wrong! The speakers included a variety of people from a multitude of backgrounds: bloggers, politicians, entrepreneurs, recording artists, authors and influencers… the list goes on and on. Between the Limitless Living panel with Myliek Teele of Curl Box to the fireside chat with powerhouse attorney Angela Rye to the main convo with Rich Dennis (maker of top brands Shea Moisture and Nubian Heritage), there was something for everyone regardless of your industry or background.
Although I enjoyed all of the sessions I attended, these were my top three:
Limitless Living: Overcoming Yourself to Reach Your True Potential" with Myleik Teele. This was the first panel I attended and could have very well left after this because it gave me SO! MUCH! LIFE! I don't think Myliek even knows how much her words resonated with me. My biggest takeaway was when she quoted Eckhart Tolle, "Whatever the present moment contains, accept it as if you had chosen it. Always work with it, not against it." In that moment, it allowed me to look at a present situation that was haunting me with new eyes. Let's just say after that talk, your girl was good to go! Challenge conquered – who's got next?
Maintaining Your Hunger: Cultivating A Career That Feeds Your Soul and Bank Account with Jacqueline Baker and Alicia Wallace. These ladies were the truth and completely blew me away. Working at American Association of Retired Persons (AARP), they've found a way to use their day jobs to fuel their passions after work hours. A consistent theme in this panel was to just start but also FINISH! As Jacqueline said, we are masters of starting but not masters at finishing. Break that cycle and finish what you started even when the going gets tough. The reward at the end will be worth it!
Meal Prep to Fuel Your Body and Your Hustle with Food Heaven Show. Registered dieticians and BFFs Wendy Lopez & Jessica Jones of Food Heaven Show shared some of their tips and tricks for planning and preparing when it comes to meal prep. If you've followed me on social media (IG: @cruzanfoodie), you know that I'm all about striking the perfect balance between working out and healthy eating but still indulging in the foods I love (hello jalapeño lobster mac and cheese). This panel gave me some ideas on how to make meal prep easy but also gave me a new resource when looking for quick, easy plant-based recipes that are packed with flavor!
Gimme The Goods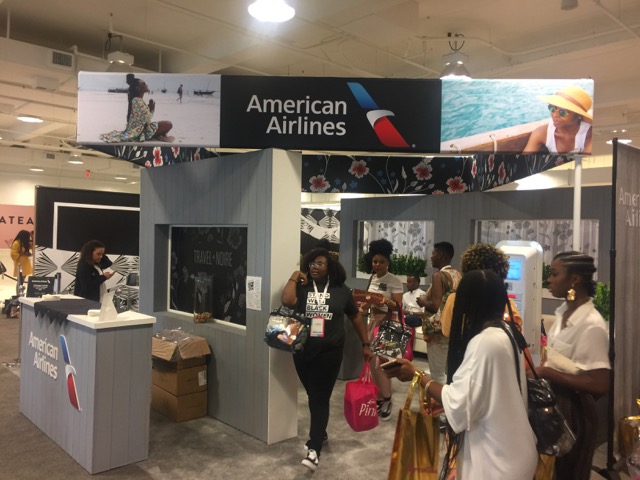 Summit21 Conference featured an entire showroom floor dedicated to lunching, shopping and exploring. Are you into travel? A visit to the American Airlines booth included a chance to win a trip to one of the luxury destinations of your choosing. Perhaps you're a book lover? Peruse the shelves of the Summit21 bookstore featuring titles solely of melanated authors (translation: black authors only). Is beauty more your speed? Visit the numerous tables of popular beauty brands to learn about their new product lines and purchase some of your faves for the low low. One of my favorites was Chateau21 where attendees had a limited time to go through the "beauty supply store" and choose up to 5 of your favorite full sized products for free!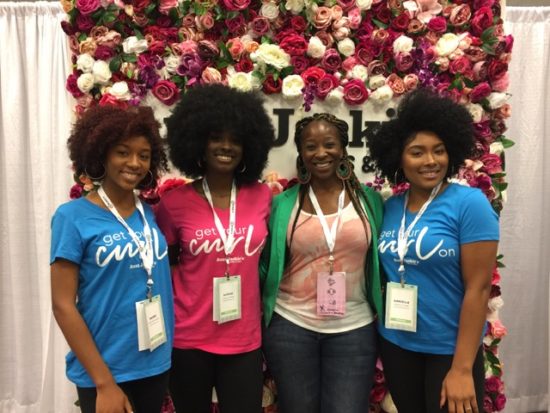 My Takeaway Gems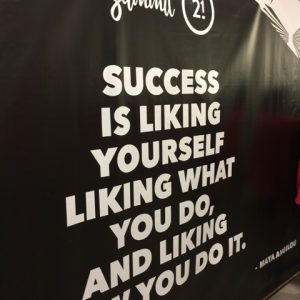 As I mentioned before, Summit21 Conference had gems for days! There were so many encouraging words, inspirational stories and touching moments among this group of indestructible Black women. I was completely blown away and oftentimes led to a tear or two because the energy was captivating. My biggest takeaways from Summit21 were:
Morgan DeBaun, CEO of Blavity Inc, opened the conference with these words, "No one is more powerful than a Black woman!" Need I say more? Can the church say "Amen?"
I mentioned that Curl Box founder Myliek Teele's panel on limitless living was my highlight for Summit21. Another thing she said that resonated with me was to never be discouraged by the word "No." The word 'no' doesn't mean it will never happen. It could mean that you either haven't provided enough information or that it's just not your time… yet!
Sarah Jake Roberts, daughter of Bisop T.D. Jakes, shared that the one thing she would tell her younger self is that she's going to be okay. Think about that for a minute. How many times have we encountered a situation or challenge where we freak out, thinking it's not going to work out? In the end – whether it works out in your favor or not – you're okay and sometimes even more than okay! Remind yourself everyday that you will be okay because you truly will be.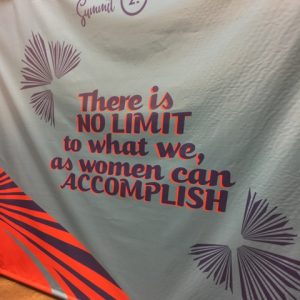 I highly recommend that every woman of color attend Summit21 Conference at least once, regardless of your background, profession or age. There is so much power in US as Black women. There's no time like now for us to invest in ourselves what we often give freely to others – time, effort and energy to making others better version of themselves. If we're not our biggest cheerleaders and supporters, how can we expect other races, ethnicities and backgrounds to cheer us on? Love on your sister friend. Tell her she's beautiful just as she is. Support her new business by paying FULL PRICE. Share her good works with others. Fix her crown when it starts to shift or tilt a little without letting the world know that you did. Thank you Summit21 for reminding us that we are our sister's keeper.
Until Next Time,
Q the Cruzan Foodie