Taste of the Caribbean Recap – USVI National Culinary Team Brings Home the Gold
When most people think about Caribbean cuisine, the phrases "fine food" or "gourmet dining" rarely comes to mind. The Caribbean Hotel & Tourism Association's Taste of the Caribbean Culinary Competition takes that old adage and flips it squarely on its head. The 2014 Taste of the Caribbean Culinary Competition took place June 30th – July 2nd at the Hyatt Regency in downtown Miami, FL and featured 10 teams from all over the Caribbean competing in team and individual competitions.
Comprised of 2 senior chefs, 1 junior chef, 1 bartender, 1 pastry chef and 1 manager, the USVI National Culinary Team wowed judges at this year's event and took away a number of gold medals in both team and individual competitions. The team won a gold medal for best overall team for the Taste of the Islands competition where each team prepared dishes that represented foods from their islands.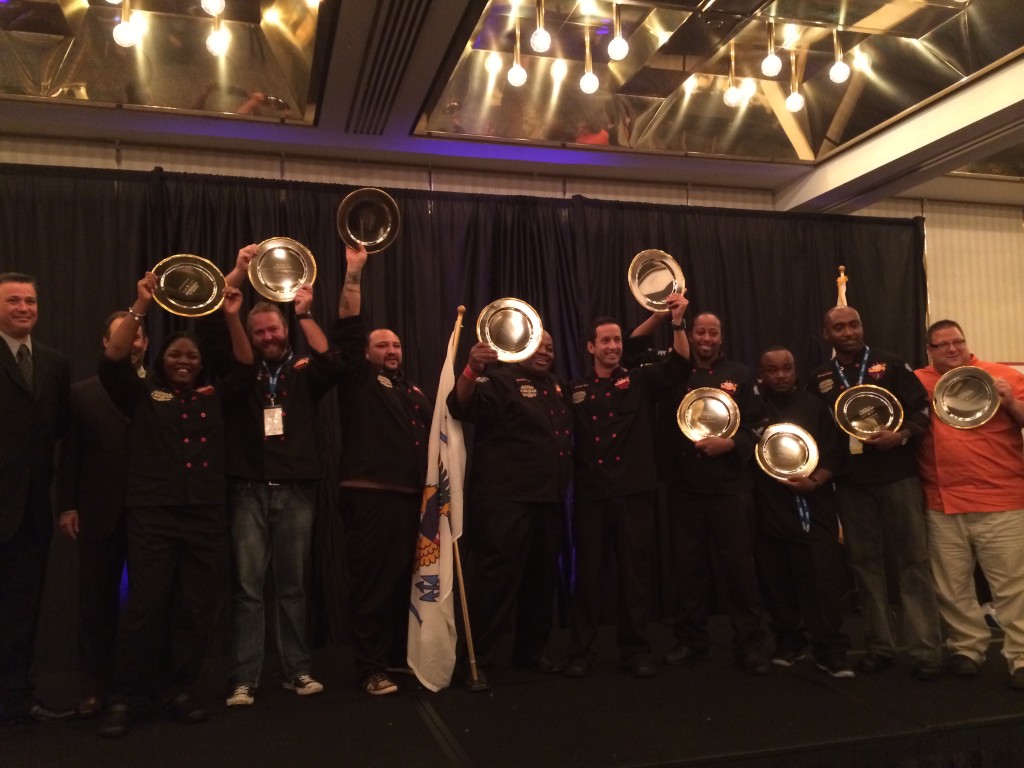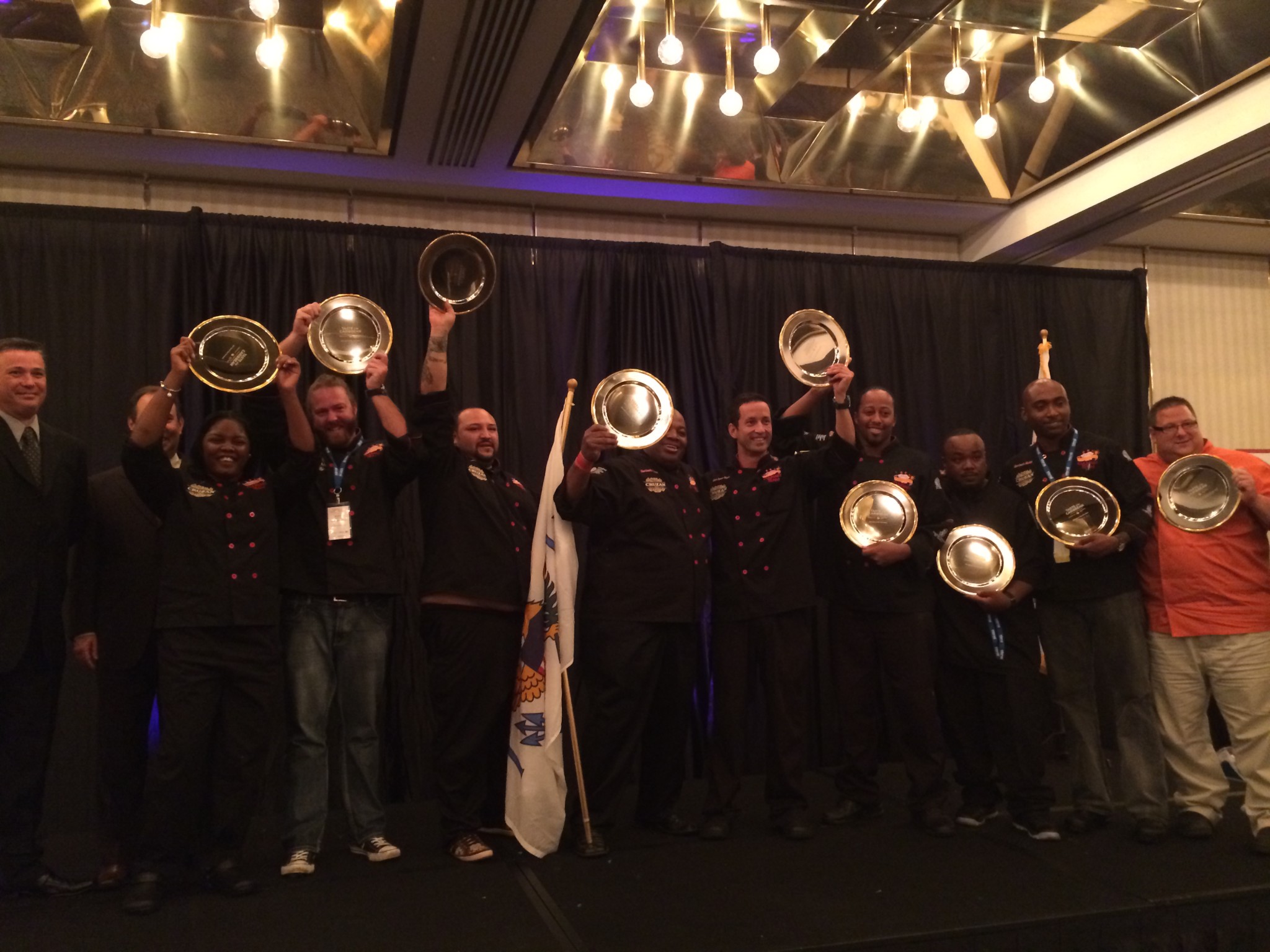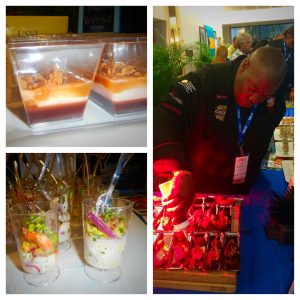 Cruzan Spice Lamb Lollipops, Magen's Bay Ceviche & Guava Tamarind Verrine were the 3 dishes that the USVI team prepared that impressed the judges, resulting in the overall team win and gold medal.
Additionally, the team received the coveted gold medal in the Caribbean National Team category. In past years, team members would always perform exceptionally well in individual competitions but this was the first time that they had garnered enough points to receive a gold medal in this category. In speaking with the USVI team chefs, they often commented about the judges' reaction to their dishes. Chef George Sittig, Executive Chef at Greenside Grille at Carambola Golf Club in St. Croix said, "It's as though we had finally arrived! As a team, we all had one goal in mind and that was to perform at the best level possible so working towards that goal was a collective effort." The plated team dinner competition also contributed to the team being awarded the gold medal. Armed with a mystery basket of pork butt, short ribs, okra and turnips with a 3-hour window, the team knocked out an appetizer, entrée & dessert for 40 people. Chef Ron Duprat, Executive Chef at Sugar Bay Resort & Spa in St. Thomas, commandeered the appetizer of marinated roasted pork butt and a spicy pumpkin soup. Chef George Sittig's entrée was a modern day surf & turf: grilled chili-rubbed short ribs on a bed of local sweet potato puree topped with grilled shrimp and a citrus salad shooter with a balanced combination of turnips, cilantro, mango, orange and seasoned okra.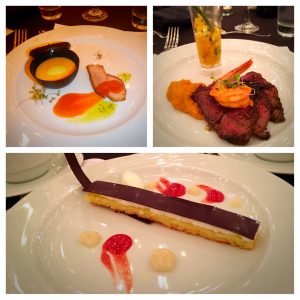 For dessert, Executive Pastry Chef Ryan Cross of The Ritz Carlton in St. Thomas constructed a sleek chocolate layer cake with a soursop crème and coconut filling with a guava gel.
In the individual competitions, the team members were able to really shine through in their respective crafts. Brandon Decloux of Sibs on the Mountain in St. Thomas won his gold medals for the Bartender of the Year competition along with Best Vodka Drink for his Virgin Island Mojito comprised of soursop, cilantro, simple syrup and chilled champagne. Chef Ryan Cross brought home a silver medal in the pastry competition for his deconstructed vanilla cheesecake with pineapple smoked pepper sauce, mango passion sorbet and a meringue crunch. Chef George Sittig won the silver medal in the beef competition with his Annaly chili crusted beef, sweet potato & okra custard and cassava frites. Chef Ron Duprat won a silver medal for Chef of the Year and Chef Danika Joseph won a bronze medal for Junior Chef of the Year. The seafood & cheesecake competitions both received honorable mentions for their dishes by Chef Taj Siwatu, Exectuive Chef and Owner of Buddha Sushi in St. Thomas and Chef Gary Klinefelter, Executive Chef of the Buccaneer Resort & Spa in St. Croix respectively.
A phenomenal ending to a wondrous event, it was clear that the team was extremely excited by their gold medal in the Caribbean National Team category. Chef Ryan said, "Winning an individual medal is great but working together as a team to achieve gold is an even better win in my book." As the saying goes, "Teamwork makes the dream work" and the USVI National Culinary Team is evident of that.